No BNP men involved in August 21 grenade attack: Fakhrul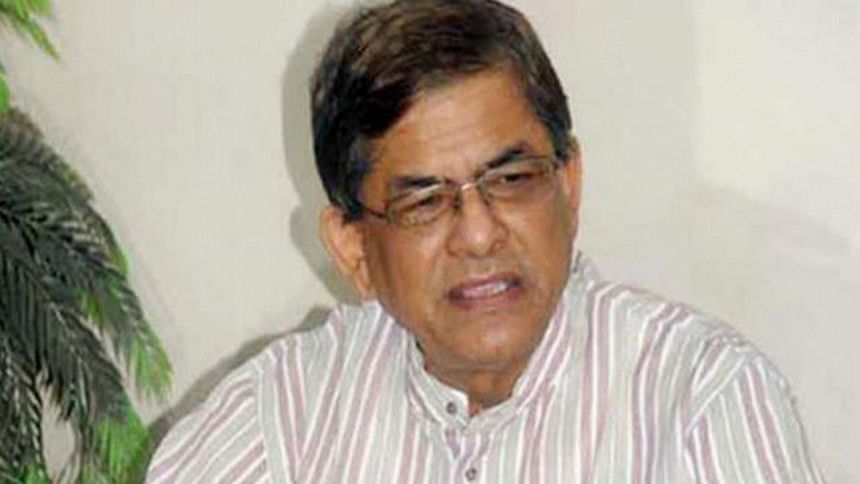 BNP Secretary General Mirza Fakhrul Islam Alamgir today claimed that his party men were not involved in the August 21 grenade attack and said "Awami League is the beneficiary of the saga".
"I can say with responsibility that no BNP leaders like Tarique Rahman, Abdus Salam Pintu and Lutfozzaman Babar were involved in the grenade attack," Fakhrul came up with the claim a day before announcement of the long-awaited verdict.
Speaking at a discussion in Dhaka, the BNP leader said, "Many events have happened while different kinds of discussions have been held over the incident but no one is digging out the real fact."
A total of 24 Awami League leaders and activists, including Mohila Awami League president Ivy Rahman, were killed and more than 300 others were injured in the grenade attack on Bangabandhu Avenue in Dhaka on August 21, 2004.
Awami League President then leader of the opposition Sheikh Hasina narrowly escaped the assassination.
After the incident Awami League has been claiming that the then ruling BNP-Jamaat leaders devised the attack in a bid to assassinate Sheikh Hasina to create a vacuum in the party's leadership.
Tarique Rahman elder son of then Prime Minister Khaleda Zia, Home Minister Lutfozzaman Babar and then deputy minister Abdus Salam Pintu and other 46 people have been made accused in this connection.
Prime Minister Sheikh Hasina has recently accused the then BNP government of perpetrating the barbaric grenade attack on the Awami League rally in 2004, saying that there is no doubt that Khaleda Zia and her son Tarique Rahman were directly involved in the carnage.
Besides, BNP has been claiming as part of politics of vengeance of the ruling quarter, party's senior vice chairman Tarique Rahman has been implicated with the grenade attack case.
Claiming that no fair investigation into the incident has yet been ensured, Fakhrul said the ruling Awami League is engaged in hatching a conspiracy to destroy BNP capitalizing the August 21 grenade attack incident.
"The truth behind the attack would come out if the real perpetrators behind the attack would have been identified," Fakhrul said.
The country has plunged into a deep crisis, Fakhrul said and called upon his party men to take to the street as an only alternative.