No election with Khaleda behind bars: BNP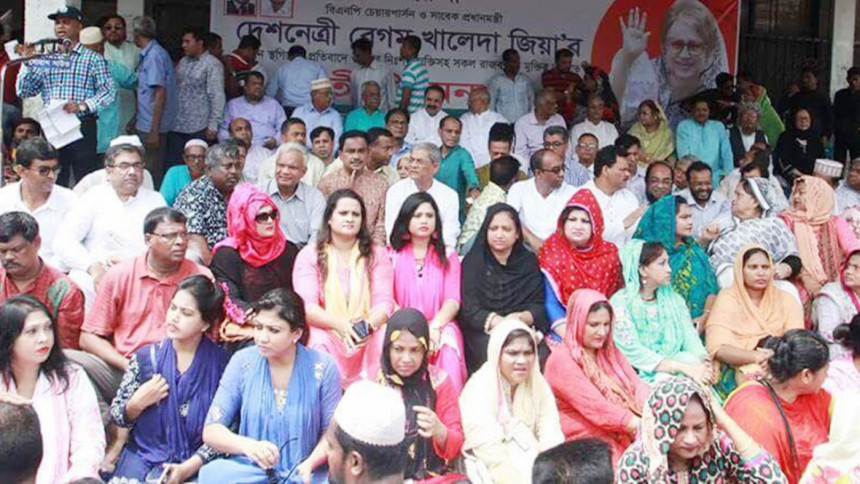 Prime political opposition BNP today said out strongly that it will not allow any parliamentary election in the country with its Chairperson Khaleda Zia behind bars.
Several senior leaders of the party came up with the threat while addressing a token hunger strike programme at Mohanagar Natya Mancha in Dhaka today.
The hunger strike was held protesting the Supreme Court order that upheld the stay on Khaleda's bail in a murder case filed in Comilla on February 2, 2015.
BNP leaders including Secretary General Mirza Fakhrul Islam Alamgir observed the token hunger strike programme started around 10:00am and continued till 4:00pm.
Thousands of leaders and activists of the party and its different front and associate bodies took part in the programme.
"It is now clear the next parliamentary election will not possible with our party chief Khaleda Zia in jail," Fakhrul said. "We will not allow such election to happen in this country."
Claiming that Khaleda Zia is being deprived of proper treatment, Fakhrul said the government is hatching a conspiracy to keep her away from the politics and election as well.
He also called upon all political parties and professional bodies to unite in a bid to restore democracy in the country.
Taking part in the programme, BNP Standing Committee Member Moudud Ahmed saidmovement on the street will be the last resort for BNP if Khaleda's release is not ensured through the legal process.
Gonoshasthaya Kendra founder Zafrullah Chowdhury broke the hunger strike by feeding them fruit juice.