Quota reform leader Rashed gets death threat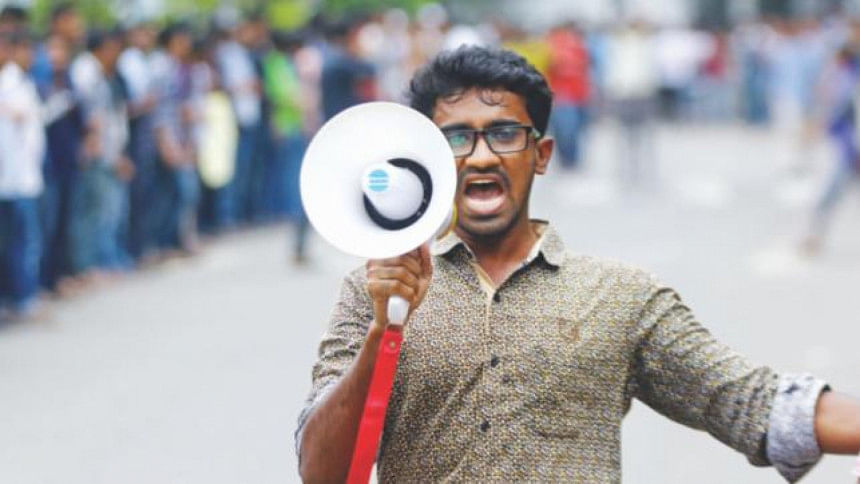 Quota reform leader Rashed Khan has claimed that unidentified criminals threatened him to gun down if he leads any other movements. 
"Two people came to my house in Muraridaha village under Sadar upazila in Jhenidah yesterday evening and threatened to kill me if I would lead any type of movement," Rashed, a joint convener of Bangladesh Sadharan Chhatra Adhikar Sangrakkhan Parishad, told media today.
The same two people earlier came to the house and took different information from the family, he said.
Rashed said he informed Mizanur Rahman, officer-in-charge of Jhenidah Sadar Police Station, about it, and the OC has advised Rashed to inform police if any person further comes to his home.    
However, OC Mizanur Rahman this morning said that he knew nothing about the incident.
Rashed's mother fainted following the death threat on her son, our correspondent reports quoting the family.
She regained her senses after over two and half hours and underwent treatment at Jhenidah Islami Bank Hospital, said Rashed.
The issuers of the death threat did not reveal their identities, he also said.
Citing that those who were involved in the quota reform movement have got death threats many times while they were waging the movement, Rashed told media that he does not fear any threat from any quarter.
The criminals have also attempted to harass his family members, he added.     
"We will be able to earn the rights of the students, regardless of the threat. Student community doesn't get scared by any kind of threat," said Rashed.
Rashed's mother Saleha Begum, who came back from the hospital today, told reporters that "two persons came to my house and asked me not to allow my son to lead any movement.
"They told me, 'You make your soon understand if you do not want any harm being done to him'," Saleha added.