2 Gonoforum MPs-elect will not join JS
Says Dr Kamal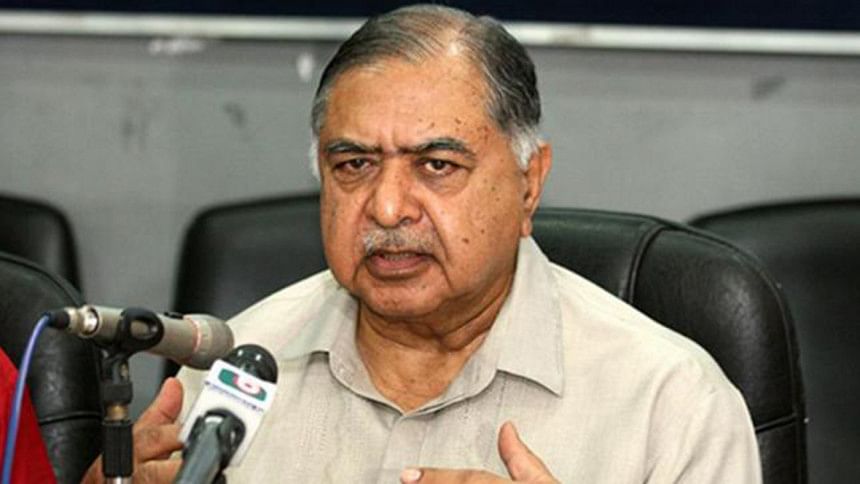 Two MPs-elect from the Gonoforum will not be joining parliament, the party has decided.
Gonoforum President Dr Kamal Hossain, also a top leader of the Jatiya Oikyafront, made the announcement while talking to reporters at his Motijheel chamber yesterday, following a meeting of the opposition alliance's steering committee.
"We've clearly conveyed to them [the two MPs] our party's decision of not joining parliament, and they won't do it," he said.
The two MPs-elect -- Sultan Mohammad Mansur (Moulvibazar-2) and Mokabbir Khan (Sylhet-2) -- have reportedly expressed their desire to join parliament, going against the alliance's decision.
The BNP, the Gonoforum and some other parties joined the December 30 polls under the banner of the Oikyafront. The BNP bagged six seats while the Gonoforum two. However, the alliance rejected the polls, alleging "massive irregularities". They also demanded a fresh election.
Meanwhile, the Oikyafront yesterday announced a two-day programme, including a demonstration wearing black badges and holding a public hearing, protesting what it called "vote robbery" in the election.
The alliance's spokesperson, Mirza Fakhrul Islam Alamgir, announced the programme after the meeting.
"Today's Oikyafront steering committee meeting decided to hold a demonstration wearing black badges in front of the Jatiya Press Club on February 6," he said.
Besides this, he said, their alliance would hold a public hearing, with the participation of the Oikyafront candidates and the "victimised voters", on February 24.
Fakhrul said they would later announce the names of the venues.
He said their alliance deferred its national dialogue, which was scheduled for February 6.
On January 17, the Oikyafront announced that it would hold a national dialogue in the capital demanding fresh polls after rejecting the 11th parliamentary election results.
Apart from Fakhrul, JSD President ASM Abdur Rob, General Secretary Abdul Malek Ratan, Gono Forum Executive President Subrata Chowdhury, Nagorik Oikya Convener Mahmudur Rahman Manna, Krishak Sramik Janata League General Secretary Iqbal Siddiqui and Gonoshasthya Kendra Founder Dr Zafrullah Chowdhury, among others, joined the meeting chaired by Dr Kamal.