Oikyafront Rally: Security is a big concern, says Quader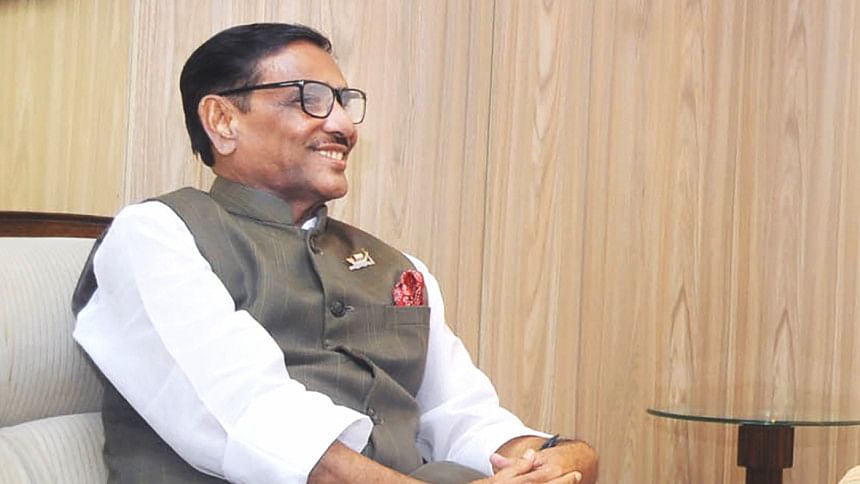 Awami League General Secretary Obaidul Quader yesterday said Jatiya Oikyafront's Sylhet rally was not cancelled but postponed due to security reasons.
"Suhrawardy Udyan has been opened for them. As the top leaders want to go to Sylhet, we will have to look into their security.
The rally in Sylhet has not been cancelled but postponed," he told journalists after visiting the construction site of a flyover in Gazipur's Chandra area.
Officials of Sylhet Metropolitan Police too said they denied the Oikyafront permission for holding the rally on October 23 on "security grounds".
Meanwhile, BNP standing committee member Moudud Ahmed yesterday said the government's denial of permission proved that its popularity has declined.
"We will have to force the government to sit with us for a dialogue through waging a tough movement," he said at a programme at the Jatiya Press Club.
Quader, also the road transport and bridges minister, said the Oikyafront leaders first called on foreigners instead of going to the people of the country.
"An election atmosphere has been prevailing in the country. People want to cast their votes in a festive mood. Those who want to draw the people's attention to a movement are living in a fool's paradise," he added.
On Thursday, Oikyafront leaders at a city hotel briefed foreign diplomats from around 25 countries on their demands, goals and position on the next general election.
The Jatiya Oikyafront was formed on October 13 to press for holding a national election under a polls-time neutral government after dissolution of parliament and release of BNP Chairperson Khaleda Zia from jail.
The BNP, Gono Forum, Jatiya Samajtantrik Dal and Nagorik Oikya have joined the platform.
Moudud, also a former law minister, yesterday said the government was afraid of the Jatiya Oikyafront and it was misleading people about the unity by making imaginary comments, he added.
The BNP leader said the AL would face a serious electoral debacle because of the formation of the Oikyafront.
The AL would surely be defeated in the next parliamentary polls as people already became united under the banner of Jatiya Oikyafront, Moudud said.
Blaming the ruling party for destroying the polls atmosphere across the country, he said the AL was moving ahead with its plan to hold another lopsided national election.
'A UNITY OF NATIONAL ENEMIES'
Speaking at another programme, Shipping Minister Shajahan Khan took a swipe at Gono Forum President Dr Kamal Hossain for forging a unity with "anti-liberation forces".
"That's not jatiya oikya. That's a unity of the national enemies. A conspiracy is underway after being angered by Prime Minister Sheikh Hasina's development works," the minister told reporters in Barishal.
A group of people, who had never been in politics, have suddenly started raising their voice against the incumbent government saying that they want to restore democracy, he said.
Shajahan asked Dr Kamal Hossain where he and his supporters had been in 2015 when the "BNP-Jamaat men" went on a killing spree across the country by throwing petrol bombs at buses.