Khaleda's treatment begins at BSMMU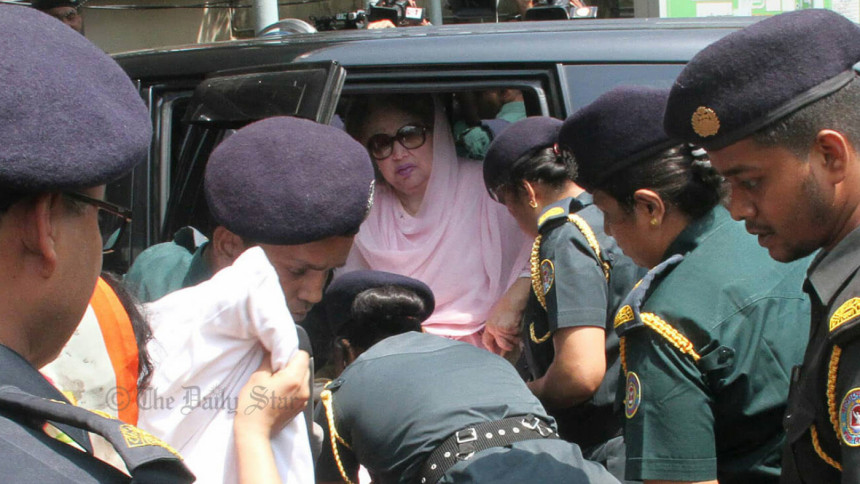 A medical board started providing necessary treatment to BNP Chairperson Khaleda Zia at Bangabandhu Sheikh Mujib Medical University (BSMMU) this afternoon, an hour after she was admitted to hospital.
"Khaleda Zia is now suffering from pain in joints of her hands and legs. She cannot sleep well. Her sugar level is also high," BSMMU Director Brig Gen Dr AK Mahbubul Hoque told reporters at a press briefing at the hospital this afternoon.
"After analysing her health problems, the five-member medical board has given her a prescription, and she'll take medicines following the prescription from today," the BSMMU director said.
Khaleda Zia has been admitted to BSMMU's cabin No. 621 around 12:45pm and two cabins were allocated for her, he said.
"We along with the medical board visited her at the cabin and Khaleda Zia also talk to us about her physical problems cordially," said the BSMMU director.
Responding to a query, he said, "Khaleda Zia is feeling weak and she can't walk alone. There is a space for walking and she can walk with somebody's help."
When asked about BNP demand for taking Khaleda Zia to a specialised hospital, he said, "BSMMU is a super specialised hospital. And, she came here for treatment with her own consent."
Responding to another query, Mahbubul Hoque, said it apparently looks Khaleda is not suffering from any critical disease. We did not find any critical problem that is not possible to be treated at the BSMMU." 
"The five-member medical board was formed on March 28 and it seems to me that she keeps trust in the medical board and she is happy with the board," he said.
When asked about her overall security, the BSMMU director said hundred per cent security measure has been ensured for her security.
He also claimed that the BNP chairperson spontaneously talked to the medical members as she has confidence in them.
Khaleda Zia will be treated under the newly formed medical board and she can leave or stay at the hospital for one or two days after recovering from her illness, he told a questioner.