Bangladesh focused on economic diplomacy: Momen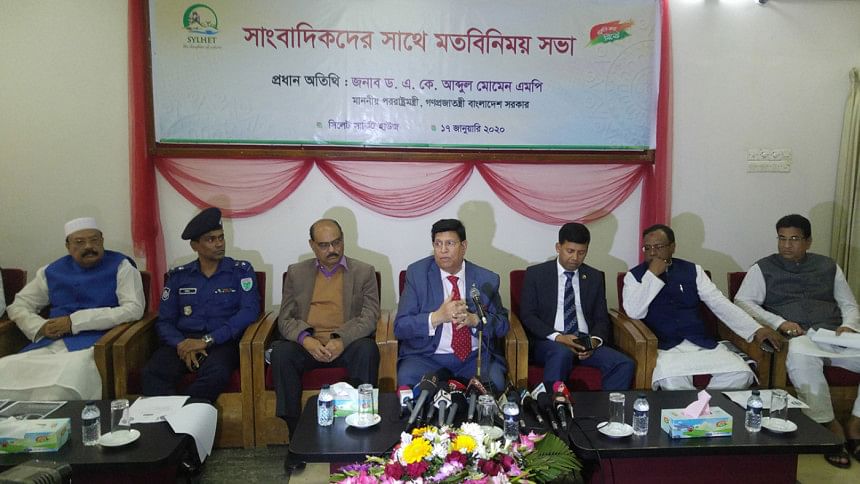 Foreign Minister Dr AK Abdul Momen today said Bangladesh is now focused on economic diplomacy to boost the economy by bringing businesses to the country.
"Bangladesh is now focused in economic diplomacy to connect to more countries and to find new avenues of bringing businesses to Bangladesh," the minister said while discussing with journalists at a press meet at Sylhet Circuit House this afternoon.
The foreign minister also said government is taking steps to develop services at the foreign missions of Bangladesh and to reduce hassles faced by the expatriates.
"We are trying to reduce hassle of expatriates through our foreign missions, and all missions have been brought under CCTV monitoring. Moreover, dedicated hotlines have been introduced and special expatriate desks have been inaugurated in the missions to support them exclusively. Also, there is a mobile application now where the expatriates will get 34 different types of services," he said.
"We have initiated a programme named 'life-changer' in our England mission in London, where the expatriates who are doing odd jobs are being trained about more important skills so that their earnings change rapidly," the minister said.
This programme will boost up their income as well as the remittance to the country, he said.
The foreign minister also said a number of roads and avenues in different countries are going to be named after Bangabandhu Sheikh Mujibur Rahman marking "Mujib Borsho".
"Many countries nodded to our appeal and UNESCO also agreed to observe 'Mujib Borsho' with us. All foreign missions of Bangladesh are being decorated marking this auspicious event," he said.
"Bangladesh is not a bottomless country anymore. Even Pakistani Prime Minister Imran Khan is being urged by his citizens to become equal to Bangladesh in next 10 years instead of dreaming about Switzerland. That's what Bangabandhu realised before the liberation and we are being blessed by it," Dr Momen added.
In the press meet, the minister, also the lawmaker from Sylhet-1 constituency, described his achievements in last one year as a member of the parliament.
Earlier in the afternoon, he inaugurated the underground power distribution system of Sylhet city, implemented by Bangladesh Power Development Board.