Nation frustrated, aggrieved over PM's speech: Fakhrul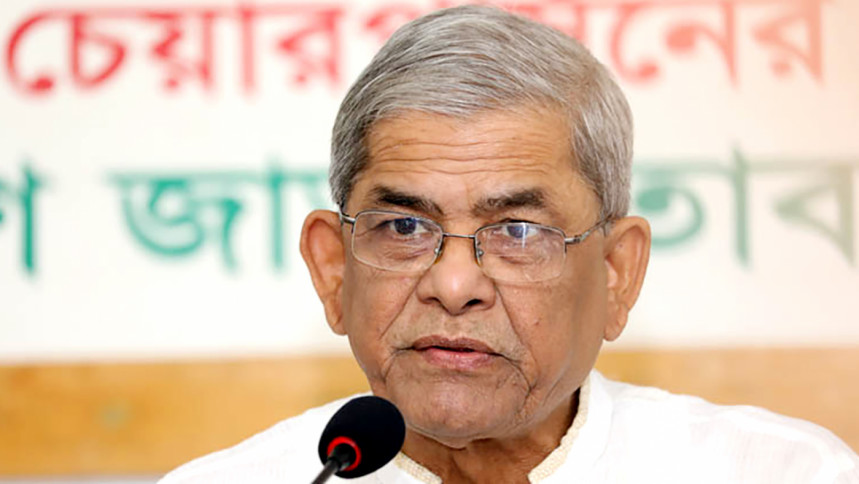 BNP Secretary General Mirza Fakhrul Islam today claimed that the countrymen are frustrated and aggrieved over the prime minister's address to the nation.
Terming the speech "a projection of her self-satisfaction", the BNP leader alleged that Prime Minister Sheikh Hasina, in her yesterday's speech, did not come up with any way of resolving the ongoing crises in the country.
The ruling quarters have become alienated from the people, Fakhrul also said while talking to journalists at the Jatiya Press Club in Dhaka.
"People were expecting that there would be a solution in her speech. She would give any indication of holding a fresh election dissolving the parliament. She would give a hint of holding talks. But she did not give any such indication in her speech," Fakhrul said.
The PM addressed the nation on Tuesday marking the first anniversary of the present government.
The BNP leader claimed the prime minister did not speak the truth in her speech. "Famine took place in the country due to the misrule of Awami League in 1975," he alleged.
Referring to the PM's statement that she asked people to keep trust on her, Fakhrul remarked, "At a time when the country's banking sector has collapsed, the economy is in a sorry state, and people are in extreme sufferings, then how would people keep trust on her."
"The prime minister has blamed BNP for criminalisation in the country. But when BNP was in power, Awami League had enforced 173 days of hartal, 11 people were burnt alive in a moving bus demanding introduction of the caretaker government system," Fakhrul said.
"The culture of killing is still prevailing in the country," he added.