Quader, Fakhrul bump into each other
Quader links Rangpur attack with 'plot to harm ties with India'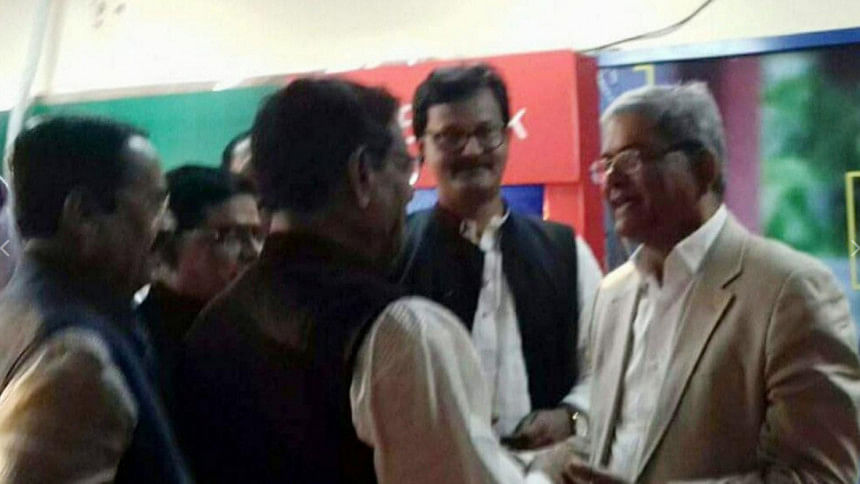 Ruling Awami League General Secretary Obaidul Quader yesterday crossed paths with his BNP counterpart Mirza Fakhrul Islam Alamgir at Saidpur Airport in Rangpur.
The two traded greetings and shared some light moments during the exchange, according to several people who were present at the scene.
A close aide to Fakhrul told The Daily Star that the meeting took place when Fakhrul was waiting at the airport to return to Dhaka.
Quader entered the VIP waiting room and went forward when he saw the senior politician.
"As we are politicians, it will be better to keep our doors open for discussion," Biplob Barua, deputy office secretary of the Awami League leader, quoted Quader, also the road transport and bridges minister, as saying.
Quader further said: "I was waiting for you at Dhaka airport. But, I heard that you were not coming. It would be good if we could come together and talk."
Responding to Quader's remarks, Fakhrul said he had to change schedule for family affairs.
"Our paths can be different in politics, but there can be a formal relation between us. As we do politics, the path of talks should remain open," Quader was quoted as saying.
Both the top leaders of AL and BNP were scheduled to reach Saidpur on the same flight, but Fakhrul later cancelled his schedule.
During his visit to Rangpur, Obaidul Quader said the communal attacks on Ramu, Nasirnagar and Thakurpara were parts of the same sequence of a conspiracy to destroy the close relations between Bangladesh and India.
The Hindus, who are majority in the village, came under attack on November 10.
"It is a Facebook post. The attack on the Hindus of Thakurpara was not an isolated incident, the nature of the attack was similar to that of Ramu in Cox's Bazar and Nasirnagar in Brahmanbaria," he said.
He alleged a political party is trying to destroy the relations between Bangladesh and India and destabilise the country ahead of upcoming national election.
But, the government would prevent any such attempts with an iron hand, he said, adding that everybody involved in the attacks would be arrested and brought to justice.
The minister also assured the Hindus of the village of all-out security measures for their protection.
Later, he gave Tk 25,000 to 11 families each whose houses were burned and Tk 10,000 to those whose houses were damaged.
Jahangir Kabir Nanak, joint secretary, AL, Khalid Mahmud Chowdhury, organisational secretary, AL, and Rana Dasgupta, general secretary of Bangladesh Hindu, Buddhist, Christian Oikya Parishad, among others, accompanied the minister.
A Rangpur court has meanwhile granted remand to five accused in connection with the attack.
The Court of Senior Judicial Magistrate Tariq Hossain granted the remand for different terms when police produced them before the court with 10-day remand prayer for each.
The court granted four days each for Mawlana Sirajul Islam, Zillur Rahman and Aminul Islam and one day for Rashidul Islam and Abdul Alim.
Hundreds of agitating Muslims were brought together in Khaleya Shah Bazar and Paglapir areas in Rangpur Sadar on November 10 following a hate campaign that Hindus were demeaning Islam.
The mob attacked the Hindus in that afternoon, burning 11 houses and damaging nine others.
One person was killed and 20 others were hurt when police opened fire to disperse the unruly people.
The police have so far arrested 170 people including three Union Parishad chairmen of Monimpur union.