Khaleda to face sedition case legally: Khandker Mahbub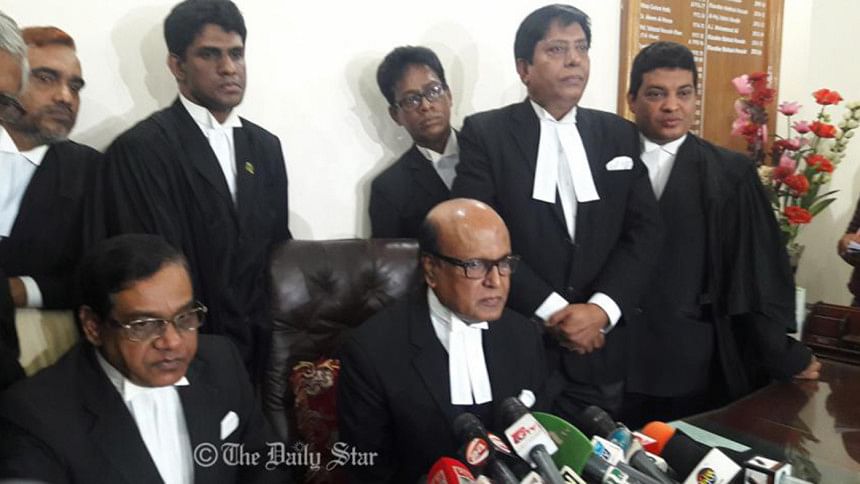 BNP leader and Supreme Court Bar Association President Khandker Mahbub Hossain today said BNP Chairperson Khaleda Zia will take all necessary legal steps to face the sedition case filed against her.
Khaleda Zia is aware of the summon issued against her in the sedition case, though she did not receive the order, said Khandker Mahbub, also a lawyer for the BNP chief, while talking to reporters at his SCBA office.
He said summon is issued against anybody in order to inform the accused person about filing of a case against him or her.
Is there any rule of pasting the summon order on the entrance of a residence of a person, he questioned.
Khandker Mahbub, also an adviser to the BNP chairperson, said Khaleda Zia is respectful to the law and she will tackle the case legally.
The government is doing politics over this issue, he said, adding that there is no element of sedition in the case against her.
A Supreme Court lawyer on January 25 filed the sedition case with a Dhaka court, appealing to it to issue an arrest warrant against Khaleda for her remarks about the number of martyrs during the 1971 Liberation War.
Taking cognisance of the charge, the court the same day issued a summon and asked Khaleda to appear before it on March 3.
The summon notice was pasted on the entrance to her Gulshan residence on January 26, as staff of the house refused to receive the court order.