Govt to support EC's decisions: HT Imam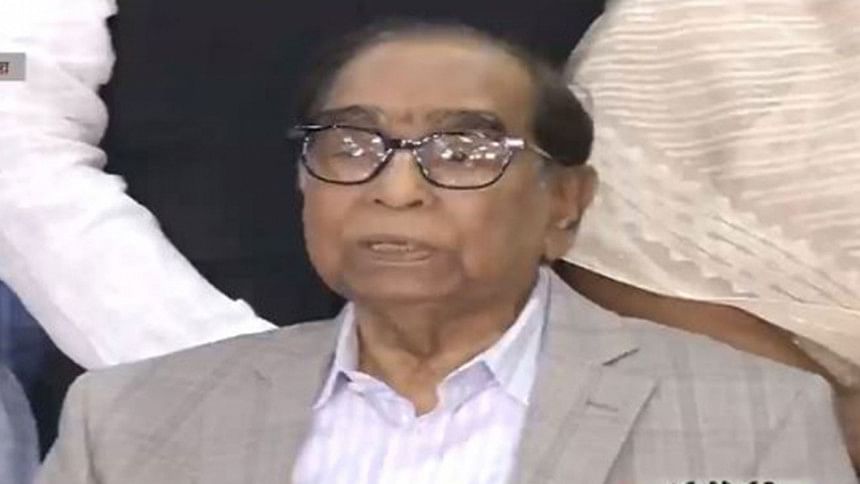 Prime Minister Sheikh Hasina's Political Adviser HT Imam today said that only Election Commission has the right to take decisions regarding the election schedule and the government will support its every decision.
"The government fully supports the Election Commission's decision of announcing the election schedule on November 8 (tomorrow)," HT Imam said at a press conference after a meeting with the commission.
"Whenever they fix the date for holding the election, we will accept it," he added.
Besides, HT Imam also said that the government and his party also agreed with the commission about the decision to use EVM on a limited scale in the upcoming national election.
About army deployment during the election, he said according to the contemporary law, the army could be deployed during the election period.   
The veteran AL leader also criticised the newly formed political alliance Jatiya Oikyafront for allegedly misbehaving with the commission during its recent meeting.
He said they also urged the EC to take steps to make the voting process easier and comfortable for women and physically challenged people. 
HT Imam also expressed his hope that all the political parties including BNP will take part in the next general election.
A 17-member delegation of Awami League led by HT Imam, co-chairman of the party's Election Steering Committee, held talks with the election commissioners led by CEC KM Nurul Huda around 4:00pm.
AL Presidium Member Faruk Khan and AL central Organising Secretary Mohibul Hasan Chowdhury Nowfel were also in the party's delegation, among others.