Meet demands or face tough movement
Left parties give the govt 48 hours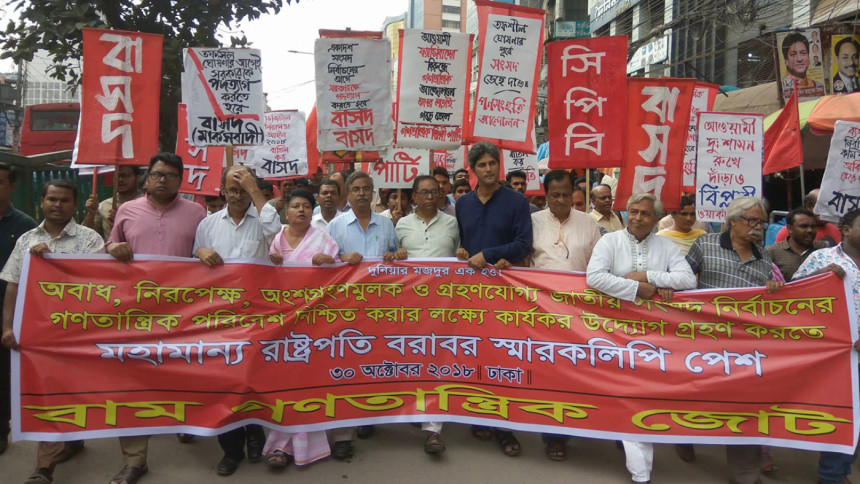 The Left Democratic Alliance (LDA), a coalition of eight left-leaning political parties, yesterday threatened tough demonstrations across the country in November if the government fails to meet their four-point demand within the next 48 hours.
The demands are: formation of a neutral caretaker government for the 11th national polls; dissolution of the current parliament before election schedule is announced; reconstruction of the Election Commission (EC); and reformation of the existing election system by banning the use of muscle power and money.
The LDA leaders made the announcement at a rally in front of Jatiya Press Club. After the rally, they led a procession towards Bangabhaban, the official residence of the president, to submit a memorandum, containing their demands, to him.
When police obstructed the procession near the Dainik Bangla intersection, a 10-member delegation of the LDA went to Bangabhaban to submit the memorandum. They, however, could not meet the president.
At the rally, LDA coordinator and general secretary of Revolutionary Workers' Party Saiful Huq said, "We placed our demands before the government several times for a fair national election, but to no avail. We decided to submit the memorandum to the president as there is no other way.
"If our demands are not met within the next 48 hours, we will begin countrywide demonstrations from the first week of November."
Welcoming the government's decision to sit for a dialogue with the Jatiya Oikyafront, a newly formed alliance of opposition parties including the BNP, he said the dialogue should not be just a show.
He also condemned the police obstruction of their procession and urged the government to stop repression on opposition party leaders and activists.
President of the Communist Party of Bangladesh (CPB) Mujahidul Islam Selim urged the president to call an emergency session in parliament to restore the caretaker government system by bringing an amendment to the constitution.
"The people in power panic when we talk about fair polls, because, if a fair election is held, they will not be re-elected and won't be able to carry out their plunderings," said Selim, also an LAD leader, adding that the formation of a neutral caretaker government is necessary as people believe a free and fair election is not possible under the ruling party.
General Secretary of Socialist Party of Bangladesh Khalekuzzaman, General Secretary of CPB Shah Alam and Chief Coordinator of Ganasamhati Andolan Zonayed Saki, among others, spoke at the rally.