Extortion on in pretext of crackdown: Khaleda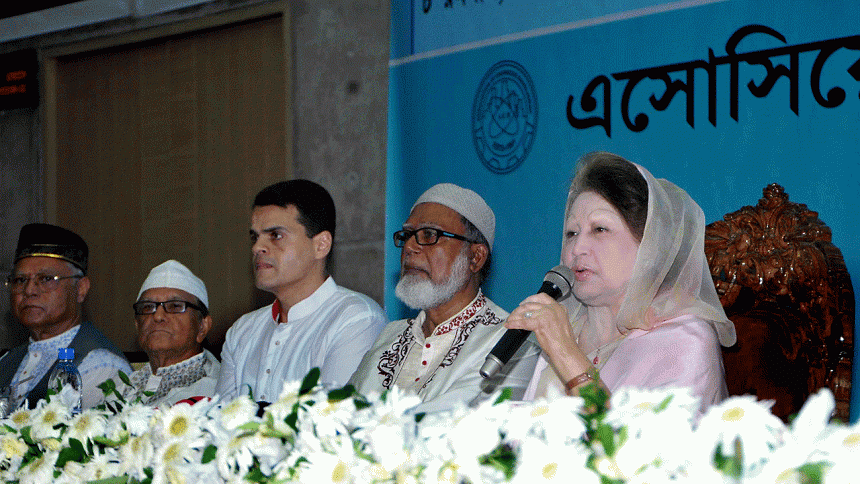 BNP Chairperson Khaleda Zia today said that extortion is going on across the country in the name of ongoing crackdown on militants.
"Real killers behind the secret killings remained untouched while extortion is going on," she said.
Khaleda was speaking at an Iftar party held in Dhaka's Bashundhara International Convention Centre.
Association of Engineers Bangladesh, a pro-BNP professional body organised the programme.  
In the wake of growing incidents of target killing, the police department launched a weeklong crackdown on militants across the country beginning on Friday.
Meanwhile, over 3,100 people have been detained that includes 26 alleged militants during day four of the nationwide crackdown.
This brings up the total tally of people held during the anti-militancy crackdown to 11,648 with only 145 among the alleged militants in the last four days.
The special crackdown began with a primary objective of nabbing militants believed to be carrying out targeted covert killings one after another across the country.
The police department launched the weeklong crackdown on last Friday.
KHALEDA LAMBASTED JSD FOR ITS POST-INDEPENDENT ROLE
Echoing Awami League General Secretary Syed Ashraful Islam's statement, Khaleda said there are some people within the ruling Awami League who are very experienced in killing.
The country is now passing through a very bad shape as Prime Minister Sheikh Hasina is giving importance to those who are responsible for killing and forced disappearances of many Awami League leaders and activists after the country's Liberation War, she said.
"They used to make indecent remarks about Awami League's leader (Bangabandhu). But, forgetting this, Hasina is evaluating these killers, keeping her own party men away," she added.