Govt itself trying to destabilise country: BNP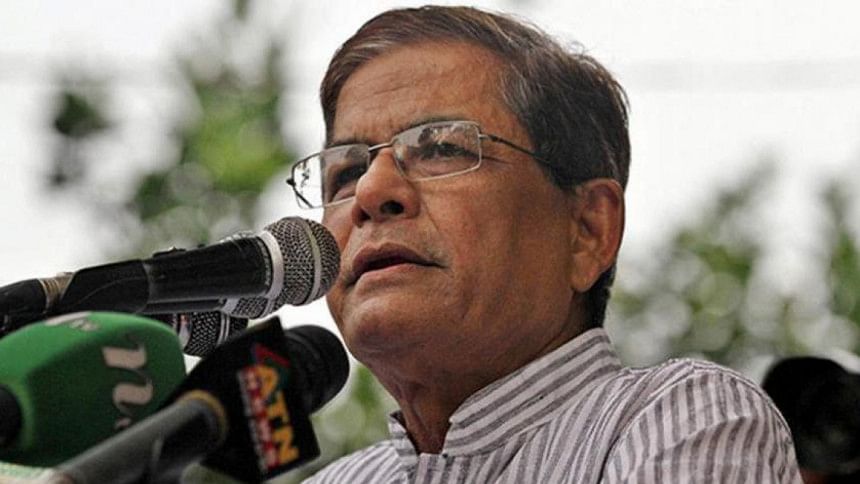 BNP today alleged that the government itself is trying to destabilise the country by using the repeated incidents of secret killings only to stay in power.
Lambasting Finance Minister AMA Muhith for his recent remarks that BNP is not a political party at all, the party urged him to withdraw the comment.
BNP Secretary General Mirza Fakhrul Islam Alamgir made the statements at a press conference at the party chief's Gulshan office today.
The briefing was organised to express the party's reaction on the proposed budget of 2016-17 fiscal.
In the briefing, Fakhrul accused the government of pampering militants by blaming opposition for any incident of secret killing.
"The ministers concerned have so far failed to take any effective steps to unearth the real mystery behind the killings. They're only blaming the opposition," Fakhrul said while replying to a query.
The BNP senior leader added: "We fear that the government is trying to seriously destabilise the country using it (secret killing) to prolong its illegal power. We strongly condemned such a move."
In reply to another query, he said secret killing has now appeared as a deep crisis in the country as many people are being subjected to it regularly. "People of all communities and faiths are getting killed and coming under attacks.
The BNP leader also alleged that the government has failed to control such incidents as it is least bothered about public security and welfare. Their only concern is to hang onto power by any means.
The BNP leader also urged the finance minister to use political language about his political opponents instead of making unguarded comments.
Muhith at his post-budget press conference on June 3 said there is no existence of BNP now in politics. "At present, BNP is not a party at all, let alone the opposition."
REACTION ON BUDGET
Pointing to the proposed budget, Fakhrul said the proposed budget was not aimed at for the development of people.
"The budget is not for the development and welfare of the people," he said. "The proposed VAT target is 35 percent higher compared to the outgoing budget. People will have to suffer more if they have to pay more VAT."
There will be a rise of expenditure in the health sector if the proposed budget will be implemented, Fakhrul added.