Don't get frustrated from polls results: Khaleda to BNP men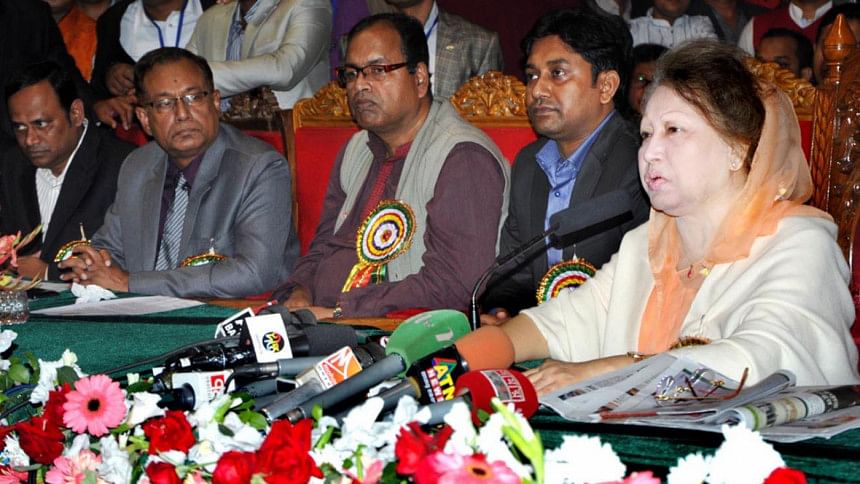 Alleging gross rigging in Wednesday's municipal polls, BNP Chairperson Khaleda Zia today called upon the party men not to get frustrated by the results as she said free and fair elections will take place timely.
"We should not be frustrated as free and fair polls will be on time," she said, adding that the sacrifice of the party's leaders and activists being killed and abducted will not go in vain.
The former prime minister made the remarks while addressing a meeting at the Institution of Engineers, Bangladesh (IEB) in Dhaka organised by BNP's student wing Jatiyatabadi Chhatra Dal (JCD), marking its 37th founding anniversary. 
Referring to the recent municipality elections, the BNP chief said it has been proved that fair polls are not possible under the incumbent government and the Election Commission.
Pointing to Prime Minister Sheikh Hasina and Chief Election Commissioner (CEC) Kazi Rakibuddin Ahmed, she said, "How votes were rigged and hijacked under the Hasina-Rakib administration has been exposed in the media. Nobody can accept it."
Citing example of municipalities in Feni where several Awami League candidates won uncontested, Khaleda posed a question to the EC if BNP has shortage of enough leaders in the area to vie the polls.
The government has used the administration, law enforcers and returning officers like their party-men threatening in different ways, she alleged.
"I do not blame the officers in the administration as the government has spread a rumour that all of them will be fired from their posts if BNP comes to power," the BNP chief said.
"But I want to assure you that you will be at your own posts no matters who comes to power," she added.
Earlier in the wee hours today, the JCD leaders and activists along with BNP leaders, including the party's joint secretary general Ruhul Kabir Rizvi, cut a cake at BNP's Nayapaltan central office, marking the founding anniversary.