Devoted workers to be made AL leaders: Quader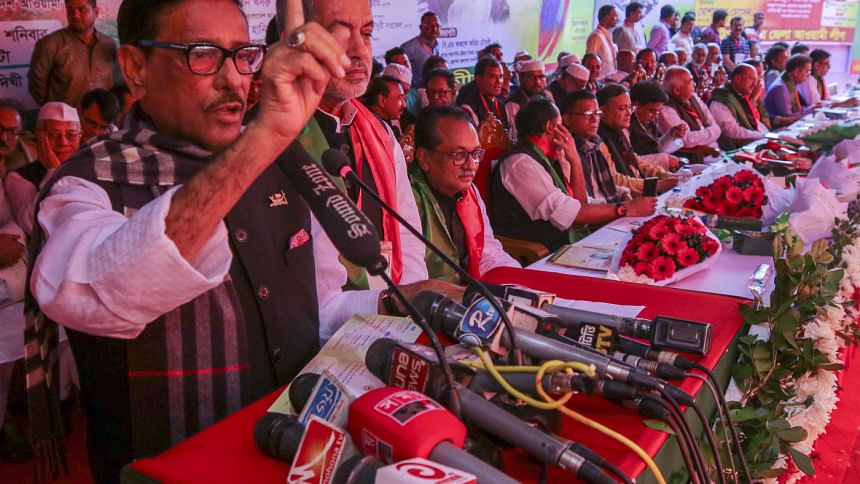 Awami League (AL) General Secretary and Road Transport and Bridges Minister Obaidul Quader today said devoted persons who remained with the party in its well and woe will be made the party leaders.
"We want more disciplined and well-organized Awami League. We do not want opportunists in the party. Devoted workers will be evaluated in the party," he said while addressing the first session of AL Chattogram District North unit's triennial conference at the historic Laldighi Maidan in the city.
Quader said AL has a large number of workers so there is no need of wrongdoers in the party.
The party, he said, does not need workers like those who were involved with BUET student Abrar Fahad killing, who created chaos in the Chattogram University and who plunged college principal into a pond in Rajshahi.
The AL general secretary said once Chattogram was Father of Nation Bangabandhu Sheikh Mujibur Rahman's strong base for achieving independence and it was also a strong base of Bangabandhu's daughter Prime Minister Sheikh Hasina.
He called upon the leaders and workers of Chattogram to be united shunning quarrels.
AL Presidium Member Engineer Mosharraf Hossain inaugurated the conference while Presidium Member Advocate Abdul Matin Khasru, Joint General Secretary Mahbubul Alam Hanif, Publicity and Publication Secretary and Information Minister Dr Hasan Mahmud, Organizing Secretary and Deputy Minister for Water Resources AKM Enamul Haque Shameem, Organizing Secretary and Deputy Minister for Education Mohibul Hasan Chowdhury Nowfel, Deputy Publicity Secretary Aminul Islam and Deputy Office Secretary and Prime Minister's Special Assistant Barrister Biplab Barua, among others, addressed the session.
AL Chattogram District North Unit acting President ABM Fazle Karim Chowdhury chaired the function while its General Secretary MA Salam conducted it.
Speaking on the occasion, Mahbubul Alam Hanif said pro-BNP lawyers have made an unprecedented incident by creating chaos in the courtroom. People of no other countries witnessed such a terrible incident inside the courtroom of the chief justice, he added.
Dr Hasan Mahmud said world leaders including the US president, Indian prime minister, World Bank president and its chief economist have praised the unprecedented development of Bangladesh. But BNP and its 20-party alliance could not praise the achievements of the country, he added.
Mohibul Hasan Chowdhury said BNP has become a political party based on media as now the party's only task is to hold a press conference for spreading falsehood against Awami League and the government.
Chattogram City AL Acting President Mahtab Uddin Chowdhury, Chattogram City Corporation (CCC) Mayor and City AL General Secretary AJM Nasir Uddin, Chattogram District South unit of AL President Moslem Uddin Ahmed, General Secretary Mafizur Rahman, lawmakers Didarul Alam, Mahfuzur Rahman Mita and Khadizatul Anwar Sony were present in the dais.
A huge number of leaders and workers joined the council. Later in the afternoon council session was held at the International Convention Centre in the city.