DU agitating students to continue demo for Ducsu re-polls
Sit-in programme tomorrow
The agitating students will continue their demonstration on Dhaka University campus until their demand for re-election to Dhaka University Central Students' Union (Ducsu) is met.
As a part of the programme, the students will stage a sit-in on the campus for the second consecutive day tomorrow to press home their demand, Quota reformist leader Muhammad Rashed Khan, also the joint convener of Bangladesh Sadharan Chhatra Adhikar Sangrakkhan Parishad announced today.
He came up with the announcement after concluding today's demonstration programme around 4:30pm.
Earlier in the day, the students staged the sit-in before the office of the university vice chancellor demanding Ducsu re-election.
They brought out a protest rally from Raju Sculpture around 12noon today and paraded through the campus before staging the sit-in.
Activists and followers of the five panels of leftists, independents and quota reformists who boycotted Ducsu election were leading the march.
This is the first programme held after their three-day ultimatum for a fresh election schedule – what was shrugged off by the vice chancellor.
Before the vice-chancellor's office, the students were chanting slogans in rejection of the Ducsu election result and demanding re-election to the Dhaka University Central Students' Union.
Ducsu polls irregularities 'normal' compared to previous elections: VC
Meanwhile, DU Vice-Chancellor Md Akhtaruzzaman today said the irregularities that allegedly occurred during the recently held Ducsu election were "normal" compared to the previous elections. 
The DU VC said this during a meeting at his office around 11:00am with the students who were staging a hunger strike demanding fresh Ducsu polls, reports Bangla daily Prothom Alo.
"The previous Ducsu polls were marred by irregularities and violence including incidents of killing. Compared to that, the irregularities that allegedly occurred during the recently held Ducsu polls were normal," he said.
The evidence of irregularities in the Ducsu elections presented by the demonstrating students would be provided to the probe committee formed on March 13 to investigate the allegations of irregularities, the VC added. 
DU students Tauhid Tanzim, Shoeb Mahmud, Rafia Tamanna and Rabiul Islam were present at the meeting representing the students who were staging the hunger strike.
WHAT HAPPENED IN DUCSU ELECTION
It was a 28-year long wait to Ducsu election – what ended in boycott of all major panels except that of the ruling party's front Chhatra League.
The election was marked by proof of irregularities in two of the girls' hall which led to the replacement of a hall provost on election day.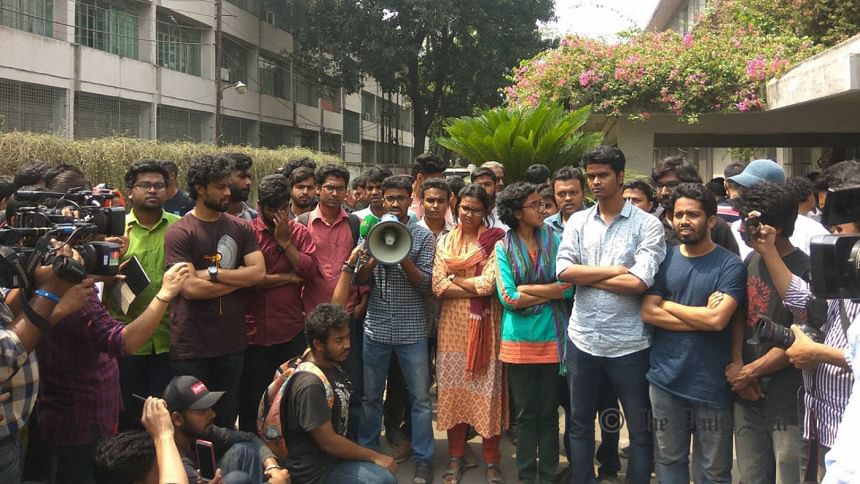 Results saw quota reform leader Nurul Haque Nur win the vice president post, leaving the almost all the other posts to the ruling party's student front.
Since then, the boycotting panels have been demanding fresh elections to Ducsu, rejecting the results of what they said was a "controversial election".