Judiciary is keeping patience: CJ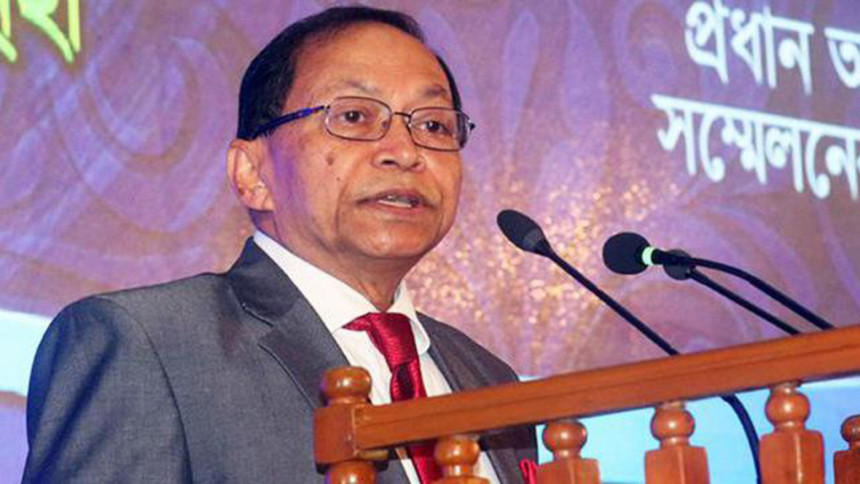 Chief Justice Surendra Kumar Sinha, while hearing the Masdar Hossain case today, said the judiciary is keeping enough patience.  
The chief justice was presiding over a six-member bench of the Appellate Division during hearing the Masdar Hossain case, also known as judiciary separation case.
Read More: Lower Court Judges: SC deplores draft rules
Referring to the removal of Pakistan's Prime Minister (Nawaz Sharif) by the Supreme Court, the chief justice said, "Pakistan Supreme Court has…the prime minister. We have been patient, we are keeping patience. We are only saying that we need to be more mature."
Also Read: Separation of power imperative
Discussion was supposed to be held on the disciplinary rules for lower court judges, which did not take place, the CJ said.
Hearing the chief Justice, Attorney General Mahbubey Alam said, "What should I do on the policy issue of the government."
To this, the chief justice replied, "You say one thing to the media but another thing before the court."
"I am not just telling you, I am saying this to the others also," the chief justice added.
The attorney general said, "A storm has taken place with these issues."
The Chief Justice then said, "We are not making any comments. You all are making comments."
The Supreme Court on July 31 refused to accept in full the draft rules determining the discipline of lower court judges, and said the rules were a U-turn on the top court's directives.
The court expressed its dissatisfaction with the ministry as it made the rules by making a "U-turn" on the directives given in the verdict in Masdar Hossain case, known as separation of judiciary case.
The draft states that any judicial officer facing allegations of misconduct will be attached to the law ministry. This way, the draft rules protect the ministry officials, Chief Justice Surendra Kumar Sinha, who was heading a six-member bench of the apex court, said during the hearing on the Masdar Hossain case on July 30.