Tarique, 2 journos face arrest warrant in sedition case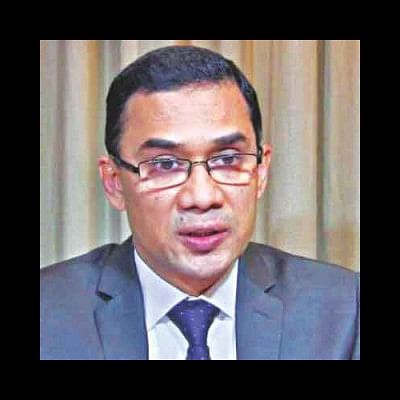 A Dhaka court today issued arrest warrants against BNP Senior Vice-chairman Tarique Rahman and two former journalists of private TV channel Ekushey Television (ETV) in

a sedition case

.
Judge Kamrul Hossain Mollah of the Sessions Judges Court passed the order after accepting the charge sheet in the sedition case today.
The court also told police to submit a report on the execution of the arrest warrant by November 20.
The other two accused Mahathir Farooki Khan and Kanak Sarwar went into hiding after securing bail.
Ekushey TV former chairman Abdus Salam, also an accused in the case, is now on bail.
Detectives on September 6 last year pressed charges against Tarique Rahman, Abdus Salam, former chairman of ETV, Kanak and Farooki in connection with the sedition case filed in January last year.
The case was filed with Tejgaon Police Station against Tarique, Salam and several other unknown persons on charges of broadcasting a "false, fabricated, and provocative" speech given by BNP Senior Vice Chairman Tarique Rahman on January 5 last year.
According to the case statement, Tarique, in his nearly 50-minute-long speech, said the chief justice cannot do justice to anyone after offering prayers at the grave of a political leader and delivering political speeches.
The case statement also alleged that Tarique and Salam threatened the country's sovereignty as one of them gave a "false, fabricated and instigating" speech and the other broadcasted it.