BNP in crisis, not country: Quader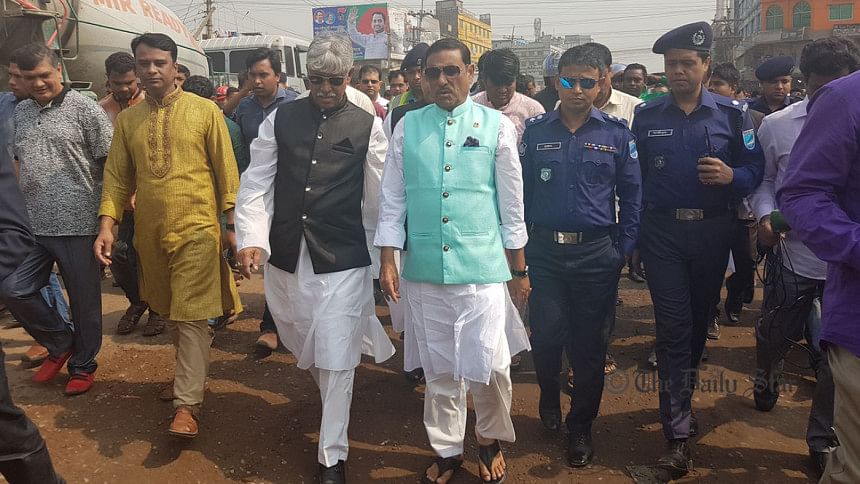 It is not the country, but the BNP which is in crisis, Awami League's General Secretary Obaidul Quader said reflecting on the imprisonment of BNP Chairperson Khaleda Zia.
Speaking in Gazipur a day after a Dhaka court sent Zia to jail for Tk 2.10 crore graft, Quader said: "It is not the country which has been plunged to crisis through the verdict."
"Rather, it is the BNP and its organisational mechanism that have been plunged into crisis. This case was not filed by the government, nor did it interfere with the case," he said.
READ MORE: Khaleda in jail, what now?
Quader was speaking to journalists in Gazipur during an inspection this morning, our local correspondent reports.
BNP has rejected the verdict, which is being considered politically significant since it came ahead of the next parliamentary election, and alleged it was a personal vendetta of Prime Minister Sheikh Hasina.
As Khaleda landed in jail, the BNP charter put her eldest son and the party's Senior Vice Chairman Tarique Rahman at BNP's head, who too has been sentenced to 10-year in the same verdict.
Khaleda, now 72, will have to stay in jail for at least three days until Sunday. Her lawyers will be able to move to the High Court on Sunday seeking her bail and stay on the sentence only if they get a certified copy of the verdict by that time.