'Rohingyas to fall prey to int'l terrorist groups if crisis not resolved'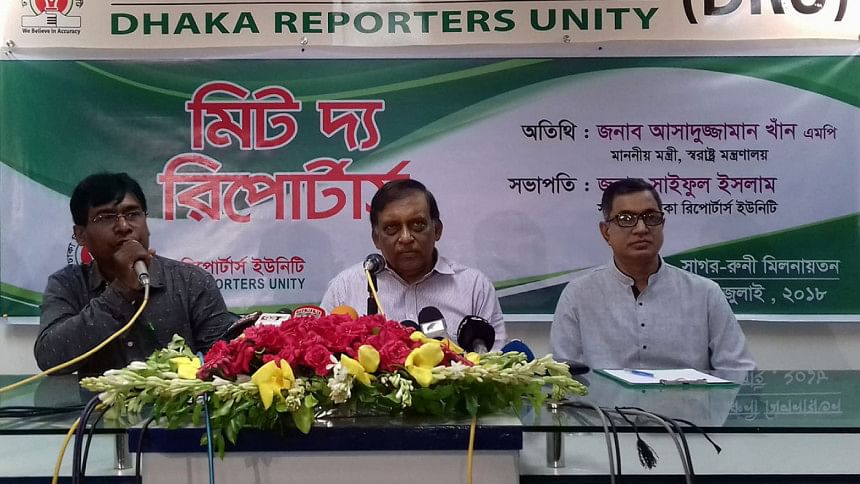 The displaced Rohingya people will fall prey to international terrorist groups if the ongoing refugee crisis is not resolved, Home Minister Asaduzzaman Khan Kamal said today.  
"Tackling the Rohingya situation is a new challenge for us. But if we cannot solve the problem then the Rohingya people will become an easy prey of the international terrorist groups," the minister said at a meet the press programme at Dhaka Reporters' Unity in the capital this morning.
"Although Myanmar is claiming again and again that they will take back the Rohingyas, we don't see any sign of that happening," he added.
The government is communicating with all international community including the UN to solve the Rohingya crisis and the issue was one of the main topics of discussion with Indian Home Minister during his recent three-day visit.
Replying to a query on the Deputy Inspector General Mizanur Rahman, the minister said the police official was suspended immediately and steps were taken to ensure flawless investigation.
"Departmental or judicial action will be taken against him as per the finding of the investigation. You will see steps are being taken very soon," he said.
When asked about government's inaction against over 200 police officials who appeared as drug patrons in the home ministry's lists, the minister said, "We are not sparing anyone. Possibly you are not getting all the messages."
"The alleged officials are facing departmental actions and suspensions. One or two were sent to jail," he added.
Asked about why godfathers are not being brought to book, the minister said law enforcers are taking action against those whose names appeared common in the five lists prepared by five separate intelligence agencies.
The minister also said the killing of Teknaf municipality Councillor Akramul Haque is under investigation and action will be taken against responsible persons after completion of probe.    
No incidents of enforced disappearance are taking place, the minister also said, adding, "We do not conduct any extra-judicial killings."
When asked about police's inaction as some youths are repeatedly assaulting teachers and students on Dhaka University campus, Kamal said that police never intervene in the university issues until its authorities call them in.
The minister, however, said the attackers on VC's residence were being identified and arrested.
About the investigation on journalist couple Sagar-Runi murder case, Kamal expressed his hope that Rab, the investigating agency of the case, will be able to come up with findings anytime.