Polls, by-polls to 133 local govt bodies underway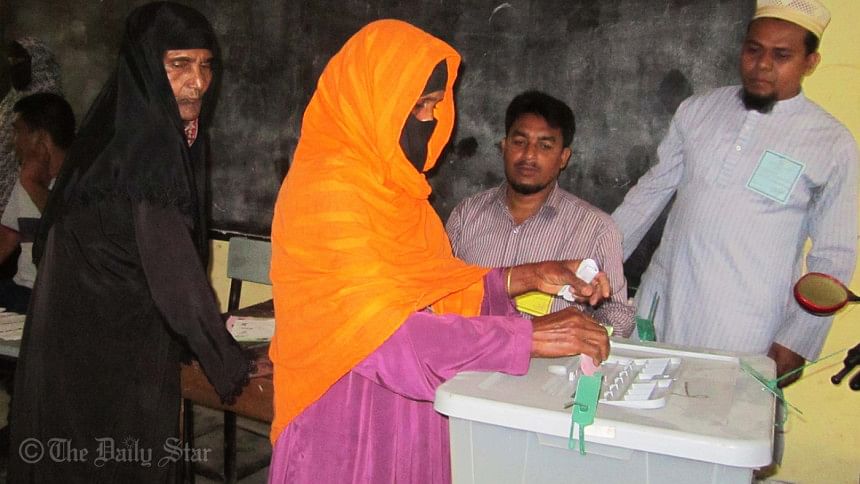 Elections and by-elections to some 133 local government bodies across the country began this morning amid tight security.
The voting started at 8:00am and will end at 4:00pm without any break.
Of those, voting to 47 union parishads, by-elections to 72 unions and elections to seven municipalities and by-elections to four municipalities and election to an Upazila Parishad in different posts began in the morning, said Election Commission director (public relations) SM Asaduzzaman.
Voters in the by-elections at two wards in Chittagong and Khulna City Corporations are casting their votes to elect ward councilor posts, he added.
In Faridpur, a total of 200,903 voters are exercising their franchises at 102 polling stations to elect their representatives in 11 union parisads.
Some 37 candidates are vying for chairmen posts while 334 candidates for member posts and 116 candidates for reserved women member posts.
Of the 102 centres in 11 unions, 62 were identified as risky, said Habibur Rahman, district election commissioner, adding that 20 members of police and ansar have been deployed at every centre while 25 members of law enforcers have remained deployed at risky ones. 
A platoon of Border Guard Bangladesh (BGB) and two platoons of Rapid Action Battalion (Rab) are patrolling every union. Besides, 52 mobile teams of police, five mobile courts, 21 executive magistrates and three judicial magistrates have been deployed, said the election officer.
In Sylhet, balloting began at five union parishads in Fenchuganj upazila on Thursday morning.
A sum of 72,592 voters are casting votes at 45 polling centres here to elect chairmen, members and reserved female members.
Some 21 candidates are vying for chairmen posts while 228 candidates for member posts and 50 candidates for reserved women member posts.