Aslam named some masterminds: Cops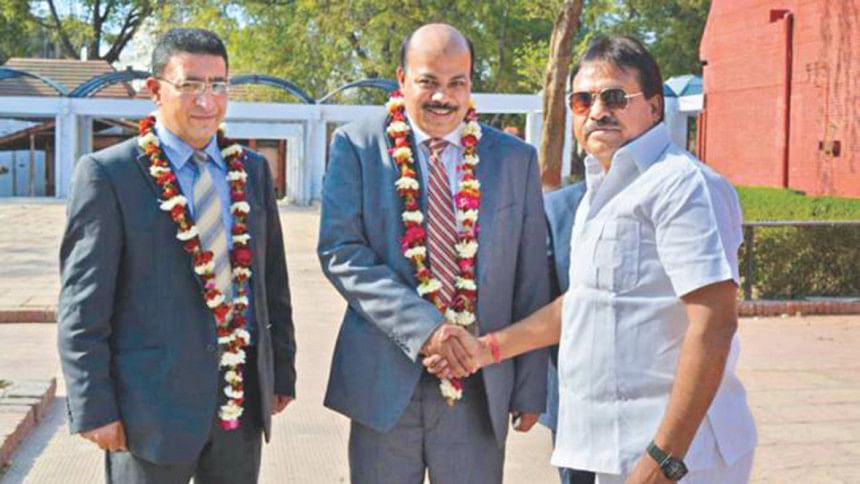 BNP leader Aslam Chowdhury has spilled names of the masterminds who sent him up for meeting an Israeli politician and divulged some other crucial information, police said today.
"He confessed about the meeting and the plans discussed in it," Monirul Islam, additional commissioner of Dhaka police, said in a press briefing without specifying any further.
However, The Daily Star could not independently verify the police official's claim.
READ MORE: Friendship with Israel is 'political suicide'
A photo of Aslam Chowdhury, BNP's newly made joint secretary general, and Israeli politician Mendi Safadi surfaced on the social media last month and caused uproar. Reports were out that he had hatched conspiracies to overthrow Bangladesh government.
Since then, Aslam has been sued in a treason charge and remanded couple of times for questioning.
His topic came up in DIG Monirul's press briefing today, held at Dhaka Metropolitan Police's media centre. Monirul is now the chief of a specialised crime combating unit in Bangladesh.
Though Monirul did not specify anything, he said that Aslam had said "much, and that the police now have enough information and evidence from his confession."
CONSPIRACIES BEHIND RECENT KILLINGS
Monirul reiterated that the national and international conspiracies are behind the killings carried out in Bangladesh.
"The intention of the killings are one – to smear the popularity of the government and to embarrass the government. They want to show that the government cannot protect the religious minorities."