I met Israeli accidentally
Claims BNP's Aslam; party lambasts him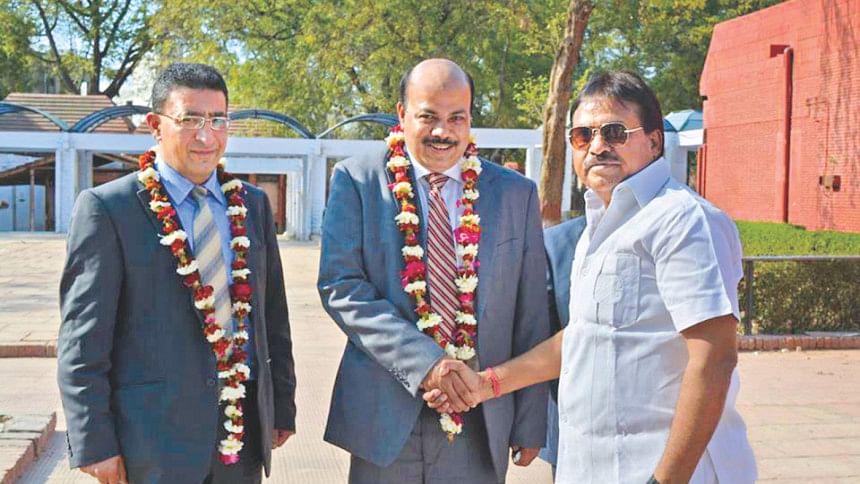 Amid swirling controversy, newly appointed BNP Joint Secretary General Aslam Chowdhury has admitted he met an Israeli politician in New Delhi early this month but claimed the meeting was accidental.    
Talking to The Daily Star on Tuesday, he also said he didn't know if the Israeli politician had any links with Mossad, the Israeli secret service agency.
"The allegation that I've joined hands with Mossad to unseat the government is totally fictitious and baseless," Aslam said over the phone.
Known to be a trusted lieutenant of BNP's senior vice-chairman Tarique Rahman, Chittagong-based businessman Aslam came under severe criticism at the party's standing committee meeting on Monday. There, he was warned of stern actions.
Although Aslam claimed he accidentally met Mendi N Safadi, a leader of Israel's Likud Party and chief of International Diplomacy and Public Relations in New Delhi, several photographs posted in the Facebook page of Mendi N Safadi Center - for International Diplomacy and Public Relations show the two taking reception and attending a programme in India.
Aslam could not be reached for comments on those photographs; his mobile phone was found switched off continuously yesterday.
State Minister for Foreign Affairs Shahriar Alam and ruling Awami League leaders have alleged that the BNP had been trying to come to power by using the Israeli intelligence agency.
Talking to reporters at his office on Tuesday, Shahriar said the government has information about it. In this connection, he referred to "meetings between BNP leaders and Mossad".
"The government can ban the BNP tomorrow if the information is placed together," he said.
In the face of strong criticism from the party's policymakers, Khaleda in the early hours of Tuesday warned Aslam that action would be taken against him if he repeated such acts in future, party insiders said.
At Monday's meeting at Khaleda's Gulshan office, several BNP policymakers expressed resentment over Aslam's meeting with Mendi N Safadi.
Some standing committee members demanded that the BNP chief take tough action against Aslam, added the sources.
"This is a very serious issue that a BNP leader has held a meeting with an Israeli leader. It goes against our national values as well as against our party policy as Bangladesh does not have any relations with Israel," a BNP standing committee member said.
"This type of meeting will send a wrong signal to our friendly Muslim countries, and it may also seriously damage the BNP's image at home and abroad," he added, wishing anonymity.
Asked, BNP standing committee member Lt Gen (retd) Mahbubur Rahman said such an incident may create another "Taiwan-like effect" for the BNP. Explaining the "Taiwan effect", the former army chief said Chinese government got seriously displeased with the BNP after a leader of the party opined in favour of opening up a Taiwanese trade centre in Bangladesh. 
Party insiders said the BNP is yet to fully repair the damage caused by the incident.
Recently, a Bangla daily ran a series of reports where it was alleged that the BNP was involved in hatching a plot to topple the AL government by joining forces with Mossad. The reports mentioned that Aslam Chowdhury met Mendi N Safadi in New Delhi early this month. The newspaper also published two photographs of Aslam and the Israeli leader.
In one photograph, Aslam is seen standing next to Safadi who is sitting on a chair at a programme on India-Israel relations.
Asked by The Daily Star about his attending the programme, Aslam said he was not aware of the programme. "I just went to have a cup of tea there."
He claimed he went to New Delhi on a six-day visit from May 5 for business purposes and for sightseeing in Agra.
Aslam denied holding any meeting with Mossad officials.