AL alliance's 'mass resistance' week in July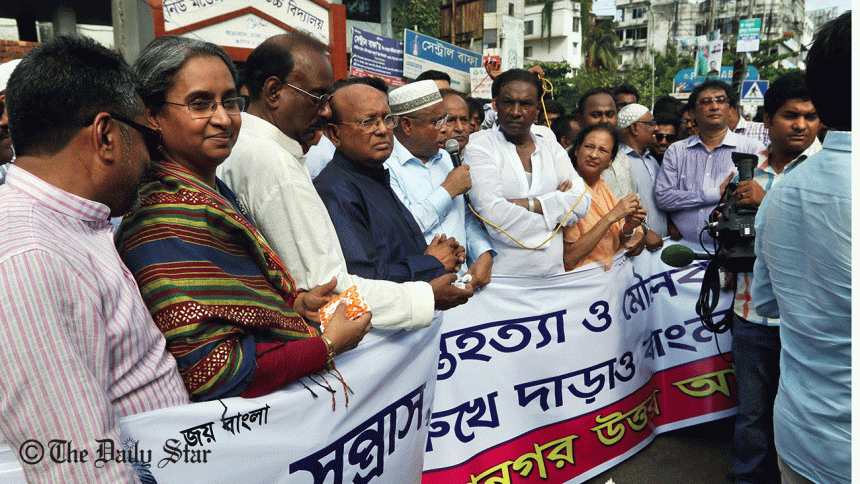 Calling upon the people from all walks of life to form a strong resistance against the ongoing killings and abductions, the ruling Awami League led 14-party alliance today said that they would observe a mass resistance week across the country from mid-next month.
Starting from July 15, the mass resistance campaign will continue till July 21, Mohammad Nasim, spokesperson of the 14-party alliance made the announcement at a human chain at Bangabandhu Avenue in Dhaka this afternoon.
About BNP Chairperson Khaleda Zia's recent call for building a national unity against the prevailing target killing spree, Nasim said, "We will consider the call if BNP chief Khaleda Zia cuts ties with Jamaat and apologises for her previous mistakes.
Leaders and activists of the 14-party alliances and its different front, associates and like-minded body formed the human chain at different points in the capital as well as across the country to press the issue.
Several senior leaders of the ruling Awami League, Matia Chowdhury, Bahauddin Nasim, Mohammad Hanif, workers party chief Reshed Khan Menon, Jatiya Samajtrantrik Dal leader Shirin Akhtar and others took part in the human chain.
Due to the human chain that continued for an hour from 3:00pm, traffic movement on different streets across the capital were at a standstill causing huge sufferings to the city dwellers.