Govt launches cyber war against BNP: Rizvi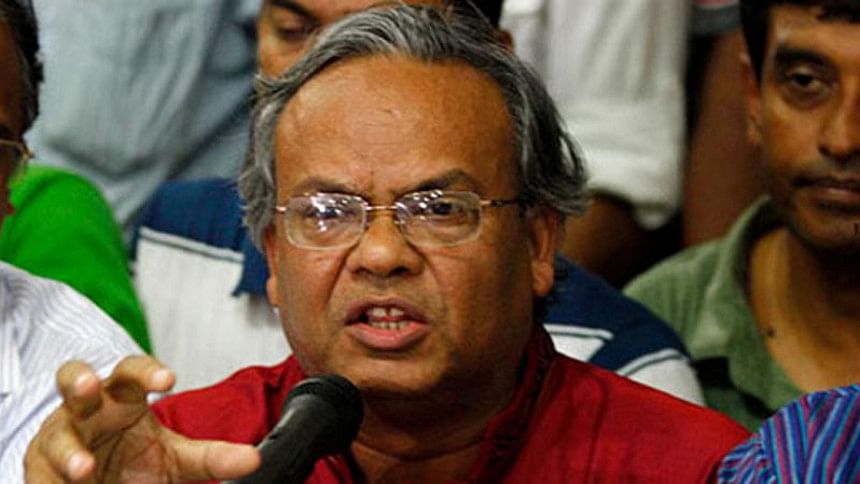 BNP today blamed the ruling quarter for carrying out propaganda against BNP and the party chief Khaleda Zia through social media ahead of the 11th parliamentary election scheduled for December 30.
"Social media like Facebook, Twitter and YouTube have been flooded with false, fabricated and politically motivated campaign to thwart our movement for Khaleda's release from jail. The government has already announced an ugly cyber war against the party with public money," BNP Senior Joint Secretary General Rizvi Ahmed said.
He was addressing a press conference at the party's Nayapaltan central office in Dhaka this afternoon.
"They (AL) has been spreading dangerous propaganda of various spiteful superimposed photos and fake audios and videos on the party on social media," said Rizvi, also the spokesperson of BNP.
He said the ruling quarter is trying to divert people's attention to different directions from their 10 years of indulgence in all-out corruption, killing, abduction, enforce disappearance and misdeeds by spreading the falsehood through the social media.
"The ruling Awami League men are using at least 50 online portals like Bangla Insider, Bangla News Post, Amader Rajniti, News for All, Chobir Moto Desh, Bangladeshi Viral Videos, Chairman Sab, Guerrilla-71, Cyber Force-71, Bangabandhu Cyber Force, Bangabandhu Digital Brigade, Aam Janata, Bhorer Pataa and Gujobe Kan Diben Na, in conducting the offensive campaign," Rizvi said.
They are engaged in spreading out propaganda spending thousands of dollars from different fake Facebook IDs, he alleged.
He also warned that people would pay a befitting reply to Awami League for such false campaign through the ballot in the upcoming general election.