PM for strengthening Navy to protect country's sea areas
'BNS Sangram' commissioned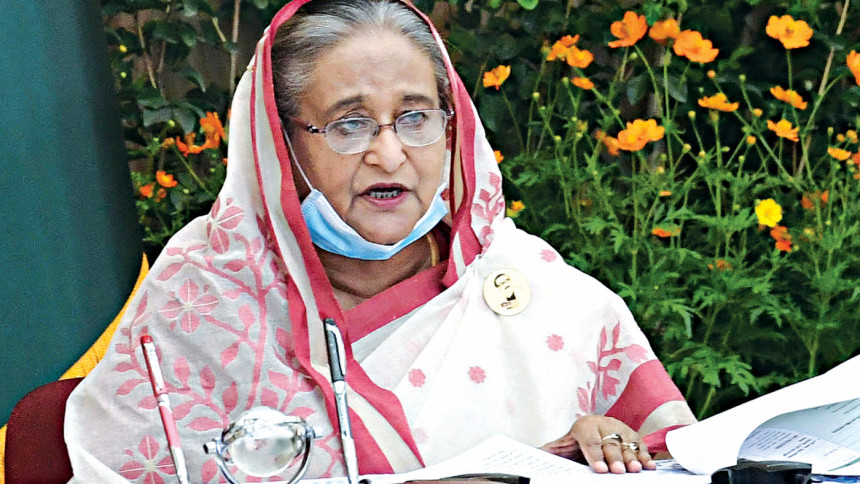 Prime Minister Sheikh Hasina today stressed the need for strengthening Bangladesh Navy further in a bid to protect the country's maritime area.
"It is essential to make our Navy stronger further to protect this sea area," she said while commissioning the BNS Sangram through videoconference from her official residence Gono Bhaban.
Navy chief Admiral Aurangzeb Chowdhury, on behalf of the Prime Minister, formally handed over the 'commissioning forman' of the ship to Captain Arifur Rahman at the BNS Issa Khan Naval Base in Chattogram.
The Prime Minster asked the Navy to protect the vast sea area Bangladesh conquered through peaceful settlement of disputes with two neighbouring countries as Bangladesh will utilise marine resources to boost the country's economy.
"We don't want to fight with anyone. We want peace. But we want to develop our forces with modern technology -- keeping pace with the times so that we can properly face any attack," she said.
About the Bangladesh Navy, she said many modern equipment, including ships have already been procured for the naval force.
The Prime Minister said she first handed over Khulna shipyard to the Navy. Two dry docks in Narayanganj and Chattogram were also given to the Navy.
BNS Sangram will leave for Lebanon on Friday to take part in the UN peacekeeping mission.
Sheikh Hasina said Bangladesh will continue its contribution to the UN peacekeeping missions.