First 2 submarines commissioned
Bangladesh Navy begins its journey as a "three-dimensional force" as two submarines were commissioned today at a special ceremony in the area adjacent to Chittagong naval jetty.
Inaugurated the two submarines -- BN Nabajatra and BN Joyjatra -- at the ceremony, Prime Minister Sheikh Hasina said the government has already taken various short- and long-term plans to build Bangladesh Navy as a three-dimensional force by 2030.
"The day is very much special day, not only for Bangladesh Navy or Bangladesh Armed forces but also for entire Bangladesh," Sheikh Hasina said.
READ MORE: 2 submarines for Navy arrive at Ctg port
In order to further intensify surveillance in the  Bay of Bengal and enhance the force's combat capability, Bangladesh Navy on December 22 received the two China made submarines.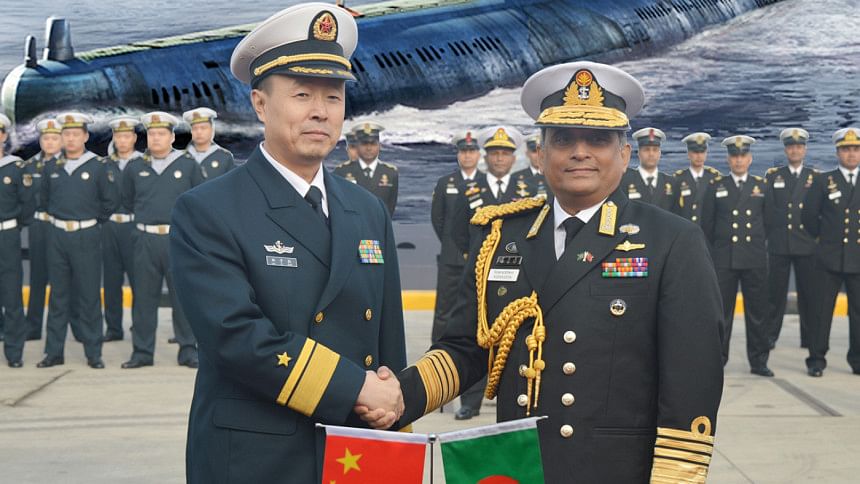 Earlier on November 14, Rear Admiral Liu Zizhu on behalf of the Chinese government handed over the submarines to Chief of Naval Staff Admiral Mohammad Nizamuddin Ahmed at a ceremony held at Liaonan shipyard in China.
Both the submarines are 76 metres long, 7.6 metres wide and are equipped with torpedoes and mines which are capable of attacking enemy warships and submarines.
READ MORE: Navy to get 2 submarines by 2015: PM