Navy to get two subs this year
Says PM at commissioning ceremony of 3 warships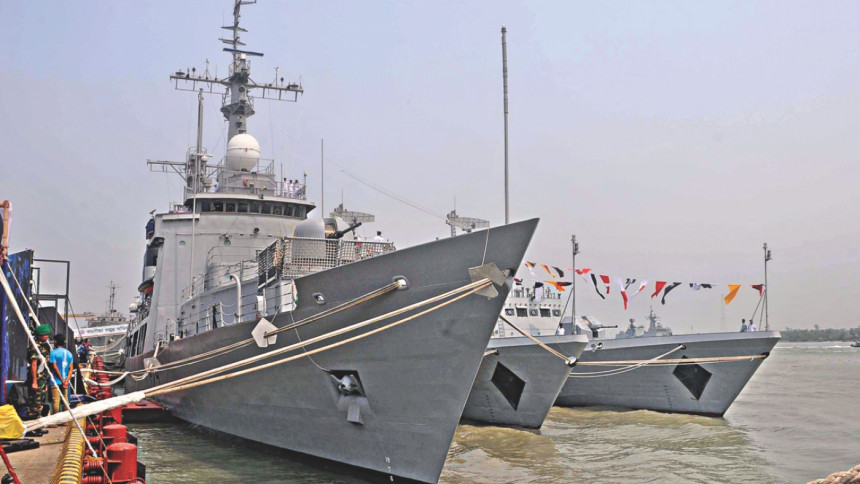 Prime Minister Sheikh Hasina yesterday said two submarines will be inducted into Bangladesh Navy this year for the first time, aiming to transform it into a three-dimensional force.
She was addressing the commissioning ceremony of three new warships at the Naval Berth of Bangladesh Naval Academy in Chittagong.
The PM said the government has undertaken programmes to build warships in Chittagong Dry Dock with own technology.
Hasina stressed the need for utilising huge sea resources like fish, mineral oil and natural gas which are very important for Bangladesh's national economy and the country's socio-economic development.
She termed commissioning of the newly built warships another step forward in attaining capability of Bangladesh Navy.
Elaborating on various measures taken for Navy's development, she said her previous government, after returning to power in 2009, formulated the Forces Goal 2030.
Besides, 18 state-of-the-art warships, including frigate, corvette and patrol vessel, as well as survey vessels and fleet tanker and container vessels have already been inducted into the Navy fleet, the premier mentioned.
Maritime helicopters and maritime patrol aircrafts have also been added to the Navy during the tenures of the government, Hasina said, adding that two more corvettes are being built in China to strengthen the Navy's capability.
"The responsibility to utilise huge maritime resources for the economic uplift of a developing country like Bangladesh is bestowed upon the Navy."
Considering the strategic and geographical location of the country, the role of Bangladesh Navy is immense in protecting its water boundary and resources, the PM noted.
Sheikh Mujibur Rahman Maritime University has been set up with the cooperation of Bangladesh Navy to further strengthen the position of the force as well as to continue leading role in maintaining world peace, she added.
Hasina mentioned that the construction work of Bangabandhu Complex is progressing fast at the Naval Academy to ensure modern and world standard training.
Later, she boarded the newly commissioned warships and witnessed a joint exercise of various warships of the Navy.
Ministers, the PM's defence adviser, parliament members, chiefs of the three services, diplomats and high civil and military officials were present.
Earlier, the premier handed over the commissioning order to the commanding officers of BNS Samudra Abhijan, built in the USA, and BNS Prottoy and BNS Swadhinata, built in China.
On her arrival at the BNS Base Isha Khan, the PM was received by Chief of Naval Staff Vice Admiral Nizamuddin Ahmed and Rear Admiral M Akhtar Habib, Navy commander in Chittagong.