Post polls crisis looms large over Pakistan
PTI leads in much-delayed election results, PML-N, PPP and others cry foul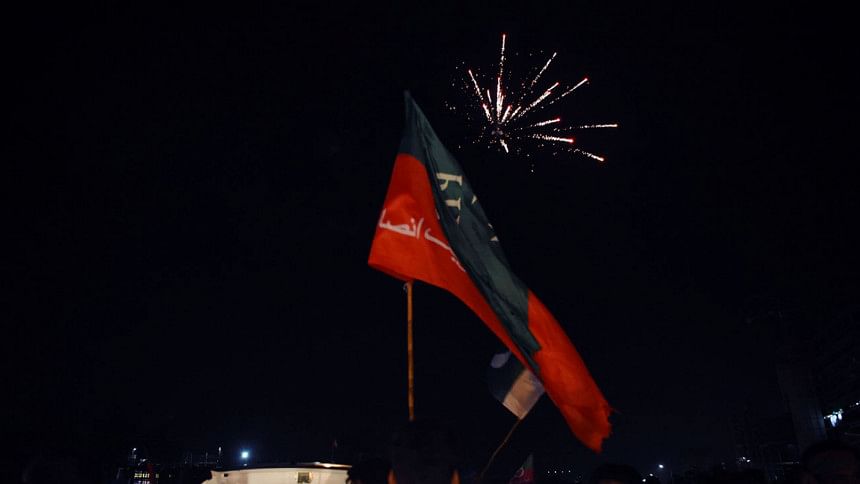 Massive delays and allegations of rigging dominated the early hours of Thursday in Pakistan, where official election results were still not announced even 15 hours after polling ended. Preliminary results, however, indicated that Pakistan Tehreek-i-Insaf (PTI) had obtained a clear edge over other parties as results trickled in.
Although PTI workers and supporters started celebrations before the final results, no statement — or even a tweet — has been issued by Khan on his victory. His spokesperson Naeemul Haque, however, tweeted that the PTI chief will "address the nation" today at 2pm "in celebration and recognition of the massive support received from the people of Pakistan in the 2018 elections which was a contest between the forces of good and evil".
According to AFP, Gallup Pakistan estimated voter turnout at between 50 to 55 per cent in an electorate of nearly 106 million — similar to the previous contest in 2013.
Based on reporting of 47 per cent of polling stations, PTI is leading on 114 National Assembly seats, while the PML-N trails behind with 64 and the PPP-Parliamentarians (PPP-P) is at third spot with 42 seats, reports Dawn. 
In Punjab, with preliminary results from 50pc polling stations available with ECP, PML-N is currently holding its lead on 129 provincial seats but PTI is closing in with a lead on 122 seats.
Meanwhile, PTI is clearly steering ahead in Khyber Pakhtunkhwa with a lead on 64 seats against Muttahida Majlis–e–Amal (MMA), which is currently leading on 12 seats, as per reporting from 35pc polling stations in the province.
The preliminary results from 37pc polling stations in Sindh show PPP-P leading on 75 seats, followed by PTI on 22 seats.
In Balochistan, Balochistan Awami Party (BAP) is leading on 12 provincial seats, followed by Balochistan National Party (BNP) on 9 seats, based on unofficial results from 35pc polling stations, according to Dawn. 
According to Geo News, Awami National Party leader Ghulam Ahmed Bilour conceded defeat to PTI's Shaukat Ali, his competitor on Peshawar's NA-31 seat, saying: "The results indicate that Imran Khan is a favourite leader of the people of Khyber Pakhtunkhwa. I am a democratic person and I admit the defeat."
Counting is still going on at the polling stations of different constituencies.
UNOFFICIAL RESULTS — 100% VOTE COUNT
PTI's Asad Umar wins NA-54 (Islamabad-III) with 56,945 votes; PML-N's Anjum Aqeel runner up with 32,991 votes.
MMA's Moulana Abdul Akbar Chitrali wins NA-1 (Chitral) with 26,133 votes; PTI's Abdul Latif runner up with 17,644 votes.
PTI's Malik Karamat Ali wins NA-135 (Lahore-XIII) with 54,765 votes; PML-N's Malik Saiful Malook runner up with 55,431 votes.
PTI's Junaid Akbar wins NA-8 (Malakand) with 81,310 votes; MMA's Gul Naseeb Khan runner up with 31,739 votes.
PPP-P's Syed Ayaz Ali Shah Serazi wins NA-231 (Sujawal) with 129,980 votes; MMA's Molvi Muhammad Saleh Al Hadad runner up with 11,177 votes.

PML-N's Muhammad Riaz wins NA-123 (Lahore) with 97,193 votes; PTI's Wajid Azeem runner up with 72,535 votes.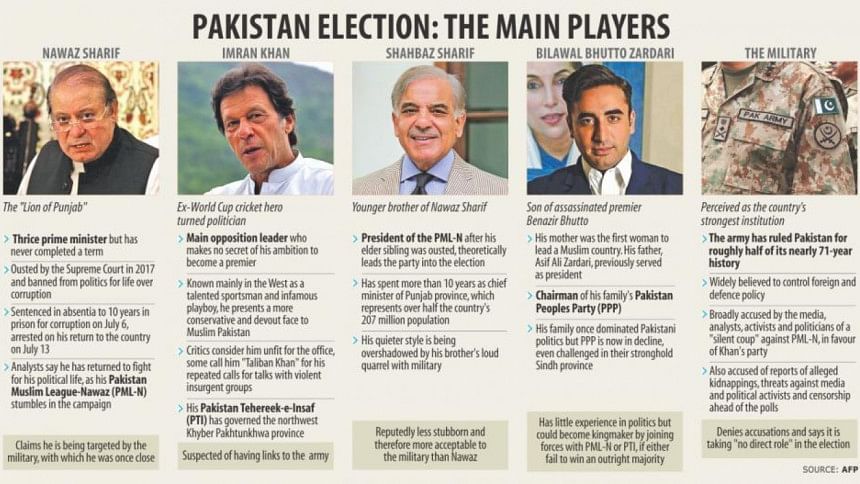 DELAY IN RESULTS
At a 4am press conference, the Election Commission of Pakistan said that "technical difficulties" were behind the unprecedented delay.
CEC Muhammad Raza Khan congratulated the people of Pakistan for participating in a "democratic polling process", and expressed gratitude for the polling staff across the country as well as the security personnel deployed on Wednesday.
"I am aware that the delay in announcement of results has caused some annoyance. But it [Results Transmission System (RTS)] was a new system and we were implementing it for the first time. Therefore, there was some delay," said the CEC.
Regarding political parties' grievances about polling agents not being given Form 45 (the statement of vote count) by presiding officers, he said: "It is not possible that a polling agent was not given the form. If there are any genuine complaints, we will take strict action."
To a question of how he would respond to allegations of rigging in the election, the CEC confidently replied: "We will prove ourselves that we did our job right."
He announced what he called the "first non-official, preliminary result" of the elections: PTI's Chaudhry Adnan won PP-11 (Rawalpindi VI) with 43,089 votes.
Earlier, in the day ECP Secretary Babar Yaqoob rejected the notion that there was any 'conspiracy' behind the delay in transmission of elections results. "The only reason for delay was a technical fault in the Results Transmission System (RTS), which stopped working when thousands of polling officers began using it simultaneously," he clarified.
He made it clear that the election body had so far not released any official results. Yaqoob said that the complaints by political parties regarding katchi receipts were being addressed and action would be taken on all genuine complaints.
He added that the ECP is compiling results that have been received via scanned copies of Form 45 and it had set aside the RTS for the time being to expedite the collation of polling data.
Earlier, an ECP spokesperson had confirmed to DawnNewsTV that the delay was due to the breaking down of RTS, which is being run through a software powered by National Database and Registration Authority (Nadra).
According to data released by ECP, a total of 3,459 candidates — 1,623 from Punjab, 824 from Sindh, 725 from Khyber Pakhtunkhwa and 287 from Balochistan — were cleared to run for the 272 general seats of the national assembly. However, elections in two constituencies — NA-60, NA-108 — were later postponed by the commission.
A single party will need to bag at least 137 of the directly elected seats to be able to form the government on its own.
PML-N, PPP AND OTHERS CRY FOUL
Post-poll crises looms large over the country as Pakistan Muslim League-Nawaz (PML-N), Pakistan Peoples Party (PPP), Muttahida Qaumi Movement-Pakistan (MQM-P) and Awami National Party (ANP) among others have voiced grave concerns over what they termed 'systematic manipulation in compilation and announcement of results' by the polling staff, reports The Express Tribune.
PML-N President Shahbaz Sharif at a mid-vote count press conference said his party rejects the poll results. In a tweet, he said the party had rejected the results "due to manifest and massive irregularities".
"Form-45 was not given to our agents, results were stopped and votes were counted in the absence of our polling agents. This is both unbearable and unacceptable," he said.
PPP Chairman Bilawal Bhutto Zardari also tweeted saying he had not received any official results from any constituency where he was contesting, despite it being past midnight. "My candidates [have been] complaining [that] polling agents have been thrown out of polling stations across the country. Inexcusable and outrageous."
PPP's Sherry Rehman also claimed that "there has been a clear trend of interference, in which all parties except one are being pushed to the wall".
"The whole election could be declared null and void considering just what has occurred over the last three hours," she said, adding that the party expects its complaints to be addressed by midnight. 
PML-N spokesperson Marriyum Aurangzeb, while speaking to the media, raised objections over the counting process and alleged that the party's agents were being forced out from the polling stations in various constituencies.
 "The counting process is being carried out behind closed doors and changes are being made to Form-45," Aurangzeb alleged while talking to media persons.
In response, the provincial election commissioner in Punjab categorically denied the allegations levelled by PML-N. "Political leaders should refrain from levelling such baseless allegations without having any substantial proof," the ECP official said.
Explaining the process, the election commissioner clarified that only one polling agent of every party is allowed inside the polling station at the time of counting of votes, says the Dawn report. 
PPP's Maula Bux Chandio alleged that his party's agents were not allowed inside polling stations in Badin while PSP leader Raza Haroon made the same claim about the treatment meted out to his party's agents at different polling stations across Karachi.
The PPP, according to APP, had registered over 240 complaints with the ECP regarding deliberate delay in the polling process to restrict maximum number of people to cast their votes, restriction of polling agents' presence during the vote counting process and non-provision of Form 45 by polling staff to the agents in time.
MILLIONS FLOCK TO POLLS
Millions of registered voters flocked to polling stations across the country today to cast their vote in Pakistan's 11th general election. According to DawnNewsTV, the first vote was cast in Khyber Pakhtunkhwa's Charsadda district.
Halfway during polling, the PML-N sent a letter to the Chief Election Commissioner, seeking an extension in time by one hour. "The PML-N is making this demand under Section 70 of the Elections Act 2017, which authorises ECP to 'extend polling hours already fixed'," read the letter, signed by Senator Mushahid Hussain.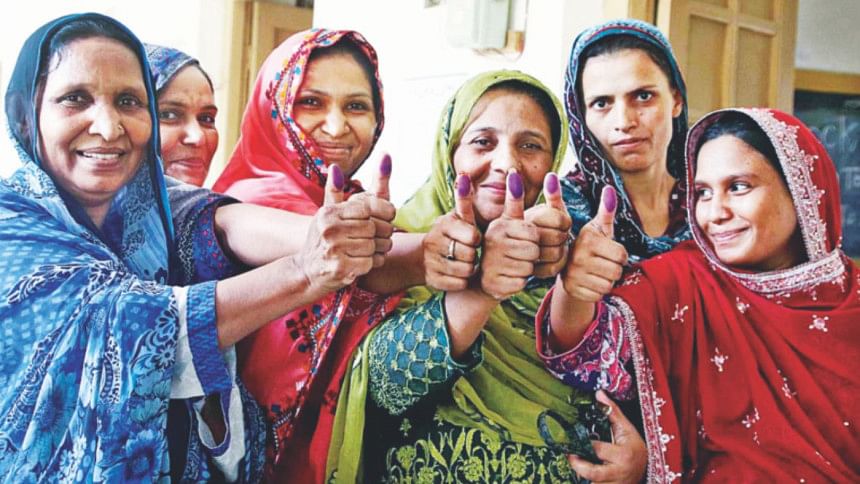 Citing "large-scale nationwide complaints", the letter added that only "3-4 people" are being allowed to enter the polling station at one time, slowing down the process. "This is not only causing inconvenience to voters [...] but may also end up depriving people from their right of vote."
PPP, PTI and Awami Muslim League (AML) Chief Sheikh Rashid had also requested the ECP to extend the polling time.
The ECP, after deliberation, rejected the requests for an extension of one hour. In a press release, the ECP said that all those who were present at polling stations before 6pm would be allowed to cast their votes.
Earlier in the day, before polling stations officially opened for voting at 8am, enthusiastic citizens had queued up outside their respective stations as early as 7am.
At 371,388, a record number of troops were deployed at polling stations at the ECP's request to maintain law and order and take action against harassment. A total of 8,508 polling stations and 244,687 polling booths were established across the country.
Around 17,007 polling stations were declared "highly sensitive".
PML-N President Shahbaz Sharif was among the first people today to cast his vote. Speaking to the media outside the polling station in Model Town, Lahore, he requested that people come out and vote for PML-N.
Other politicians and candidates, including former prime minister Shahid Khaqan Abbasi, former Sindh chief minister Murad Ali Shah, MQM-P's Farooq Sattar, Pak Sarzameen Party (PSP) Chairman Mustafa Kamal, PTI Chairman Imran Khan, Bilawal Bhutto and JUI-F Chief Maulana Fazlur Rehman also took part in the polling process.
ECP spokesperson said that the commission has issued a notice to Khan, saying his vote could be disqualified after he cast his ballot in front of television cameras, violating "the secrecy of the ballot paper", AP reported.
VIOLENCE ON ELECTION DAY
Reports of violence surfaced in various areas including Quetta, Larkana, Khuzdar, Swabi, and Kohistan ─ despite the deployment of 800,000 security forces across the country, according to Dawn. 
The polling process was temporarily halted at Quetta's Tameer-i-Nau Educational Complex school in the NA-260 constituency, where a suicide blast near a polling station around 11am left at least 31 people dead and 30 others injured.
Also in Balochistan, a grenade attack at a polling station in Koshk village in Khuzdar left a policeman dead and three others injured, according to AFP.
In Naseerabad, firing at a polling station left two people injured, DawnNewsTV reported.
Earlier, in a village in Swabi, a shooting between supporters of two rival political parties left one person dead and two people wounded, according to AP.
Clashes were also reported in Mardan, Rajanpur, Khipro and Kohistan. Polling was reportedly halted in Kohistan.
Polling was also halted at a school in Larkana serving as a polling station, where a cracker blast left three people injured.
According to the army's media wing, a military protection party accompanying NA-271 polling staff from Balochistan's Buleda area was ambushed at Dastuk near the Pak-Iran border on Tuesday night.
Security forces foiled the attempted attack and moved polling staff to a designated place, Inter-Services Public Relations (ISPR) said in a press release.
However, three security forces' personnel were martyred in the exchange of fire. They were identified as Sepoy Imran, 21, from Dera Bugti, Sepoy Jahanzeb, 25, from Chakwal, and Sepoy Akmal, 23, from Haripur.
A school teacher, Safiullah, who was serving as polling staff, was also killed, while 14 others, including 10 security personnel and four civilians, were injured.
Ten people who sustained serious wounds were evacuated to Karachi, while those who sustained minor injuries were evacuated to District Headquarters Hospital Turbat.
Polling continued at the polling station as planned, ISPR said.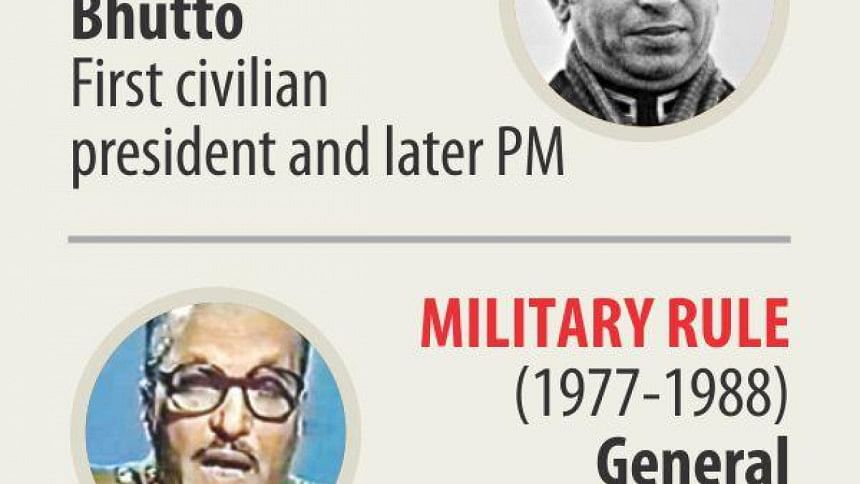 THE CANDIDATES
Independents outnumber candidates fielded by political parties
The battle is set to come down to three parties: Pakistan Muslim League-Nawaz (PML-N), Pakistan Peoples Party (PPP) and Pakistan Tehreek-i-Insaf (PTI).
Main contestants
Imran Khan — 'Prime Minister in waiting'
Shahbaz Sharif — 'A worthy heir?'
Bilawal Bhutto-Zardari — 'First chance
In all, 11,673 candidates are in the run, 3,428 for National Assembly and 8,245 for provincial assembly seats.
The statistics shared with the media reveal that independent candidates outnumber the candidates fielded by political parties. The number of candidates fielded by parties is 5,661 while the number of independent candidates in the race is 6,012.
For National Assembly seats, 1,623 candidates are in the race, 1,805 of them fielded by political parties and 1,623 independents. KP is the only province where the number of independent candidates for National Assembly seats is higher than those fielded by parties.
For National Assembly seats, parties have fielded 820 candidates in Punjab, 441 in Sindh, 335 in KP, 173 in Balochistan and 36 in the federal capital. The number of independent candidates for National Assembly seats includes 714 from Punjab, 373 from Sindh, 386 from KP, 117 from Balochistan and 33 from the federal capital.
For provincial assembly seats, 8,245 candidates are in the running ─ 3,856 fielded by parties and 4,389 contesting independently.
The number of independent candidates running for the Punjab and Sindh assemblies is higher than party ticket holders. As many as 2,256 independents and 1,719 party ticket holders are contesting Punjab Assem­bly seats while 1,186 independents and 993 party candidates are in the run for Sindh Assembly seats. In KP and Balochistan there are 675 and 469 party ticket holders and 470 and 477 independents, respectively.
Of the 120 parties enlisted with the ECP, 95 are contesting elections and seven of these 95 parties have failed to meet the mandatory requirement of awarding five per cent party tickets for general seats to women.
THE VOTERS
There are 105,955,409 registered voters, including 59,222,927 male, 46,730,569 female voters besides 1,913 transgender voters, of whom 1,356 are in Punjab alone, reports Dawn. 
The data shows that 17,443,094 voters forming over 10 per cent of the total are in the age bracket of 18-25 years. This means they will be exercising their right to franchise for the first time. Another 28,995,231 voters are aged between 26 and 35 years.
As many as 215,527 of the voters are suffering from physical disabilities, 163,995 of them male and 52,432 female. The ECP has announced the people with disabilities would be able to avail the postal ballot facility and those who choose to go to polling stations should be allowed to vote on priority basis, without making them to wait in the queue. The ECP has trained polling staff to sensitively deal with such voters.
The total number of voters belonging to religious minorities comes to 3,362,016, which includes 1,864,800 male and 1,497,216 female voters.
Vote count process
Votes dropped in the ballot boxes are being manually counted by presiding officers and assistants present in polling booths.
After the count, officers will transfer these boxes into sealed bags provided by the ECP.
The bags will then handed over to the Returning Officer (RO) who will give them to the District Returning Officer (DRO). The DRO will then submit them to the ECP's offices or storage houses: green bag for NA, white for PA and blue for unverified votes.
Forms 45 and 46 will be filled for every NA and PA seat by the Presiding Officer. These forms contain data of every candidate with their names as well as how many votes they received. The results data can also be shared with the polling agents and candidates present at the stations.
The Presiding Officer will take a screenshot of both forms and upload them onto the Results Transmission System, an Android application which enables election officers to send the results to the ECP in real time.