31 killed in suicide blast on Pakistan polling station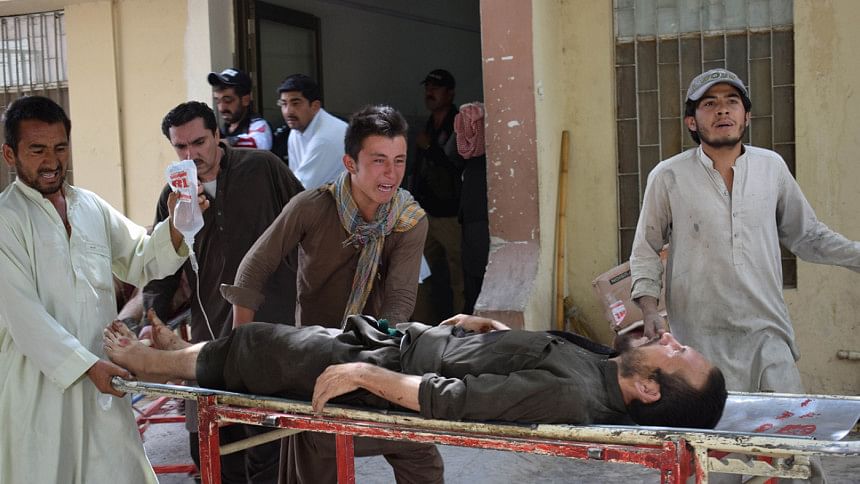 At least 31 people were killed and dozens injured in a suicide bomb attack on a polling station in restive southwest Pakistan as millions voted in a nationwide election today.

Shoes and charred vehicles littered the blood-smeared road near the polling station in the Balochistan provincial capital Quetta, as the dead and injured were shuttled to hospital accompanied by distraught loved ones.

Local officials said the bomber was trying to enter the polling station when police intervened and the attacker detonated his explosives.

"Suddenly there was a huge blast. I was flung on the ground and I thought that I was about to die," madrassa teacher Hafiz Kareem told AFP from his hospital bed.

Dr Wasim Baig, spokesman for the Sandeman Provincial Hospital in Quetta, said the death toll had risen to 31 with 70 injured, including eight in critical condition.

The dead include five policemen and an eight-year-old girl, Baig added.

Mehmood Khan, 18, said he was going to vote when the bomb went off, killing two of his friends.
At least 18 people were killed in a blast in Pakistan's western city of Quetta on Wednesday as the nation holds general elections, according to local media reports pic.twitter.com/EZhytR10Fo

— People's Daily,China (@PDChina) July 25, 2018
"Suddenly there was a huge blast and then bodies, blood, cries, dust was everywhere," said Khan.

The attack was claimed by the Islamic State group through its official Amaq news agency.

It was IS's latest assault on Balochistan, Pakistan's poorest and most volatile province that struggles with multiple Islamist and separatist insurgencies.

Voters appeared undeterred, returning to polling booths after the dead and injured had been evacuated.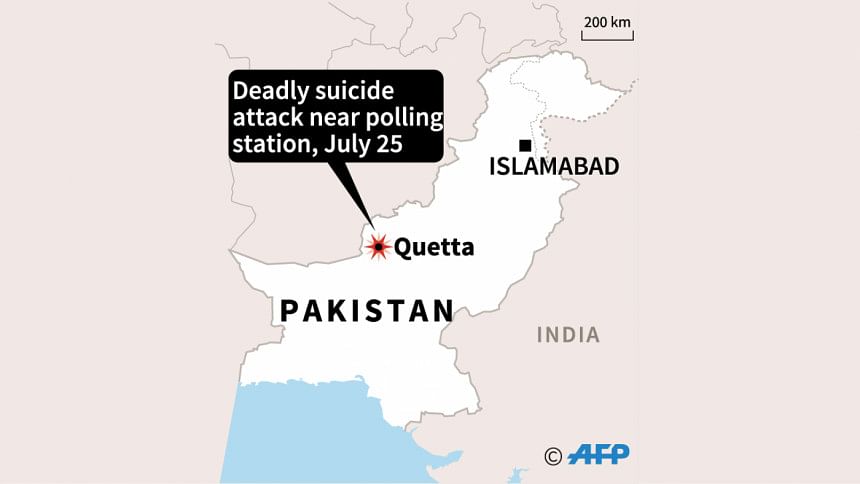 "Bombings keep on happening and life also goes on here, I am voting," Abdul Razzaq, 50, told AFP.
"What has happened, happened, it cannot stop people from voting," added Ali Khan, 30.
Balochistan has suffered the brunt of a series of attacks that killed more than 180 people across Pakistan during the brief but acrimonious election campaign. A blast in Mastung district also claimed by IS killed 153 people including local politician Siraj Raisani.
He was one of three election candidates killed by militants during the election campaign.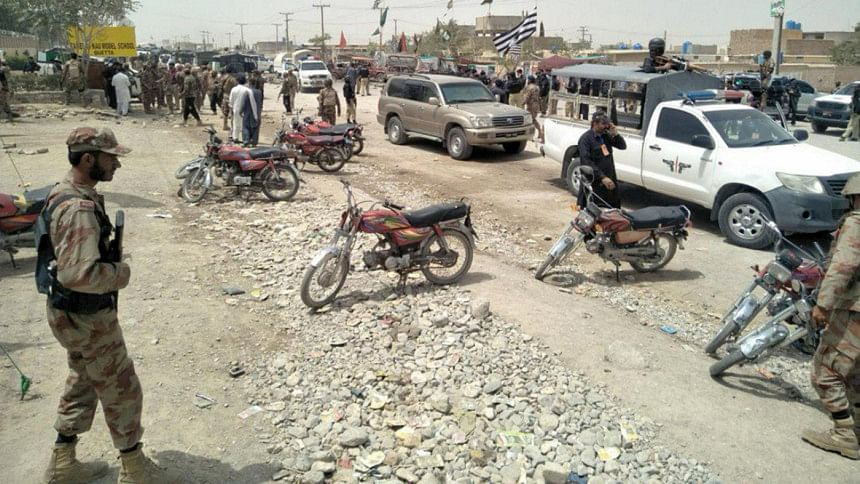 An earlier attack in Balochistan today left one policeman dead and three wounded when a hand grenade was thrown at a polling station in the village of Koshk, in Khuzdar district.