Working with a broken mind
Making the workplace more accepting of people with mental illnesses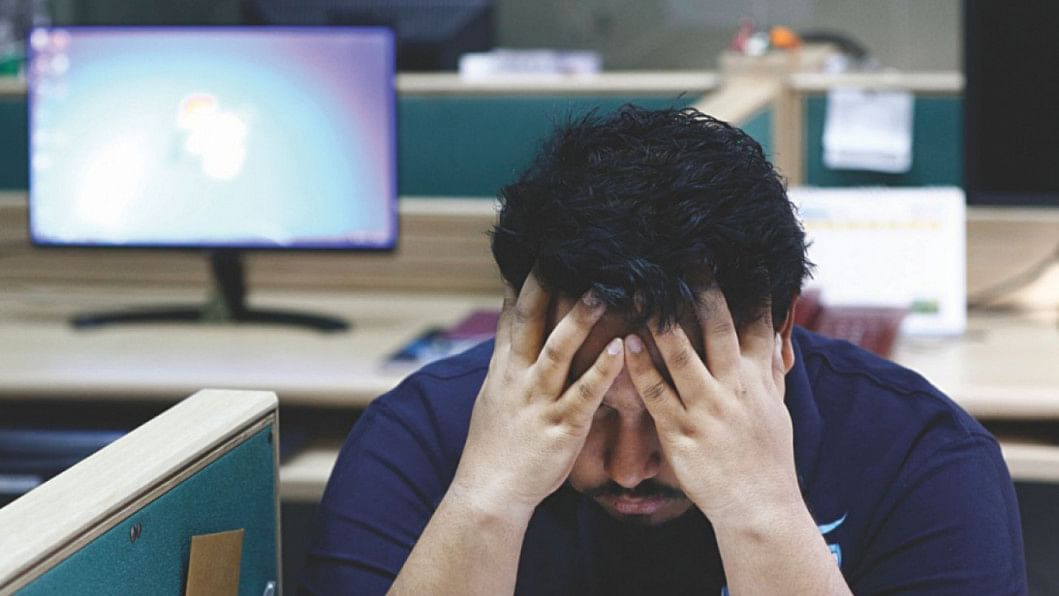 Having a mental health issue is difficult. It is difficult to cope with it and even more difficult to function around it. 
For someone with a serious mental health issue, getting up from bed every day is a great challenge. But the fact that a large number of people with mental health issues still wish to have gainful employment is very telling. It tells us that much of our self-worth is derived from employment and much of our self-preservation also relies on staying employed. Unfortunately, people with mental health conditions such as clinical depression, bipolar disorder, or schizophrenia have to combat many internal difficulties to even get to work. Hence, the work they need to do should be as easy and acceptable as possible to them.
From my own personal experience, I can say that having a mental health condition hinders one's daily life to a great extent, and having a supportive work environment goes a long way in aiding an individual to function well in life.
The modern workplace has the commendable ability to adapt to the needs of employees, if employers and supervisors are supportive. 
Workplaces around the world have responded to mental health crises in various fashions, including through laws. The Americans with Disabilities Act (ADA) in the US and the Equality Act 2010 in the UK are examples of this. It is unfortunate that we do not have such laws in Bangladesh that can protect people with mental illnesses in the workplace. A piece of legislation called the Mental Health Act 2018 was passed recently, replacing a century-old law. But it fails to specifically address the issue of protection for people with mental health issues in the workplace. 
Ideally, there should be a national-level policy on accommodating people with mental illnesses. There should be policies barring exclusion and discrimination based on one's mental health and compelling institutions to take necessary steps to create a safe space for those facing mental health challenges.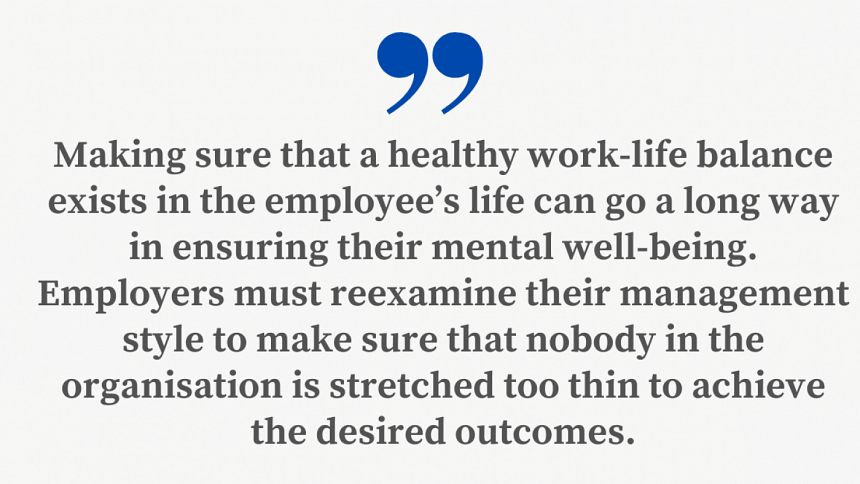 In the absence of such laws, people with mental health issues have to live a life of deception. Because of the stigma surrounding mental health in Bangladesh, people often do not disclose their mental health conditions during their selection process for a job. There is a fear that they would not be hired if they disclose their conditions because of the societal misconceptions that dictate that people with mental health issues are unproductive. This is unfortunate. In the spirit of full disclosure, and because the office may need to make adjustments for the person, employees should be able to freely disclose their mental health condition if they choose to do so or keep it private if they so choose as well. 
Employers should know that having a mental health condition does not mean that an employee will become a burden for the institution. In fact, people with mental health challenges often make great employees, as they have the drive to prove to themselves and others that they are able to overcome their mental health challenges. For example, people with bipolar disorder are likely to be more creative than others according to a study published in the British Journal of Psychiatry. 
Post the hiring process, there are a number of things that an employer can do to make life easier for an employee with mental illness. Initiatives like mental health days or weeks, where people are encouraged to discuss their mental health conditions with each other in the presence of a mental health professional, can be helpful. Employees should also be able to take days off for mental wellness, besides sick days for physical illnesses. This is important not only for people with diagnosed mental health issues, but for others as well. In the modern workplace, it is possible for anyone to be stressed or be burnt out. Having the opportunity to rest and an avenue to vent and seek redress for their mental health issues may be exactly what employees need to cope with an exceedingly stressful work environment.
Modern workplaces have become a source of stress, depression, and anxiety for workers, according to the World Health Organization (WHO). The best way for workplaces to avoid this and ensure the productivity of their workers is by implementing policies that are cognisant of the mental health of employees. This will not be an expense in vain, but a step towards a more effective and productive workplace.
Making sure that a healthy work-life balance exists in the employee's life can go a long way in ensuring their mental well-being. Employers must reexamine their management style to make sure that nobody in the organisation is stretched too thin to achieve the desired outcomes. Overall, the employer needs to care about the employees. That is the only way that mindsets regarding mental health can change. Without a caring employer who is willing to make necessary accommodations to ensure the well-being of their employees, we cannot expect the situation to change for the better.
We need an overhaul of the system to ensure better care for workers. We need to make sure that nobody's mental health is ignored. That is the only way we can ensure better mental health for everyone in the workplace.
Anupam Debashis Roy is a member of the editorial team at The Daily Star.