Why is safe drinking water so hard to get?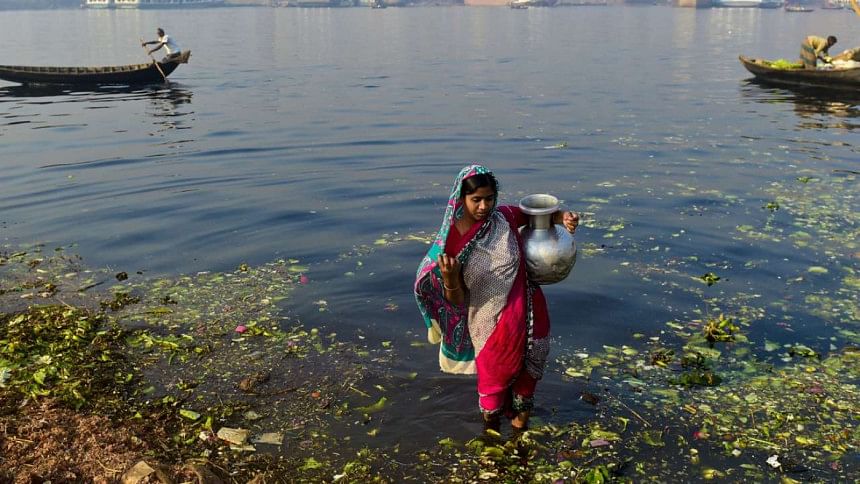 As always, this summer we are seeing a shortage of piped water supplied by the Dhaka Water Supply and Sewerage Authority (Wasa) in various parts of the capital. The crisis is more severe in Adabar, Shekhertek, Jurain, Muradpur, Nandipara, Badda and Banasree areas, where you hardly get any water in the pipeline – and if you do get it, it's dirty. Residents of these areas are forced to spend extra money to purchase water from Wasa water trucks, which is not available on time. There are many other areas in Bangladesh where there is a shortage of clean drinking water, in some places throughout the year.
Water is an essential element of life and one of the most important fundamental rights of citizens. It is the state's responsibility to ensure that all people – urban or rural, rich or poor – have access to safe drinking water. Although Bangladesh is going through significant infrastructural development, not enough investment has been made to ensure the availability of safe water for all. There are wide disparities in the availability, quality and prices of water between urban and rural, central and coastal, rich and poor people.
It is the responsibility of water supply and municipal authorities to supply water through pipelines in cities and towns. According to the WHO-Unicef Joint Monitoring Programme (JMP) report, 68.3 million people in Bangladesh (41 percent of the population) don't have access to safely managed drinking water. Only 159 municipalities out of 328 across the country have piped water supply systems. And even where piped water supply is available, not all households get access to it. For example, there are more than 12,000 households under Mongla municipality, but the number of water connections there is only 2,700.
The availability and quality of water are not the same everywhere and in every season. The tariff, too, varies from place to place. At the residential level, the price per thousand litres of water is Tk 15.18 in Dhaka Wasa. For the same amount of water, Chattogram Wasa charges Tk 18, Rajshahi Wasa Tk 6.81, and Khulna Wasa Tk 8.98. Residents of Chalna, which is just 25 kilometres away from Khulna city, have to pay Tk 0.5-1 for just one litre of water.
The quality of piped water is relatively good and its availability is also higher in the affluent areas of towns and cities. In impoverished areas, water is often not available during the dry season, and what is available is dirty, smelly and contaminated. According to a report by the Brac Institute of Governance and Development (BIGD) titled "Water Governance in Dhaka," the daily per capita water consumption in Dhaka is 360 litres on an average. The per capita water consumption in affluent areas like Gulshan and Banani is 509 litres, while it is 215 litres in middle- and lower-middle-income areas like Badda, Kuril and Joar Sahara, and only 85 litres at households in the informal settlements. On an average, 22 percent of the households surveyed do not have access to water as per the demand.
Groundwater drawn up using tube wells is considered comparatively safe. However, in many places, safe water sources are shrinking due to arsenic contamination and the lowering of groundwater table. According to a survey conducted by the Department of Public Health Engineering (DPHE) in 2021-22, excessive arsenic was found in the water of 14 percent tube wells across the country. And according to a 2019 cluster survey by the Bangladesh Bureau of Statistics (BBS) and Unicef, 20 million people in the country drink arsenic-mixed water.
People living in the mountains and coastal areas suffer from an acute water crisis. According to DPHE data, 63 percent of the population in Rangamati, 61 percent in Bandarban and 78 percent in Khagrachhari have basic water coverage, which in reality is just 50-60 percent of the population in the Chittagong Hill Tracts (CHT) area. The rest of the population have to depend on springs and streams as water sources. But as the hills are being cleared of forests and the sand and boulders are being extracted, those springs and streams are drying up, which is causing an acute water crisis in the region from December to May every year. At the same time, due to increased human movement and increased use of chemical fertilisers and insecticides in agricultural activities nearby, these natural water sources are getting contaminated, leading to the locals often getting sick with diarrhoea and other waterborne diseases.
In the coastal areas, saltwater intrusion is on the rise due to shrimp farming and climate change, resulting in freshwater scarcity. Also in many places, the groundwater table has dropped and deep or shallow tube wells are no longer effective as water sources, so rain and pond water are the only options. Although rainwater is available during the monsoon season, not all families are equipped to store that water for a long time.
According to a UNDP survey in 2021, 73 percent of people living in Koyra, Dakop and Paikgasa upazilas in Khulna and Assasuni and Shyamnagar upazilas in Satkhira are drinking unsafe saline water. Where a salinity of more than 1,000 milligrams per litre is considered non-drinkable, the water in those upazilas has a salinity level of 1,427 to 2,406 milligrams per litre. About 52 percent of the ponds and 77 percent of the tube wells in these areas were found to have high levels of salinity.
Because of this, the coastal population, especially women, have to walk several kilometres to collect drinking water. Also, people in the coastal areas have to spend much more money than those in the urban areas.
Due to the neglect and inaction of the state, water supply has been virtually privatised in the coastal region. At one such private water business in Satkhira's Shyamnagar, one has to buy water for Tk 2 per litre. Shyamnagar now has 25 such plants for around 400,000 residents. Besides, there are some rainwater harvesting projects by NGOs that are insufficient compared to the need.
Instead of making safe water accessible by reducing the price in the coastal areas, it seems the government is working to increase the price of water in the urban areas. For example, instead of Dhaka Wasa, the responsibility of supplying water to the Purbachal New Town has been handed over to a public-private partnership entity comprising Rajuk and the United Delcot Water Limited, a private consortium comprising the United Water (Suqian) Co Ltd from China and Delcot Water from Bangladesh. The total cost of the project, including installation of 15 deep tube wells and pipelines, is set at Tk 592.39 crore, with Rajuk bearing Tk 299.80 crore and the consortium Tk 292.39 crore. The consortium will run the supply for 11 years to recover their investment and make a profit before handing over the responsibilities. Meanwhile, Rajuk will provide Tk 56 crore in maintenance cost every year.
On the one hand, extracting more groundwater will put additional pressure on the already depleting groundwater reserve. On the other hand, inequality in access to water will increase due to water being supplied by a for-profit private entity. Already, the household water tariff fixed at Purbachal is 31 percent higher than that in Dhaka Wasa.
It seems the ongoing economic growth and development activities have failed to ensure safe drinking water for all. Sources of safe water have been reduced due to the pollution of rivers and water bodies, uncontrolled usage of chemicals and pesticides, construction of dams and barrages by India on the transboundary rivers, and salinity intrusion in the coastal areas. Instead of surface water, the dependency on groundwater has increased dangerously. Taking advantage of this crisis, commercialisation of water has also risen. To change this situation, the government must stop treating water as a commercial product and take the necessary steps to ensure safe drinking water for the entire population in the country.
Kallol Mustafa is an engineer and writer who focuses on power, energy, environment and development economics.