HC VERDICT ON STUDENTS' LEGAL GUARDIANS
Why are our guardianship laws still so patriarchal?
This week, the High Court ruled that student information forms for examinations with the name of the student's mother or any legal guardian instead of the father must be accepted, and that the refusal to provide admit cards to students who have not used their father's name in forms was illegal and unconstitutional.
This is a landmark verdict that has been widely applauded – the final step in a long campaign that began in 2009, when rights organisations BLAST, Bangladesh Mahila Parishad and Naripokkho submitted a petition challenging the refusals by different boards of education to issue registration cards to SSC and HSC candidates because of the absence of their father's information.
The significance of this decision cannot be understated in any way, and it sheds light on how, despite so much talk about gender equality and women's empowerment, our laws (and social conventions) are yet to catch up.
Aside from actual legislation, conventions such as being compelled to write one's father's name in documents lurk without getting much attention, and challenges to such requirements are rare. In the 2009 petition, the examples of children of sex workers were given as those who cannot cite their father's name on educational documents. But why do we need to look for exceptional examples while trying to legitimise this fundamental part of a child's identity? Why is the parent who grew a child inside her body not adequate as that child's "guardian"?
There can be many other situations where mothers have the sole custody of their children, regardless of whether the parents lovingly co-parent their child, split in an unpleasant way, or the fathers are completely absent from the beginning. Yet, prior to the latest HC verdict, regardless of how much she sacrificed, a mother's sole identity was deemed insufficient to ensure her child's most basic right to education.
As much as we feel joy at this historic decision, we are also reminded of so many single mothers' lived realities of being deemed less than and unworthy. After the verdict, social media was flooded with users sharing their painful experiences of having to ask for an estranged or abusive father's details, who despite no longer being in the picture, still had the invisible power to affect their right to education.
However, many have been misled into believing that this decision has some bearing on the legal guardianship of a minor. Unfortunately, this is not the case, and we are still operating under some very antiquated guardianship laws.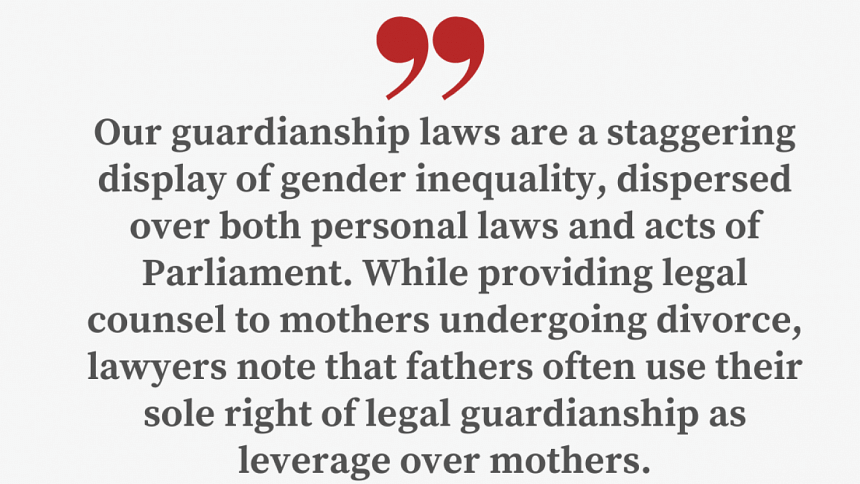 When a marriage dissolves, children's custody splits into two components – legal guardianship and physical custody. The legal guardian is entitled to make significant decisions for the minor, while the parent with physical custody takes care of them day to day. Whether the legal guardian chooses to actively participate in decision-making for the child or not, their details are often made mandatory to ensure the child's rights. For example, the legal guardian's signature may be required for administrative documents, immigration, etc.
This is not just a logistical setback for the physical custodian, but also discriminates and belittles the parent who is not granted the default right of being the legal guardian. As per the Guardians and Wards Act 1890, the legal guardian of a minor is their father. And unless he is proven to be unfit, his guardianship rights subsist, while the child's physical custody usually goes to the mother.
This is a crucial point to be noted when it comes to analysing how our laws are tailored to burden women with responsibilities, but does not proportionally accord them with rights.
The mother loses the right to even physical custody in the event of remarriage. However, remarrying after divorce does not disqualify a father from losing legal guardianship of a child from his previous marriage.
When it comes to matters of physical custody, the law does give paramount importance to the welfare of the children, but legal guardianship is predominantly not questioned, nor does it go to the mother. In practice, while providing legal counsel to mothers undergoing divorce, lawyers note that fathers often use their sole right of legal guardianship as leverage over mothers, for example, to withhold the child's documents, disregarding the welfare of the child.
Our guardianship laws are a staggering display of gender inequality, dispersed over both personal laws and acts of Parliament.
Most perhaps regard parenthood as a thing of joy, but the duties that come with it cannot be taken lightly. Following divorce, the parent with physical custody effectively undertakes all responsibilities of raising the child. Law and society in unison have entrusted mothers to carry out this Herculean task, but they have not simultaneously awarded them the right to be the legal guardian of the children they nurture. For that, they are at the behest of the father, without whose name the child's identity remains incomplete.
Documents such as admission tests forms or student information forms are not created in isolation from actual laws. A simple legal provision of legal guardianship that caters to the patriarchy can create a far-reaching domino effect of hardships for families, and the system that designed such laws can end up violating the very fundamental rights of citizens, such as the right to education.
I congratulate the honourable judges for handing out this week's extraordinary verdict, but I also feel compelled to question the whopping 14 year delay in doing so, thus depriving many young people of reaping its benefit.
The court rightfully asked the authorities to show cause as to why such arbitrary and archaic requirements should not be directed to change. However, I hope it will not be too audacious of me to also root for the next ground-breaking judgement by the High Court that encourages the Parliament to repeal our guardianship laws, allowing both parents to be the legal guardian of their child.
Anupoma Joyeeta Joyee is a Barrister-at-Law.