What role should universities play in innovation and start-up culture?
The government's "Perspective Plan of Bangladesh 2021-2041" has identified innovation as a key enabler to accelerate our economic growth. It aims at increasing the contribution of total factor productivity (TFP) to economic growth from the current 0.3 percent to 4.5 percent in 2041. Any improvement in TFP contribution essentially requires technological innovation, leading to the commercialisation of research results and ideas in the form of products, processes, services, etc. Indeed, as Robert Solow – the 1987 Nobel Prize winner in economics – states, "Technological innovation is the ultimate source of productivity and economic growth."
In Bangladesh, considerable groundwork has been done at the national level in the last few years to promote innovation by establishing a start-up infrastructure. This has led to notable success in creating a good number of start-ups, including the birth of a unicorn, bKash. A 2022 report by the United Nations Economic and Social Commission for Asia and the Pacific (ESCAP) on the assessment of the start-up ecosystem in Bangladesh has identified a number of issues that need addressing in order to further enhance the ecosystem. The recommendations in the report include, among others, the development of a steady pipeline of innovators, and involvement of universities in our innovation drive.
The main players in a country's innovation ecosystem include the government, private sector, universities, and financiers. The role of universities in creating innovation is vital. However, universities in our country are yet to play their due role in innovation. The innovation ecosystem leading to the birth of start-ups is almost non-existent in our universities, except for a few that recently started putting efforts in this direction.
Many universities in the US are well-known for their great success in innovation. The legendary achievements made by Stanford University (giving rise to Silicon Valley) and MIT (creating Kendall Square) are well-known. Universities making great success elsewhere in the world include Cambridge University, Imperial College London, Oxford University, Technion University, ETH Zurich, National University of Singapore, etc. Many other universities around the globe are currently putting a great deal of effort into innovation.
The extent of contribution that university-led innovation can make is evident from a couple of examples. A 2009 report shows that MIT alumni founded 25,800 active companies that created employment for about 3.3 million people, generating annual revenues of USD 2 trillion. If this is compared with the GDP of the richest countries, then the contribution of MIT's innovation would be equivalent to the 11th largest economy in the world. Similarly, Stanford University alumni founded 39,900 active companies (2011 report). These companies created an estimated 5.4 million jobs and generated annual revenues of USD 2.7 trillion, which would be equivalent to the world's 10th largest economy.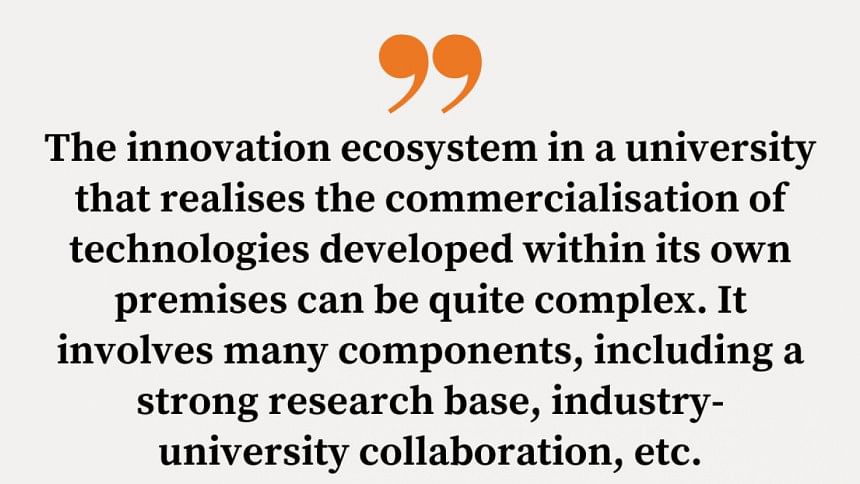 The MIT Sloan School of Management defines innovation as: Innovation = Invention x Commercialisation. An "invention" or an idea becomes an "innovation" only when it creates value in the market (through commercialisation and/or creating impact on society). Entrepreneurship is probably the most important factor that drives commercialisation (start-ups being one of many pathways). If universities want to drive innovation, they must succeed in creating and sustaining entrepreneurial mindsets in their students, faculty members and alumni. For this to happen, universities must put in place a robust innovation ecosystem.
The innovation ecosystem in a university that realises the commercialisation of technologies developed within its own premises can be quite complex. It involves many components, including a strong research base, industry-university collaboration, entrepreneurship education, technology transfer, idea incubators, start-up accelerators, new venture competitions, mentor networks, and venture capital resources. Research shows that robust ecosystems in the highest performing universities have certain common characteristics. They tend to have a high degree of decentralisation in their innovation management structures. This helps maximise dynamism and optimise the utilisation of resources and expertise. The world's most innovative universities have a multitude of units/programmes in their ecosystems that support entrepreneurship among their students, faculty members and alumni in a vigorous way. For instance, Stanford University, MIT and UC Berkeley have over 30, 40 and 40 entrepreneurship­‐related programmes/units, respectively.
In addition to the central tech-transfer and related units, academic units like engineering departments/faculties, business/management departments, science departments, etc must play active, interdisciplinary and synergistic roles. They should integrate entrepreneurship efforts through educational curriculum, establishing strong industry-university collaboration, imparting experiential learning to students, leveraging alumni network, and creating networks of mentors and investors. In a successful ecosystem, innovation and incubation, research and development, and teaching and learning go hand-in-hand in a harmonious fashion. Students, faculties and alumni feel encouraged, motivated and facilitated to take their ideas and inventions to the market.
At this juncture, to make Vision 2041 a reality, as articulated in the Perspective Plan of Bangladesh 2021-2041, our universities should put thoughtful efforts into creating effective innovation ecosystems. This requires strong commitment at the highest level of university management. Capacity building of the faculties, students and staff managing innovation, and the creation of university-wide entrepreneurship infrastructure and culture are key factors. Building effective connections with external innovation ecosystems is of paramount importance.
Experience shows that the task at hand is not easy, and not quick. We have to learn from best practices around the world. But copying others may not necessarily always help. Some of our universities should establish research centres to carry out research on how to promote and nurture innovation and entrepreneurship in the context of our culture, economy and sociopolitics. In order to achieve success in creating entrepreneurship and start-up culture, universities require adequate policy and material support from the University Grants Commission (UGC), concerned ministries, departments and agencies. Support and participation of the private sector and financiers are, needless to say, essential.
Dr ASM A Haseeb is professor at the Department of Nanomaterials and Ceramic Engineering of Bangladesh University of Engineering and Technology (Buet).