We need to recognise the diversity of the urban poor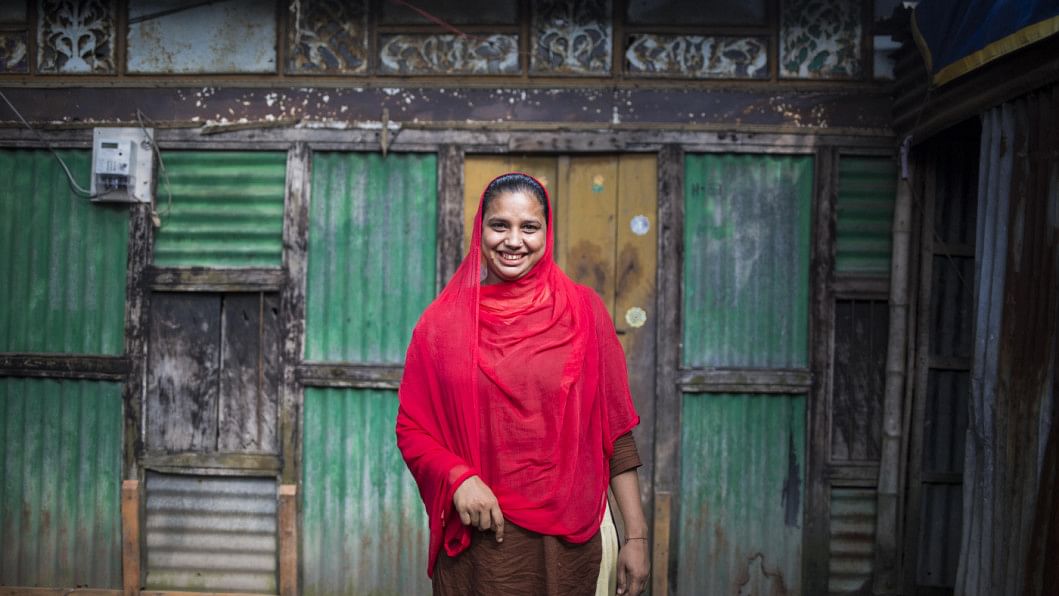 More people are living in extreme poverty now than they were 10 years ago and by 2030, more than half of the poor in Bangladesh will be urban dwellers. Why is this important, and what can development programmes do to address this shift in poverty dynamics?
Firstly, it must be noted that Bangladesh has made some considerable developments, with the overall poverty rate falling by 1.2 percent annually since 2000. However, urban poverty has risen from 36.1 to 41.4 percent between 2010 and 2016.
The country's rapid urbanisation, growing by 3.9 percent annually, is one key contributor. Additionally, the government and the development sector historically leaned towards addressing rural poverty, leading to a "neglect" of the urban poor, seen as a problem to be sent back to rural areas. This culminated in a lack of systemic thinking and integration of how government and NGOs can collaborate to ensure that adequate housing, health, education and social services are accessible to the urban poor.
The increase in urban poverty indicates exclusion of the segment by the nation's economic and social advances. As such, a comprehensive approach to alleviating urban poverty is a key frontier for development programmes, especially if Bangladesh is to meet its national target to reduce poverty to 15.6 percent by 2025. A recent report by the World Bank calls for new and innovative methods, including improving programme targeting, to address urban poverty.
Understanding the urban poor and how we define this incredibly complex, wide and varied group is an important first step to developing effective development programmes and policies. If programme designers, implementers or policymakers truly want to work with the urban poor, then understanding the challenges they face is critical.
In Bangladesh, when we think of urban poor, we typically think of people living in slums. However, it's not quite as simple. Someone's living location is only one way of understanding and defining urban poverty and if we use a spatial definition, it's important to note that not all slums are similar and not all the urban poor live in slums.
So, who are the urban poor and where do they live?
They are housemaids living with their families in slums, or a recently evicted family living in squatter settlements while figuring out where to go next. Rickshaw-pullers from the village sleeping on their rickshaw or in a bachelor mess, guards sleeping in the ATM booth or at the corner of a building, RMG workers from the village living in a dormitory, an older woman abandoned by family and living in one room at the edge of a slum, or a group of youth who formed their own family after escaping their own families' violence, and are now living in a small shack. They're the women who escaped the workplace or faced partner violence and are now living in a railway station.
Despite this incredible diversity amongst the urban poor, the challenges they face and where they live, large scale urban poverty alleviation projects in Bangladesh tend to provide targeted interventions to large sized slums on government land. Why?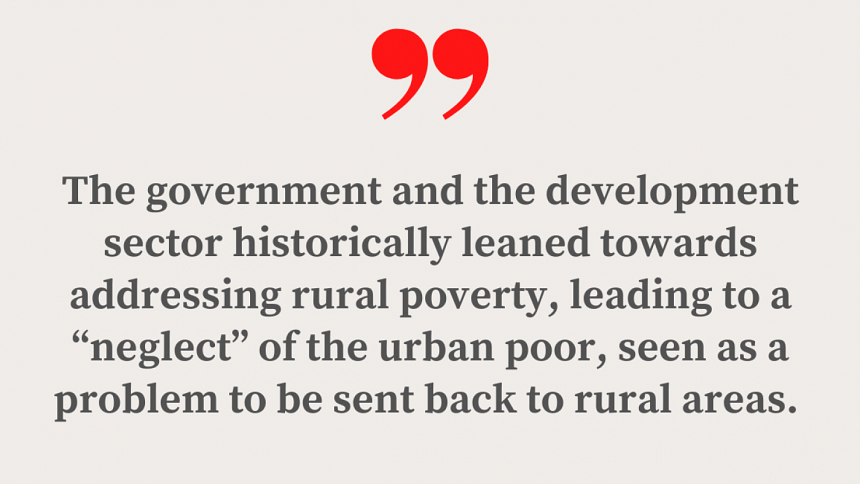 The obvious answer is that designing for one "type" of community or household means more straightforward operations, resulting in wider outreach and more cost-effective interventions. Whilst this is an important consideration enabling a large number of urban poor households to receive benefits, these measures inevitably result in failing to account for those who don't fall within the "norm".
One study found that one of Bangladesh's most famous urban poverty alleviation programmes failed to reach smaller, harder to access urban poor communities. Despite these communities being highly vulnerable – they were either too socially marginalised or lived on very precarious land to be included – it was not efficient for the programme to go to these communities, due to high risks of eviction and mass migration, and thus it ended up "losing" participants.
Large scale urban poverty projects have focused on "community-level" interventions, specifically mobilising communities regarding infrastructural slum-upgrading projects, livelihood activities and building capacity of women to engage in advocacy at the local level. Whilst incredibly important and transformative interventions, these are not initially viable for communities at risk of eviction or have high levels of social fragmentation and low trust within the community. As a result, these highly vulnerable communities and families continued to be excluded by programmes and its benefits.
The urban poor have varied priorities. For example, SAJIDA Foundation's Urban Design team conducted a needs analysis with different urban poor communities, including pavement dwellers, squatter settlements, and smaller slums on private and public land, and captured what communities voiced as their priorities. The survey found that communities' priorities included infrastructural improvements (50 percent), access to affordable health care (100 percent), access to education (75 percent), addressing workplace exploitation and conditions (63 percent), and ensuring their communities were strong and supportive (38 percent).
Additionally, different families within a community had different priorities due to different situations, households and needs. Some would benefit most from sizeable economic investment into their microbusiness, others investing in their children's education and health. Some needed greater support for women to engage in livelihoods, or older members to be linked with social safety nets.
We need to stop viewing poverty alleviation as a formulaic process that can be emulated across all communities or households, and expected to have a similar impact. There are different types of communities, households and needs within this group of people grappling with issues that have economic, health, social, gendered and living condition dimensions. There is instead a need to firstly understand who you are designing for, and then work in collaboration with this population to define priorities, goals and how services can be tailored to meet the many complex needs faced by the urban poor.
Dr Shoshannah Kate Williams is the Head of SUDIN, Urban Programs at SAJIDA Foundation, Email: [email protected]