We are not taking our energy crisis seriously
In Bangladesh, natural gas has been predominant in the energy mix for decades.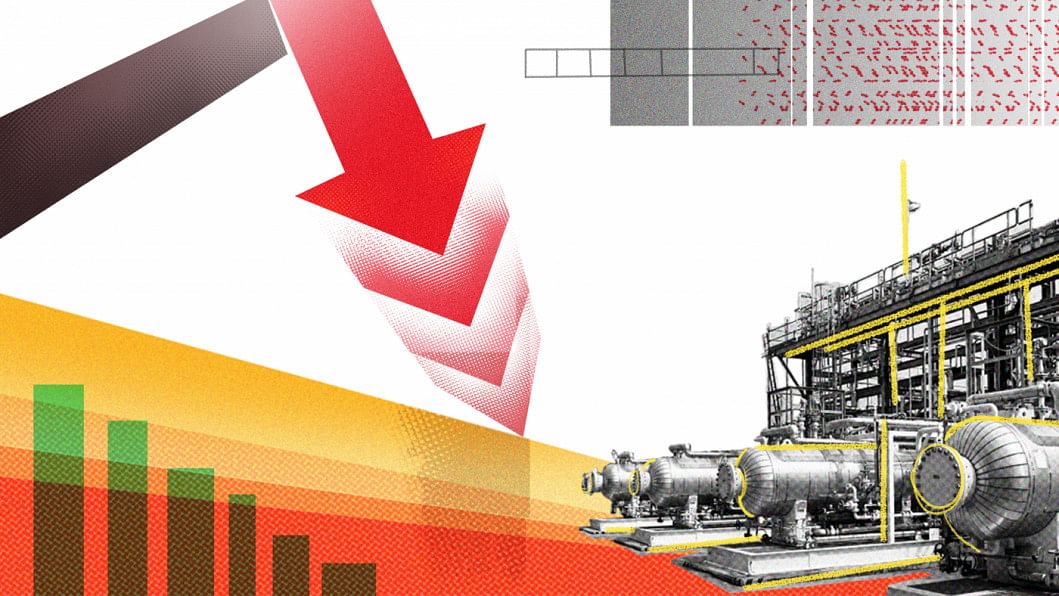 Bangladesh has 20 gas fields in production today, but 70 percent of the gas production comes from only two fields: Bibiyana and Titas. These two gas fields have been, in a sense, our safeguards as we reel under a severe gas crisis. Bibiyana, the highest producer – 1,100 million cubic feet per day (mmcfd) on average – is operated by US-based Chevron Corporation, and Titas, the second highest producer – 400 mmcfd on average – is operated by Bangladesh Gas Fields Company Ltd. 
Bibiyana, with the original reserve of 5,755 billion cubic feet (Bcf), is left with only 250 Bcf at present, meaning that the gas field has already exhausted about 95 percent of its original reserve. It is envisaged that in a few years, Bibiyana will see an overwhelming reduction in production. At present, Bibiyana alone supplies about half of the total gas produced in the country. With its reserve shrinking, there is a general concern: what would happen if or when Bibiyana runs out? Titas, too, has exhausted about 70 percent of its original reserve and produces at a lower rate than it used to. 
How can Bangladesh make up for the gap in gas production here? What sustainable alternative does the country have to face an incoming large gas shortfall? How concerned are our policymakers with this critical energy issue?
How the present crisis set in
In Bangladesh, natural gas has been predominant in the energy mix for decades since it became easily available to meet the demands in various sectors. As late as in 2010, the country used to generate about 90 percent of its electricity in gas-fuelled power plants. The natural gas production continued to slowly rise until 2016, but it could not grow any further and the fall began. 
The decline of natural gas supply since late 2016 was slow and steady, but its effect was larger because by then the demand and consumption of natural gas had grown significantly. The government's decision to shut down or ration the supply of natural gas in industries, power plants and domestic sectors brought the problem up to the surface. 
By 2022, the share of natural gas in power generation came down to 55 percent. To supplement the gas shortfall, the government started to import high-cost liquefied natural gas (LNG) in late 2018. The economic stress caused by the LNG import bill fell on the consumers' shoulders as the gas prices were increased.
Future projection suggests that gas production from the existing fields in Bangladesh will decline from the current 2,100 mmcfd to 1,300 mmcfd by 2030 and to 580 mmcfd by 2040, according to the Integrated Energy and Power Master Plan (IEPMP) 2022.
The missed opportunity
The question is, why does this have to happen in a country like Bangladesh, a delta which is supposed to be very gas-prone for its inherent geological nature? The answer to that is simple. Since the gas reserve depletion trend in Bangladesh came to notice, there has never been a serious exploration initiative to replenish the depleted reserves. For example, we saw our gas reserve gradually shrinking from 13 trillion cubic feet (Tcf) in 2008 to less than nine Tcf in 2023, but did not care enough to replenish the reserve.
This may lead to yet another question: why were other sources not explored? Bangladesh won a vast expanse of offshore territory in 2014 through international court settlement of maritime boundaries among Bangladesh, India and Myanmar. Since then, our neighbours have both carried out enough exploration to find new gas reserves in their respective offshore territories, but we have not. 
Several international oil companies (IOCs) have shown interest in offshore gas exploration in Bangladesh, waiting for the bidding to open since last year, but the announcement for such a bidding round has been deferred numerous times, due to which some of the IOCs are bound to lose interest. Earlier this year, Exxon Mobil, the number one company in the world for deep sea exploration, officially sent a proposal to the Bangladesh government to undertake deep sea gas exploration in our territory. No progress in this negotiation has so far been reported, except for a few and far between notes in the media. 
There are indeed some activities onshore, but far less than what is really required to reverse the gas shortfall trend. As for the fund constraints for launching all-out exploration, one cannot help but wonder why the Gas Development Fund (GDF), created from the consumers' gas bill payments exclusively for onshore gas exploration, has been spent on LNG imports.
An alarming energy future
Coming back to the energy mix in Bangladesh, the locally produced natural gas is still predominant, but its share in the total energy supply has greatly decreased. This fall will continue, resulting in an increased dependency on imported energy such as oil, coal, LNG, liquefied petroleum gas (LPG), and electricity. 
The most noticeable point in Bangladesh's energy scenario today is that we are likely to see a major fall in the contribution of local gas in our national supply within the next few years, to the extent that we have never seen before. The sharp decline in the highest producer Bibiyana gas field is alarming. The current efforts to find an extension of the gas horizon via new drilling, if successful, will keep the gas field running reasonably well only for a few more years. If not, the production plateau is likely to dip sharply sooner, and the gas field is likely to lose its role as a major player in Bangladesh. Moulvibazar, yet another gas field operated by Chevron, is exhausted and has gone out of production. 
On the national front, a number of major gas fields have been on the depleting trend. Habiganj is left with only 12 Bcf of gas left from the original reserve of 2,647 Bcf, a 99 percent reduction of reserve. Production in Bakhrabad has also seriously reduced, its reserve significantly depleted. 
Future projection suggests that gas production from the existing fields in Bangladesh will decline from the current 2,100 mmcfd to 1,300 mmcfd by 2030 and to 580 mmcfd by 2040, according to the Integrated Energy and Power Master Plan (IEPMP) 2022. A decline from local supply means an increase of imported LNG with increased bills to pay. Bangladesh does not feel comfortable paying a $10 billion energy bill annually, but the way local energy sources are being replaced by imported ones, the energy bill is likely to increase to $20 billion by 2030. There is only one way to reverse this trend – launching all-out exploration efforts both onshore and offshore. There are ample reasons why Bangladesh should take this path and no reasons to suggest otherwise.
Dr Badrul Imam is honorary professor at the Department of Geology of the University of Dhaka.