Sabihuddin Ahmed: An Extraordinary Gentleman
A selfless servant of the public, Ambassador Sabihuddin Ahmed, passed away on October 31, at age 76. Most people knew him as a distinguished Civil Service officer who set the highest standards of integrity and had an unwavering devotion to serving Bangladesh. Few were fortunate to know him intimately enough to understand why he will be so missed by those closest to him – his family and friends.
Sabihuddin Ahmed obtained his undergraduate and Master's degrees in Economics at Dhaka University. His love for his country drew him into student politics and he served as the cultural secretary of DUCSU (Dhaka University Central Students' Union) in the 1960s. He had a visible presence in the main student organisations of the time (East Pakistan Student Union, Salimullah Muslim Hall) and all significant demonstrations and gatherings. He lost a friend, Asad, in a tragic incident memorialised by the poet Shamsur Rahman in his poem "Asader shirt urchhe".
After graduating, he joined the Central Superior Services and began what would be a stellar career in Bangladesh's Civil Service, culminating in his elevation to Secretary of the environment, forest and climate change ministry, and appointments as Ambassador to the Nordic countries and High Commissioner to the United Kingdom. After retiring, he served as the Foreign Affairs Advisor to the chairperson of the Bangladesh Nationalist Party (BNP). He always sought to help people through various means and conducted himself with humility.
He had a larger-than-life personality, and never failed to charm people with his keen intellect, humour and knowledge. To his friends, he was the most loyal and trusted comrade. With his sonorous voice and easy, jocular manner, he was often the life of the party and the favourite uncle among his friends' children.
To his family, he was a trusted advisor – a rock. He shared a close bond with his siblings and their children, and especially with his brother, who was one of his closest friends. With his wife, he shared a deeply affectionate relationship, protecting and guiding her till his last breath. He was uncommonly close with his own children, who saw him as their compass as well as a friend with whom they could openly discuss anything. He was vociferous and successful about ensuring that his daughter was as loved and empowered as his son. Most of all, he doted on his two grandchildren.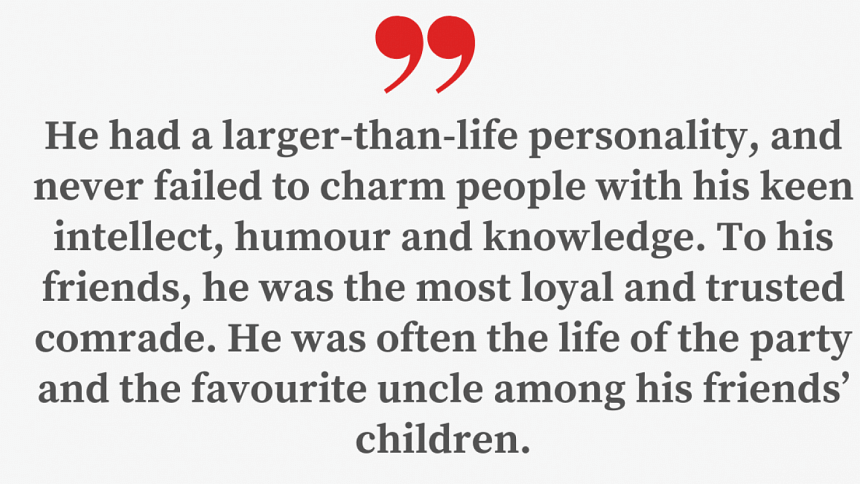 Over time, he also developed an abiding spirituality, and spent time studying and practicing Islam in an exalted form – privately, without ever imposing his perspectives on others.
To his loved ones bereft of his light today, may you find solace in the wisdom of Kahlil Gibran: "When you are sorrowful look again in your heart, and you shall see that in truth you are weeping for that which has been your delight."
Nehad Chowdhury is global head of Sovereign Credit Management at Citi and son-in-law of Sabihuddin Ahmed.