Roger Federer: The legend, the person
The year was 2006. I was in Class 7. We had some guests over at our home. Someone switched the TV to Star Sports channel. The Australian Open was on. Rafael Nadal's match was going on. That was the first time I ever seriously watched a tennis match. One or two days later, I switched on to Star Sports to find Roger Federer playing. At that time, I did not know he was the World Number One. I did not know that he already held multiple grand slam titles to his name. The sheer grace and elegance of his playing style hooked me. Soon, I became a fan of tennis. More importantly, I became a fan of Roger Federer.
Federer was my first authentic love in the sports world. My love for cricket and football was inherited to some degree. But my love for tennis grew completely out of nothing. Federer made me love the game. I loved his art on the tennis court. "Ballet dancer," I remember one commentator calling him.
The most unique thing about Federer is his elegance. His play was like poetry in motion. Among his shots, I loved his half volley backhands the most. I would get goosebumps every time I saw him hit one. The iconic one against James Blake in the Tennis Masters Cup Final 2006 comes to mind. He had an uncanny ability to use the speed and the direction of the ball to pull out jaw-dropping, physics-defying shots. He went about his business like a musician directing his orchestra.
Federer the person was even more important to me than Federer the tennis player. Cricket and football are team sports. Although team sports can be inspiring, the level of individual control in tennis made it way more relatable to me in my personal life. Federer was my most favourite teacher. It is with him that I learnt how to utilise my talents better, to rise to challenges, to keep a cool head in difficult times. He taught me to embrace life as a sport and I learnt to embrace the journey, rather than be lost in pursuit of rewards. The mindset of taking life as a sport is one of the most valuable lessons. Despite what he won and achieved, he was always so humble. I loved that; I tried to learn from that. Whenever I needed inspiration, I would think about his journey; I would watch the highlights of his matches on YouTube and I would feel better. I learnt to take personal failures in perspective. I learnt to keep my feet on the ground when I had successes. Federer was fallible. He experienced many painful defeats. In the 2009 Australian Open final, after his defeat to Rafael Nadal, Federer cried. "God, it's killing me," he said. I felt his pain. I drew on his process of recovery. Federer's fallibility and his candidness on the court was inspirational for me.
Federer's win over Nadal in the 2017 Australian Open final was one of his most meaningful matches that I watched. That win was filled with physical and mental battle against all odds. The moment Federer won that last point is my most memorable moment of his whole career. After that win, it seemed that he had finally solved the puzzle of Rafael Nadal. Federer won most of his subsequent matches against him. That journey is another inspirational lesson I took from his career.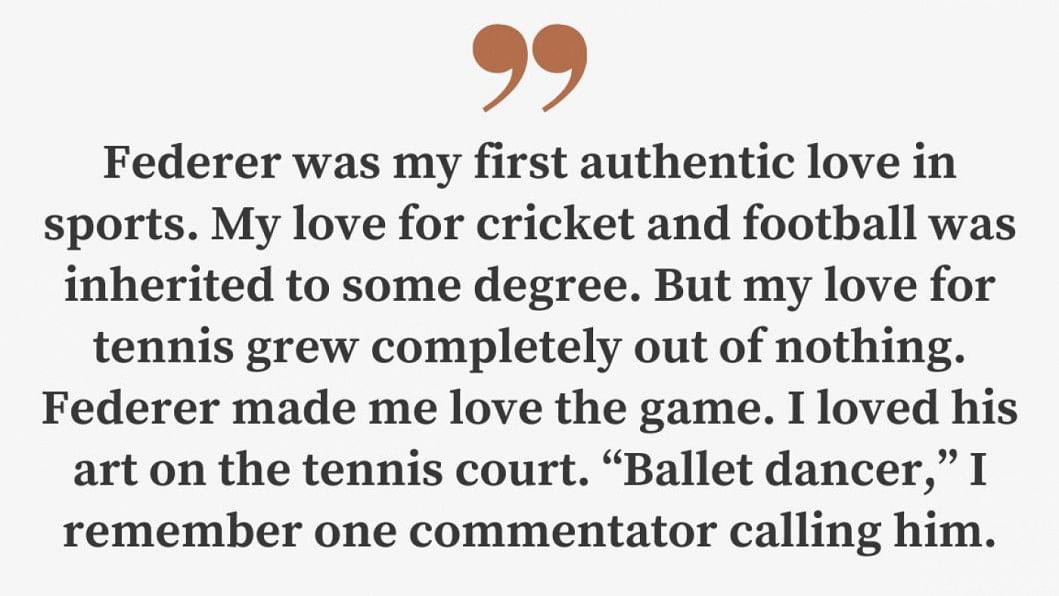 Roger Federer played his final professional tennis match on September 23. I used to dream that I would be able to watch him play live. I would go to Switzerland and meet him and talk with him. I would tell him how much he meant to me; how he helped me build myself. Sadly, the dream of watching him play live would remain unfulfilled. I still dream of going to Switzerland. Maybe, just maybe, I may get to meet him.
In the words of poet Walt Whitman:
"O Captain! my Captain! our fearful trip is done,
The ship has weather'd every rack, the prize we sought is won,
The port is near, the bells I hear, the people all exulting…"
Roger Federer, the prize you sought is won. I hear people exulting. Your trip through the world of tennis is complete as a player. But unlike in Whitman's poem, your trip was beautiful. From a fan to his idol: I will keep looking up to you. I will keep watching your beautiful moments. You will keep inspiring me through good and bad times. I will keep being mesmerised by you.
Enjoy your retirement, "O captain, my captain!"
Mahir A Rahman is a research associate at Bangladesh Institute of Development Studies (BIDS).