Pelosi's Taiwan visit: An ominous sign of how the superpower rivalry might unfold
It could lead to an unimaginable catastrophe that the world can't afford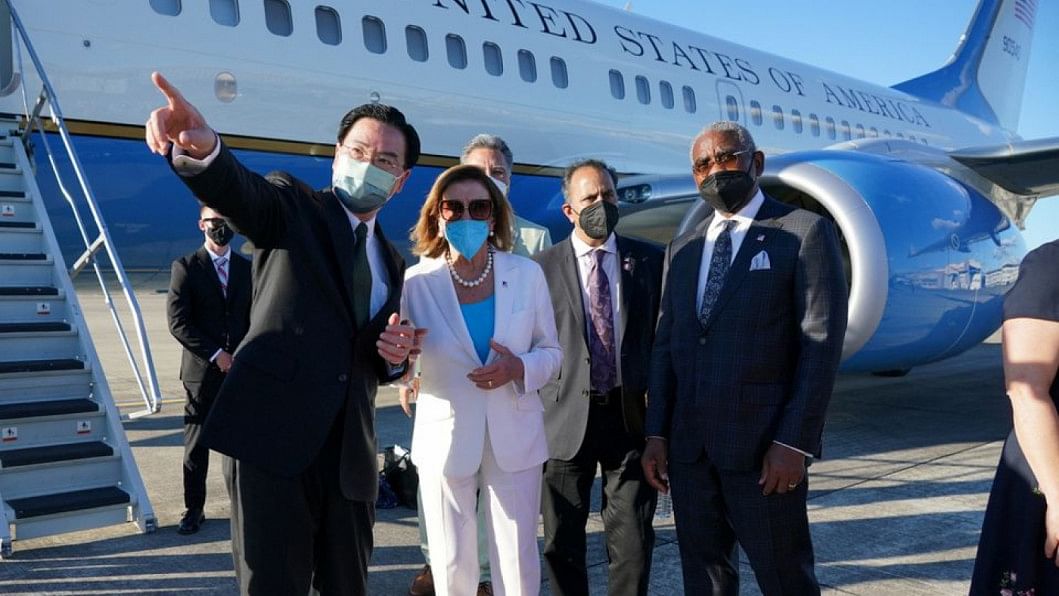 The government in Taipei claims to rule all of China, including the mainland. Until 1971, it held the United Nations membership reflecting just that. How did that come about? And what is behind the current standoff between the two superpowers? And how could the rivalry unfold? A recap of history might help us understand a few things.
The first recorded Chinese expedition to the Taiwan islands, across the 170 km Taiwan Strait, was in the year 239. The Yuan emperors (1206-1368) brought the P'eng-hu Islands under China's control. In the 17th Century, the Qing Dynasty established Beijing's hold on Taiwan. In 1895, they lost the first Sino-Japanese war and ceded Taiwan to Japan. After World War 2, China retook the island in 1945.
Meanwhile, in Beijing, Chiang Kai-shek's nationalist party, Kuomintang, and Mao Zedong's Communist Party had a bitter fight. In 1949, Chiang lost and fled to Taiwan, forming his own government in Taipei, with a claim to all of China. The communists took control in Beijing. That status remains so to this day.
Until China became a power to be reckoned with, Taiwan enjoyed wide international recognition as the Republic of China (ROC), with active support from the US. In 1971, Beijing won enough votes at the UN General Assembly to expel ROC as the representative of China. The following year, US President Nixon visited Beijing and signed the Shanghai Communiqué accepting the government in Beijing as the sole legal government of all of China, with Taiwan as its province. But American acceptance of Beijing's position on Taiwan was only a tactical move to counter the Soviet Union with a rising China, without actually changing its policy.
Slowly, China opened up to foreign trade and investment, and implemented free-market reforms in 1979, becoming the world's fastest-growing economy. Its real annual gross domestic product (GDP) growth averaged 9.5 percent through 2018, the fastest sustained expansion by a major economy in history. It became the largest US merchandise trading partner, largest source of imports, and third-largest US export market. China also became the largest foreign holder of US Treasury bonds.
Militarily, China was still weak. Though much stronger than Taiwan, the superior US military stopped any drastic moves from Beijing. Since the 1950s, several crises have arisen in the Taiwan Strait, the first being in 1954-55, and the second in 1958. Both were limited in scale and fought over smaller islands. In both cases, US military intervention resulted in Beijing's retreat. Then, in 1995, another crisis developed which made Beijing aware that Washington's acceptance of the One China policy was only an eyewash. 
President Clinton granted Taiwan's President Lee Teng-hui a visa to visit the US. Furious, China recalled its ambassador to the US, cancelled a defence minister meeting, and test-fired six missiles into waters about 150 km from Taiwan. The following year, ahead of Taiwan's presidential election in March, China's People's Liberation Army (PLA) mobilised 100,000 troops in Fujian Province, facing Taiwan across the strait. It also test-fired missiles just 30 km away from Taiwan's coast. The US responded with a significant show of force and deployed several aircraft carriers. Eventually, Taiwan's election went ahead as planned, and the crisis dissipated because of US' military manoeuvring.
The 1995-96 crisis and the Gulf War in 1991 demonstrated America's global military might. The Chinese leadership was awestruck by its sophistication and technological superiority. Alarmed, it began modernising the PLA. The next momentum came when President Xi Jinping came to power in 2012. He launched the "Chinese Dream" to restore China's great-power status and pushed military reforms so that it could "fight and win" global wars by 2049.
Xi's more assertive power projection with higher military spending and ambitious Belt and Road projects alerted Washington. In 2015, President Barack Obama undertook a rebalancing of power toward Asia. Containing China became a major policy issue as the US strengthened alliances with Australia, Japan, South Korea and the Philippines, and increased defence cooperation with India, Australia, and Japan. In December 2017, a US national security strategy declared China's rise a military threat launching a China containment policy which both Trump and Biden are continuing. Taiwan plays a major role in that policy as it falls within the "first island chain" to deter any potential military ambition from Beijing. Until now, the Americans maintained a status quo and its "strategic ambiguity" over Taiwan. But that seems to have changed, as President Biden recently clarified to reporters. Does it show that Washington is now preparing to take on Beijing?
The recent high-profile visit by Nancy Pelosi to Taiwan is a blunt action stoking tensions further, which might lead to severe ramifications – including all-out war. There are many in Washington and the Pentagon who advocate just that. We should not forget that, in the 1990s, Project for New American Century (PNAC) argued for a war in Iraq and got it. Now, another Washington DC-based think tank, Center for a New American Security (CNAS), is doing just that by foretelling China's Taiwan invasion. It is also arguing for more armament for Taiwan, further strengthening of US bases, and forming new defence alliances in the region. These are ominous signs.
For Beijing, Taiwan is an unfinished task. For Washington, it's maintaining its top superpower position, which it cannot afford to lose. But the world cannot afford another war that could be much bigger than any other in history.
Dr Sayeed Ahmed is a consulting engineer and the CEO of Bayside Analytix, a technology-focused strategy and management consulting organisation.