Pelosi visit: China imposes sanctions on Taiwan, plans military drills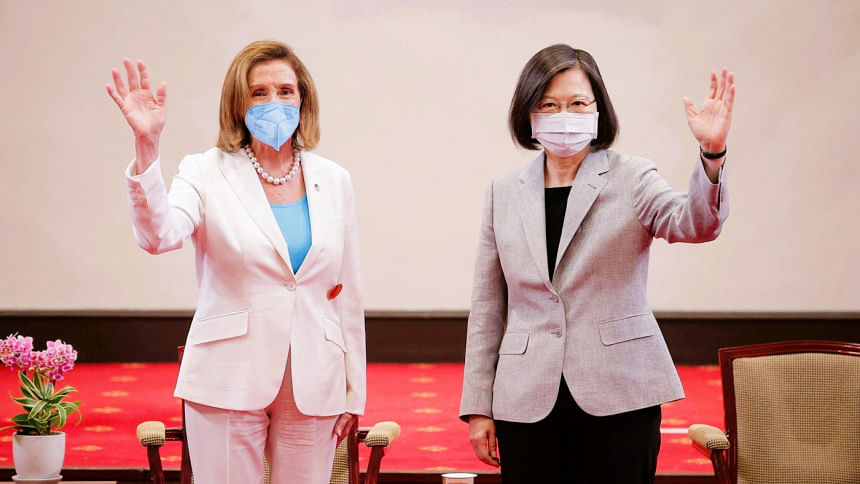 China on Wednesday (Aug 3) continued to voice its anger at US House Speaker Nancy Pelosi's visit to Taiwan calling the move "dangerous and stupid" as it announced new economic measures and other sanctions against the island.
"The United States should not fantasise about distorting facts at will. The US side claimed that China is escalating the situation, but the basic facts are that the United States first provoked China on the Taiwan question and blatantly violated China's sovereignty and territorial integrity," said Foreign Minister Wang Yi in a statement released from Phnom Penh where he is attending the Asean Plus Foreign Ministers' Meeting.
"The introduction of the Taiwan question into the regional strategy by the United States, which inflates tensions and stokes confrontation, is against the trend of regional development and goes against the expectations of the people in the Asia-Pacific," he added.
"This is very dangerous and stupid."
China sees Taiwan as a breakaway province that needs to be retaken, by force if necessary.
Beijing had also summoned US ambassador to China Nicholas Burns late Tuesday night to voice its disapproval of Mrs Pelosi's visit.
China's ambassador to the US Qin Gang said in a statement that he too had lodged a diplomatic protest to the National Security Council and the State Department.
Calling on Washington to immediately address its wrongdoings, Vice Foreign Minister Xie Feng said the US needs to take practical measures to undo the adverse effects of the visit.
"The move is extremely egregious in nature and the consequences are extremely serious. China will not sit idly by," Mr Xie told Mr Burns, according to a readout of the meeting from the Chinese foreign ministry.
The Taiwan Work Office of China's main party political body also called for the punishment of what it said were "die-hard" supporters of Taiwanese independence and vowed legal penalties.
"We will take criminal punishment measures against those die-hard "Taiwan independence" elements who deliberately challenge the law, punish them strictly in accordance with the law, and hold them accountable throughout their lifetime," the office said in a statement, adding that "no country or force" should underestimate China's resolve.
Beijing on Wednesday banned import of citrus fruit and certain types of fish, further tightening the economic screws on the island.
It had on Monday barred items from over 100 Taiwanese exporters citing outdated paperwork, adding to an existing ban on pineapples, wax and sugar apples, and grouper fish.
The fruit growing region south of the island is traditionally a bastion of support for Taiwanese leader Tsai Ing-wen.
China's commerce ministry also said it would be banning the export of natural sand to Taiwan.
Taiwan imported 5.67 million metric tons of sand and gravel in 2020, with natural sand constituting about 8 per cent of total, Bloomberg cited a report from Taiwan's Ministry of Economic Affairs.
More than 90 per cent of Taiwan's imported sand and gravel is from China, due to much higher transportation costs from other countries like Vietnam, the report said.
Taiwan has a deep economic relationship with China, which takes close to 30 per cent, of its exports and is its biggest trading partner, the BBC reported.
Meanwhile, the Taiwan Affairs Office of China's Cabinet announced sanctions against what it said were elements supporting Taiwanese independence including the Taiwan Democracy Foundation and the Foundation for International Cooperation and Development.
In the lead-up to Pelosi's visit, Beijing had issued increasingly stern warnings and did not rule out a military response.
The Taiwan Affairs Office on Wednesday issued yet another warning, this time directed at both President Tsai and Mrs Pelosi, saying their actions have "wantonly" damaged cross-Strait relations.
"We warn Tsai Ing-wen and the DPP authorities, colluding with external forces to carry out 'independence' provocations for one's own selfish interests will ultimately only accelerate its own destruction and push Taiwan into the abyss of disaster," spokesman Ma Xiaoguang said in a statement.
Military drills including "long-range live firing in the Taiwan Strait" and "regular-guided fire testing in the eastern waters" off Taiwan were being planned from Tuesday evening, the People's Liberation Army's (PLA) Eastern Theatre Command said shortly after the US delegation landed in Taipei on Tuesday night.
The Xinhua news agency reported separately that China will hold military drills from Thursday to Sunday in six areas around Taiwan.
Ships and aircraft were warned against trespassing in those areas - some of which overlap with the island's territorial waters.
Taiwan's defence ministry said on Wednesday that Chinese live-fire drills around the democratic island this week demonstrated Beijing's intention to destroy regional peace and stability.
Taiwan has enhanced alertness levels and will react timely and appropriately to the drills, a defence ministry spokesman told reporters via a voice message.