Our 'I hate politics' generation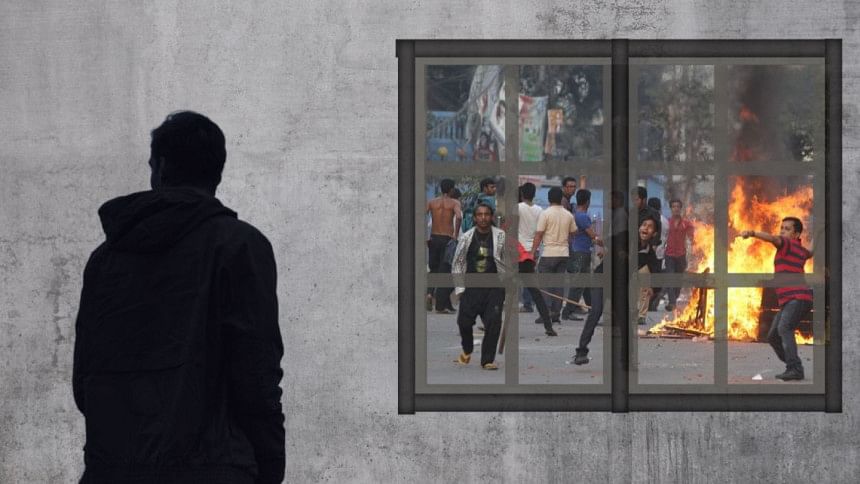 "I hate politics and I do not want to enter politics" seems to be the general tone of the well-educated, young, and intelligent minds of the country today. Even Obaidul Quader, general secretary of Awami League, recently said, "We have not been able to make politics interesting," and that, "No educated, honest person wants to do politics. But they should. Otherwise, politics will lack character." So, what is so wrong with today's politics?
Politics in Bangladesh boasts a glorious past. It has a proud history of struggle and supreme sacrifices made for national causes, including the Language Movement in 1952, the Mass Uprising of 1969, and the Liberation War in 1971. In those days, the most well-educated, honest, and socially conscious people with high moral values were involved in politics. But unfortunately, over the passage of time, things have changed. Nowadays, for some people, politics is a hereditary calling; for others, it is just a business, a means to acquire wealth through the preferential allocation of contracts once they are in office. Various media reports of recent years have suggested that more than 61 percent of lawmakers in the present parliament are from the business community. This makes me wonder, who is running the country? Is it politicians, bureaucrats, businessmen, or others?
Good political leadership requires a mixture of knowledge, honesty, integrity, empathy, and the ability to communicate effectively. We expect our leaders to speak on key issues of economic development, health, education, etc. But, save for a few exceptions, our politicians are usually seen criticising and abusing each other using offensive language and flimsy arguments. The decency and decorum once considered inseparable from the public offices have been thrown to the wind. These so-called leaders stoop to any level to achieve their personal political aims or the interests of their parties. As such we also do not see any healthy debates or discussions on the issue that touch citizens' lives directly.
For Bangladesh to progress, we need good leaders. And if young and talented people remain reluctant to participate in politics, the nation will soon have to face the dire consequences of a leadership crisis.
There is no denying the fact that political standards in Bangladesh are deteriorating to abysmal levels. Given the current political climate, the concept of political reconciliation, tolerance, honesty, human dignity, and of respecting the values of others seems lost in our politics. Today's politics is mainly driven by two things: power and money. Money wins elections, and the winners enjoy power. It is natural to assume that a candidate who spends lavishly on elections will only focus on recouping his/her investment or simply "return favours" to those who funded him/her. This practice has tremendously weakened formal accountability mechanisms and put governance in a crisis.
Bangladesh also suffers from widespread corruption, with political leaders accused of taking bribes, embezzling funds, and engaging in other corrupt activities. According to the 2022 Corruption Perceptions Index of Transparency International, Bangladesh ranked at 147 out of 180 countries.
Once upon a time, the most brilliant and socially conscious students used to feel proud being involved in student politics. When the need arose, they did not hesitate to participate in matters of national importance. But now, movements are mostly dictated by non-students who are used as political fodder by their senior paymasters. Partisan politics and greed for power and money have polluted our student politics, which is currently nothing but an extension of national politics. Moreover, there are often allegations that many of these young people are engaged in illegal money-making activities including extortion and land-grabbing. In exchange, they are used as musclemen to subdue political parties' opponents.
A study conducted by the World Economic Forum in January 2020 revealed a shocking statistic: 82 percent of young people aged between 15 and 29 years say they have no intention of living in Bangladesh and would rather migrate. Undoubtedly, it is the utter failure of our political leadership that it has created a sense of disillusionment and disengagement among young people. They have lost faith in our politics and in the politicians.
But what the youth must realise is that politics is not bad in itself; it is the people in the business that make it seem so. For Bangladesh to progress, we need good leaders. And if young and talented people remain reluctant to participate in politics, the nation will soon have to face the dire consequences of a leadership crisis. At present, the total population of Bangladesh stands at around 169.8 million, and 45.9 million of them are young people aged between 15 and 29 years. Their voices must be heard because the future of this nation lies in their hands.
It is high time to take effective initiatives to break the vicious trend of the youth's disinterest in politics, or else there will be further deterioration in the country's political scenario. Political parties and leaders must work together to create a more positive, inclusive, and responsive political system that values and supports young people, so that they can play an important role in the development of our country and the growth of our economy.
Abu Afsarul Haider is an entrepreneur.