Our half-life of choking on polluted air
Did you know that, according to the global air quality watchdog IQAir, Bangladesh ranked as the most polluted country in the world between 2018 to 2021? Dhaka has topped the air pollution index for several weeks in a row this year. It appears to be doing everything it can to cling to that top seat. And, as we all know, "success" comes at a cost, and this is no exception. But who is going to pay for it?
Allow me to take you down memory lane for a moment. According to a recent report from the World Health Organization (WHO), the air quality of Dhaka is 11 times worse than the standard set by the organisation. This is a startling statistic that should be taken seriously. Another peer-reviewed study published in a well-reputed international journal found that long-term exposure to air pollution in Dhaka is linked to an increase in respiratory diseases among adults and children, as well as an increase in the number of deaths due to air pollution-related illnesses. Moreover, a survey conducted by the Bangladesh Institute of Development Studies (BIDS) found that air pollution has been linked to an increase in the number of days that people have to take off from work due to illness, as well as a rise in hospital visits due to respiratory illnesses.
Since this year started, Dhaka's position in the Air Quality Index (AQI) has been consistently teetering above the "severe" or "hazardous" conditions. The worst part is that the pollutants here are dominated by forms most detrimental to health: fine particulate matter 2.5 (PM2.5).
PM2.5 particles are small enough that they can bore through our lungs, enter the bloodstream, and damage most of our larger internal organs. Irritation of the eyes, nose, throat, and lungs, as well as coughing, sneezing, a runny nose, and shortness of breath are just some of the short-term health impacts associated with exposure to fine particles.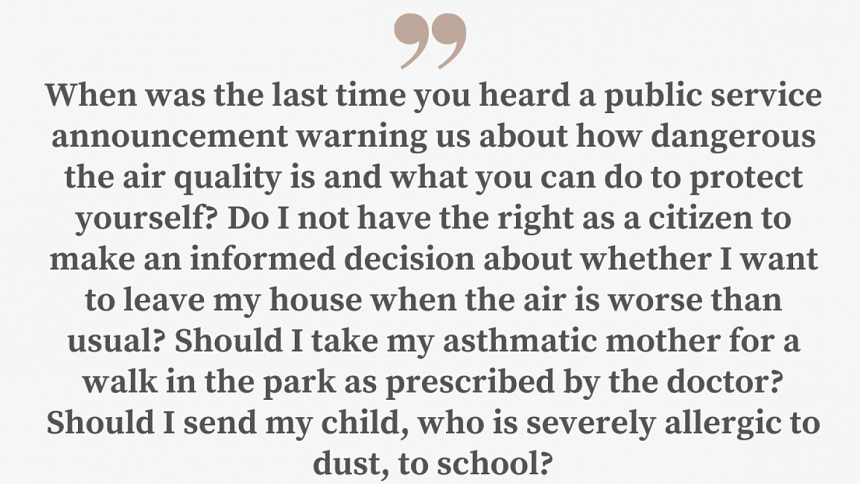 According to the recent study by the World Bank in Bangladesh on air pollution, the average exposure of PM2.5 in major construction sites in Dhaka is 150 percent above the limit standardised by WHO – equivalent to smoking 1.7 cigarettes per day. Consider the irony of this if you are a conscientious non-smoker or an ex-smoker. The same study found that feeling blue was already increasing from the PM2.5 exposure.
Ironically, this topic has been discussed many times before. Since Bangladesh first made its debut on the list of worst offenders with air pollution, many of us ranted, raved, and complained about the poor quality of our air, as well as the underlying causes of air pollution. Slowly, but surely, the government started to take action to address some of the problems.
However, a closer look will tell you that even with meticulous planning and execution, the dividends to be reaped from these actions are likely only in the long-term, leaving us choking in the present.
These include traffic management plans, introduction of cleaner fuels, investment in renewable energy, and the promotion of rapid mass public transit. On the policy front, the government introduced a clean air action plan (CAAP) in 2019 to reduce air pollution in Dhaka and other major cities. Included in this plan are implementation of traffic management plans, improvement of energy efficiency, investment in renewable energy, introduction of Euro IV fuel in Dhaka, expansion of access and utilisation of public transportation, establishment of an air quality monitoring network, and establishment of a vehicle emission testing system. But how many of these have been implemented?
While these actions start to have positive effects at some point in the future, do we simply wait, holding our breath? What plans do we have to address the growing public health risks posed by air pollution? Given the government's serious approach towards this issue, what are their plans to bring about immediate relief? How much worse does the air have to get to trigger some corrective action?
Both China and India, like Bangladesh, have a strategy to decrease pollution levels over time. But unlike Bangladesh, for when air pollution levels exceed acceptable thresholds, cities in China and India have a set of emergency response plans in place.
In Beijing, the city may issue a "red alert," which requires factories to suspend operations and schools to close. If necessary, the city may also implement a "blue alert," which requires additional factories to close and further restricts the use of private cars. Likewise, New Delhi has the Graded Response Action Plan, which mandates swift action on days when air pollution is severe, including shutting down all construction activities and brick kilns, spraying water in areas with high levels of dust and PM2.5, closing down polluting industries and institutes, restricting the use of diesel generators, etc.
Why do we not have a similar emergency response plan addressing the current air pollution issue for Dhaka? Air quality in Bangladesh is constantly monitored by a network of stations. Cities including Dhaka, Chattogram, Khulna, Rajshahi, and Sylhet all have air quality monitoring stations set up by the Department of Environment (DoE). These stations keep tabs on a wide range of toxins, including PM2.5. The air quality in various regions of the country is evaluated using the data provided by these stations.
But when was the last time you heard a public service announcement warning us about how dangerous the air quality is and what you can do to protect yourself? Do I not have the right as a citizen to make an informed decision about whether I want to leave my house when the air is worse than usual? Should I take my asthmatic mother for a walk in the park as prescribed by the doctor? Should I send my child, who is severely allergic to dust, to school?
You, at this point, may be thinking, "I know it's horrible, but this is hardly a shocking revelation." That, if anything, is our biggest issue.
People become so acclimated to an issue that they no longer recognise it as a problem and, as a result, cease trying to solve it. This phenomenon is known as the normalisation of deviance. But if this piece elicited any thoughts, before you think it over, take a deep breath… or maybe don't?
Dr Farzana Misha is assistant professor at the James P Grant School of Public Health, Brac University.