Lead-up to the elections just got interesting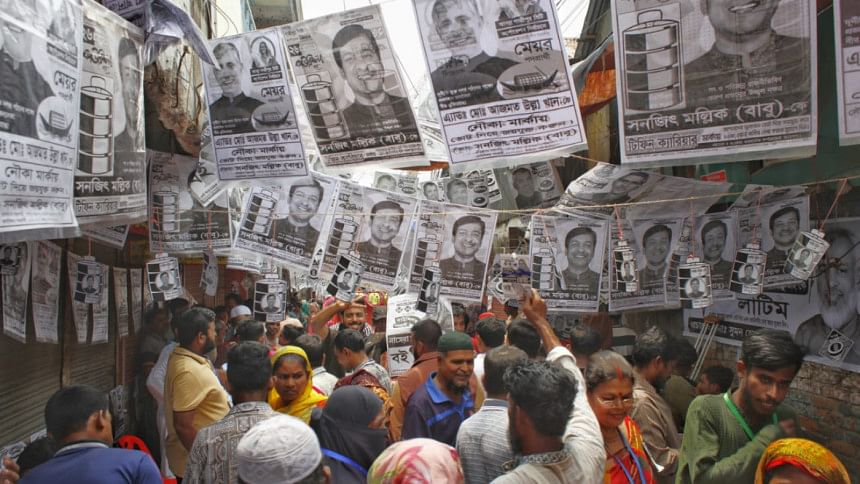 While loyalists and stalwarts are bending over backwards to explain how people made a free choice between two shades of the ruling Awami League, opposition activists and leaders are seizing every opportunity to say that the outcome owes everything to the new US visa policy announced on the eve of Gazipur city elections.
The mayoral race for Azmat Ullah Khan, Awami League's nominee, was all but won. Voting was expected to be a mere formality, with the only serious challenger – Zahangir Alam – disqualified by the Election Commission for loan defaults. A former mayor of Gazipur, Zahangir was expelled from his party, Awami League, and seemed to have expected his bid to fall through one way or another. As backup, he had a proxy in the form of his sexagenarian mother Zaida Khatun. She won. If BNP, the main opposition camp, had not boycotted the polls, it would have been interesting to see which way the voters would go amid the unexpectedly free voting environment.
The secretary of state (read foreign minister) of the United States, Antony Blinken, on May 24 invoked a provision of the Immigration and Nationality Act, which states, "An alien whose entry or proposed activities in the United States the Secretary of State has reasonable ground to believe would have potentially serious adverse foreign policy consequences for the United States is inadmissible."
His statement read, "Under this policy, the United States will be able to restrict the issuance of visas for any Bangladeshi individual, believed to be responsible for, or complicit in, undermining the democratic election process in Bangladesh." He said this would apply to current and former Bangladeshi officials, members of pro-government and opposition political parties, and members of law enforcement, the judiciary, and security services.
Insiders and close observers say his announcement was a game changer. The same officials who would otherwise have been rather enthusiastic to see the ruling party emerge victorious, suddenly lost their energy for enterprise and, allegedly, remained neutral.
This new political equation, at least on the surface, does not seem to be enough of an assurance for the BNP to get back into the race for the series of city elections scheduled throughout June. But thus far it has refrained, probably afraid that joining the elections might end up countering its own demand for a neutral caretaker government to conduct the general elections, more so if they end up winning. Still, with the possibility of a few independent or rebel candidates from either party, the mundane voting exercise has much promise to deliver rather exciting – if not nail-biting – showdowns.
Although this new US visa policy is proving expedient, it would not be wise to believe that the country is intent on fostering democracy in Bangladesh. Indeed, it is very unlikely that the US would stray from its unblemished record of serving its own geopolitical interests regardless of the nature of regimes that it bolsters. This Western power has thwarted democracy, deposed democratic leaders like Mossadegh, Árbenz Guzmán, Allende and Perón, and replaced them with dictators and military strongmen. The US has not shied away from supporting utterly corrupt regimes either. Marcos, Suharto, and Mobarak are just a few examples. Nor has the US turned away from befriending human rights violators and war criminals. An account of all the kleptocrats, autocrats, tyrants, maniacs or murderers that the US has endorsed throughout history would fill up entire volumes of this newspaper. Suffice it to say, the Awami League has not been able to serve US interests – whatever they may be.
The corollary, then, must be that the US is willing to do business with another regime, with the obvious proviso that the new regime would be more pliable, whether that is the incumbent, the BNP – winning on the coattails of its noxious ally, Jamaat-e-Islami – or any other amalgamation of opposition camps that come together for an electoral alliance. And that opens up possibilities for the Awami League, too, as it does for other parties.
The situation is not as grim for the Awami League as it appears to be on the surface, with regards to the new visa policy, especially because the US has a proven track record of being quite promiscuous about choosing whom it does business with. All the Awami League has to do is find out how it could satisfy US interests and agree to provide the necessary concessions or fall in line, and adopt a position, as required. Unless the incumbent is too consumed in its own web of rhetoric and convinces itself that it will be able to ride the popular vote as if it were business as usual, it would probably not wait around till the end of June only to see their mayoral candidates get creamed.
Blinken's announcement so early in the year also affords the Awami League the time to consider its strategy and actually find out what would make the US look the other way. The other tactic that is already making its rounds is that the ruling party will manage to have a faction of the BNP join the elections, which would allow them to claim the polls to be inclusive. But the winners and losers will have been negotiated beforehand so as not to allow any inconvenient surprises that pesky voters tend to present so often.
And of course, the incumbent could resort to a more novel and rather radical tactic of trying to win people's hearts with (among other things) good governance, meaningful and effective measures towards development, and, most importantly, punishment of those guilty of corruption and other crimes. There is a slight problem that the voters might not be convinced with so little so late and rightly see it for what it is – cheap stratagem.
For now, though, the city corporation elections will all of a sudden become quite the draw.
Tanim Ahmed is a dropout journalist who thinks freely, comments a lot and writes a little.