City Polls 2018: BNP worried about its polling agents
Fears they'll be ousted from voting centres; CEC seeks Speaker's intervention to bar MPs from joining election campaign
The BNP mayoral nominees are concerned that their agents may be driven out of the polling booths during the three city polls on Monday.
Many BNP polling agents were forced out of polling centres of Gazipur and Khulna city corporation elections while others were arrested even before the voting day.
The party has started training additional polling agents to have backups during the polls in Rajshahi, Barisal and Sylhet. BNP mayoral nominees have also advised the potential polling agents to stay out of their houses.
In Sylhet, the BNP is struggling to find agents as its activists fear being harassed by police or driven out of polling centres on the election day.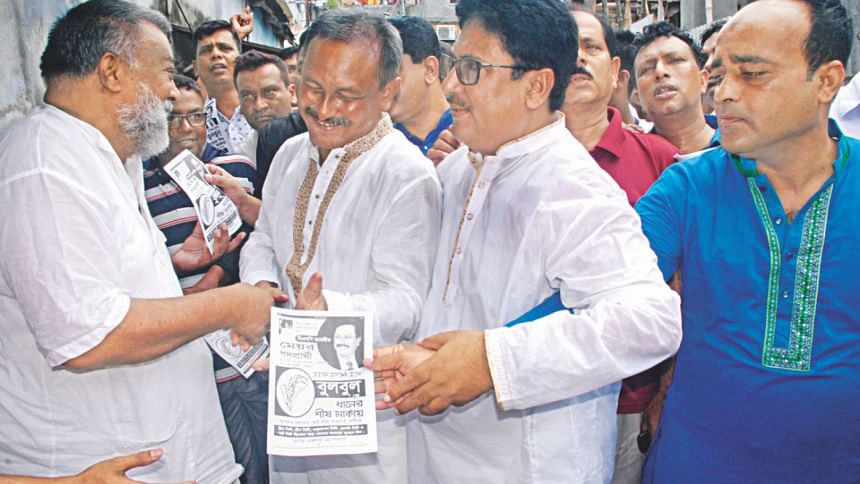 The Awami League camp, however, has to pick from too many activists willing to be agents for its nominee Badar Uddin Ahmed Kamran.
Jamaat mayoral nominee Ahsanul Mahboob Zubair is also not concerned over agents as the party believes that its agents would not be harassed.
Asad Uddin Ahmed, member secretary of the AL campaign and general secretary of Sylhet city AL, said the process of selecting polling agents was going on.
Ali Ahmed, a member of BNP nominee Ariful Haque Chowdhury's election management committee and general secretary of Sylhet district BNP, said, "We are worried that the law enforcement agencies would harass our agents."
The BNP has enough activists to make polling agents, he added.
Each mayoral candidate would have to place 926 polling agents inside as many booths at 134 polling centres.
In Rajshahi, the BNP has already trained more than twice the required number of polling agents amid fears of police harassment.
Despite this, the party has refused the Election Commission's request for a list of polling agents of all mayoral candidates so that the Commission could provide them security.
During his recent visit to Rajshahi, Election Commissioner Brig Gen (retd) Shahadat Hossain urged candidates to submit a list of their polling agents to the EC. He promised to provide the agents with security, given there are no criminal charges against them.
BNP leader Tofazzal Hossain Topu said his party would not provide the EC with such a list fearing that the police would then know who to harass before the election.
"The police are already arresting our men every night," he told The Daily Star.
"The Election Commissioner's statement has political purposes. If the commission was really sincere about its intention to provide security, they would have issued an official circular about it."
Rajshahi city BNP office secretary Nazmul Haque said, "In some polling centres, where the BNP has fewer supporters than Awami League, we did not find polling agents at first. But we finally managed to train dedicated individuals."
Awami League leaders said they have trained some 2,400 polling agents.
Mayoral nominees are expected to deploy at least one polling agent at each of the 1,026 booths in 138 polling centres in 30 wards of Rajshahi City Corporation on the election day.
In Barisal, BNP insiders said they selected more than one polling agent for each booth.
Top leaders advised polling agents to stay out of home at night, they said.
"Our main opponent is the administration, not the Awami League. If the Awami League does something we can at least face it politically," said Ebaydul Haque Chan, member secretary of BNP campaign committee.
BNP mayoral nominee Mujibur Rahaman Sarwar said, "We will stay at the polling centres till results are declared. We instructed our agents to stay at the centres no matter what."
The party is now examining whether its polling agents are facing any criminal charges.
CEC WRITES TO SPEAKER
Chief Election Commissioner KM Nurul Huda sent a letter to Speaker Shirin Sharmin Chaudhury yesterday requesting her not to allow any lawmaker to participate in the city election campaigns.
The move comes amid reports of lawmakers participating in the campaigns violating the EC's code of conduct, EC Secretary Helal Uddin Ahmed told The Daily Star.
Incidents of AL lawmakers seeking votes for their party's mayoral nominees have been reported in the media for the last few days.
Asked about the arrests of BNP leaders and activists, Helal said police arrested them over specific allegations.