HSC question paper is merely a symptom of communalism
Remember when Soumya Sarkar burst onto the cricket scene and played a crucial role in the series wins against Pakistan and South Africa, inspiring many a conversation around how elegant his batsmanship was, and how Bangladesh had finally found an opener of real calibre?
Around that time, I happened to overhear one such enthusiastic conversation between a group of teenagers, one of whom was arguing that Soumya could be the next Brian Lara. And then I heard the words that, to this day, I find difficult to swallow: "The only problem is, he's Hindu."
This incident has recently been on my mind again, as a storm of debate rages around the controversial question found in the HSC Bangla question paper on Sunday.
For context, the creative section tells the story of two brothers, Nepal and Gopal, tied up in a long-standing land dispute. Nepal sells some land to a Muslim man to "teach his brother a lesson," but then becomes a victim of his own trick. The Muslim man slaughters a cow in front of Nepal's home, after which the latter leaves for India forever. This bizarre account then asks questions comparing Nepal to Mir Jafar, whose name is synonymous with treachery in Bangali history.
The whole thing is offensive on many levels. The displacement of minorities after losing their ancestral land is no laughing matter, especially in Indigenous areas, where more than 10,000 have been forced to migrate abroad in the past four decades because of land disputes, according to the Kapaeeng Foundation. While it is difficult to find the exact numbers regarding such forced migration, the 2022 census suggests that the country's minorities have decreased in number since 2011. Over a similar period, there have been as many as 3,710 attacks on the Hindu community alone, according to Ain O Salish Kendra (ASK).
However, the HSC question not only trivialises this issue by portraying it as a matter of personal choice, but implies that it is minorities' own "fault" – by trying to teach his brother a lesson, Nepal brings a calamity upon his own head, instead of being pushed away by external forces.
The question also completely disregards the communal harmony that still exists in many parts of our country, and unnecessarily portrays the two communities as being alienated from each other. Why else would Nepal bring a Muslim person onto his land to punish his brother?
It is commendable that, as soon as this question became public, immediate actions were taken. A probe was launched, and the education board officials identified five teachers from the Jashore board who were involved in coming up with the question. In the latest development, the assistant professor identified as the question-setter has gone into hiding.
It is encouraging to see the government take this issue so seriously, with Education Minister Dipu Moni saying, "Once those responsible are identified, we would know if those who sow the seeds of communalism in the minds of students are involved in the question-setting and moderation process."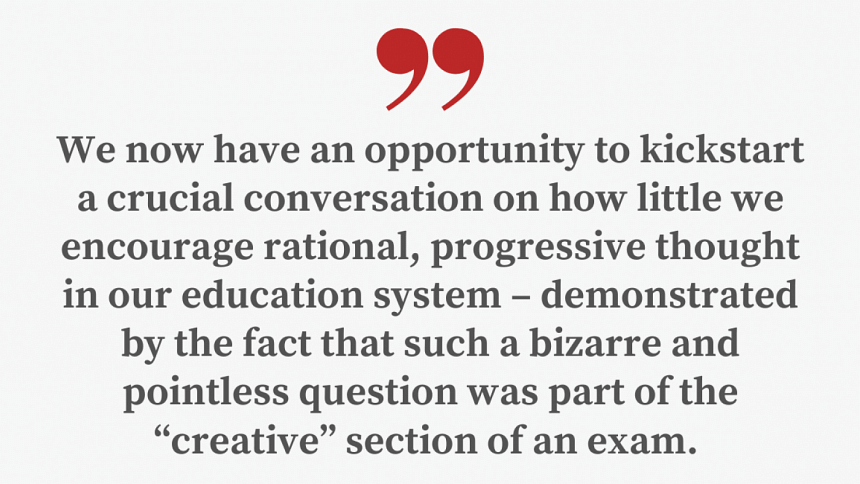 However, I can't help but feel we are focusing on the symptom and not the disease.
That the "seeds of communalism" have been sowed in the minds of many should be clear to us by now. It is reflected in the far-too-casually thrown out bigoted comments like that of Soumya's reluctant fan, and in the weaponisation of repressive laws like the Digital Security Act (DSA) against minorities for "hurting religious sentiments" – let's not forget that tenth-grader Dipti Rani Das spent over a year in jail for a Facebook status, while YouTube is still filled with so-called sermons that spew hate speech against minorities and women.
And, of course, it is reflected in the frighteningly regular incidents of destruction of property, arson, and injury like we witnessed in Digholia village in Lohagara, Narail in July this year, where a mob vandalised a temple and several stores and homes of the Hindu community. We see these seeds of communalism during almost every Hindu religious festival, where there are always some incidents of idols being vandalised by "miscreants." Clamping down on question papers while all this continues unabated cannot bring about meaningful change.
However, we now have an opportunity to kickstart a crucial conversation on how little we encourage rational, progressive thought in our education system – demonstrated by the fact that such a bizarre and pointless question was part of the "creative" section of an exam. And at the centre of this conversation should be the fact that, five years ago, 17 different texts and poems by secular writers were removed from school textbooks in order to comply with the demands of Hefazat-e-Islam.
It is time for the authorities to acknowledge that failing to represent our nation's diversity in students' learning materials is far more likely to sow the seeds of communalism in their minds than exam questions. While the immediate remedy must be justice for victims of communal violence, in the long run, there is no alternative to a progressive education system in dealing with such regressive thoughts.
Shuprova Tasneem is a member of the editorial team at The Daily Star. Her Twitter handle is @shuprovatasneem