How does our new National Adaptation Plan consider nature?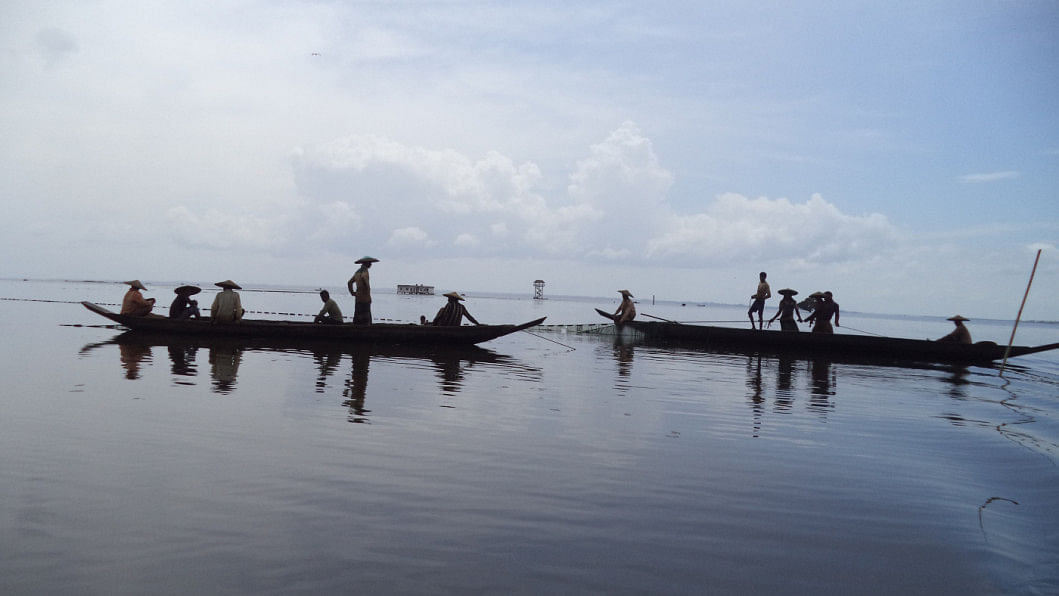 On November 2, the government made the long-awaited National Adaptation Plan (NAP) of Bangladesh (2023-2050) public, and its political and climate change leadership have been widely showcasing it at COP27, currently taking place in Sharm El-Sheikh, Egypt. It is important for three reasons.
First, the NAP will be the core planning and investment document for Bangladesh to adapt to climate change over the next 28 years. Building on our 17 years' experience of preparing and implementing the National Adaptation Programme of Action (NAPA, 2005, 2009) and, more importantly, the Bangladesh Climate Change Strategy and Action Plan (BCCSAP, 2009), the NAP aims to achieve six specific goals: i) ensuring protection against climate change and disasters; ii) developing climate-resilient agriculture; iii) building climate-smart cities; iv) protecting nature for adaptation; v) integrating adaptation into planning; and vi) ensuring capacity-building and innovation in adaptation. The NAP has identified 113 major interventions to implement in 11 climate-stressed regions across Bangladesh. More than Tk 20 trillion – about USD 230 billion – will be needed for these interventions, and almost three-quarters of this amount will be needed by 2040.
Second, the NAP is expected to be revisited every five years, in line with our five-year development plans. Such periodic revision is crucial since Bangladesh is expected to experience a fast-changing economy, environment, and of course, climate in the coming decades. Unfortunately, the precedence that has been set with the BCCSAP is not good at all. The revision of this milestone planning instrument started in 2018 – more than four years on, it is yet to be over. 
Third, the NAP is our second national document – only after the draft Mujib Climate Prosperity Plan (MCPP, 2021) – where the term "nature-based solutions" (NbS) is widely embraced. Goal 4 of NAP reads, "Promote nature-based solutions for the conservation of forestry, biodiversity and the well-being of communities." This adoption happened because Bangladesh's development philosophy believes that nature should be an integral part of our fight against climate change. 
Although NbS has been widely talked about over the last four years, it is only in March this year that we got a UN-endorsed definition. NbS now means protection, conservation, restoration, sustainable use or management of natural or modified ecosystems – ranging from terrestrial and freshwater to coastal and marine – to tackle social, economic and environmental challenges. But these actions must provide not only human well-being, but also ecosystem services, resilience, and biodiversity benefits. That's why protecting the Sundarbans, restoring the degraded hills of Chittagong Hill Tracts (CHT), sustainably managing Hakaluki Haor or creating flood-water retention reservoirs at the Rohingya refugee camps in Cox's Bazar are all good NbS examples.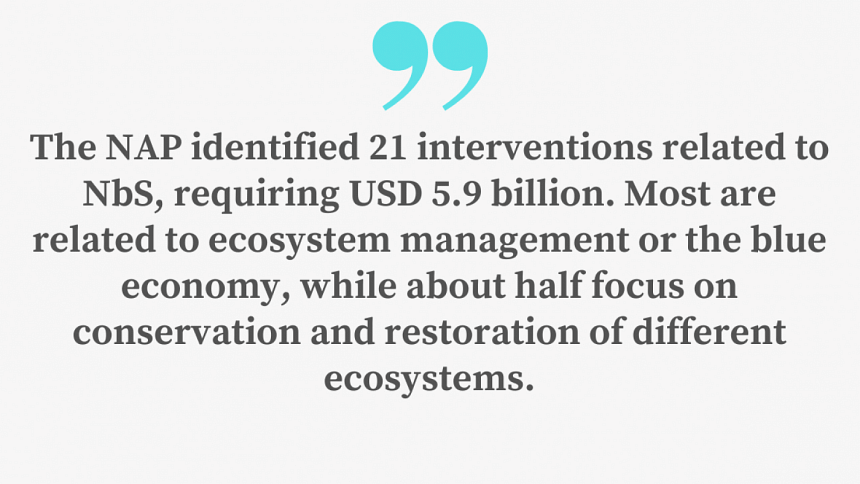 The NAP identified 21 interventions related to NbS, requiring USD 5.9 billion. Most are related to ecosystem management or the blue economy, while about half focus on conservation and restoration of different ecosystems. In terms of ecosystems, one-third of the proposed interventions will deal with freshwater wetlands, rivers and canals, followed by terrestrial forests and hilly ecosystems. In some NbS interventions, specific ecosystems are clearly mentioned – namely the Halda River, Kaptai Lake, CHT, St Martin's Island, and the Bay of Bengal.
It is interesting to note that the NAP has given special emphasis on the marine ecosystem by including, for example, management of marine protected areas, restoration of corals and associated fish and benthic communities of St Martin's Island, and actions to manage the blue economy. Several NbS interventions highlighted the importance of monitoring a wide range of terrestrial and aquatic ecosystems, including the physical and biological parameters of the Bay of Bengal, and inventorying endangered species. Of course, monitoring and surveillance go beyond species, as one NbS intervention talks about developing a monitoring system for the rights of coastal fishing communities. Community participation is explicitly mentioned in afforestation and reforestation programmes, wetland management, and conservation of village common forests in the CHT.
To implement the NAP, different advisory and technical committees are envisaged at the national level, supported by district-, upazila-, and union-level structures. As we move forward, we need to keep in mind three important issues. First, it's important to explore how existing natural resource management and biodiversity conservation laws and rules are aligned with the NAP. For example, many NbS-related NAP interventions are expected to be implemented in the country's Ecologically Critical Areas (ECAs) and Protected Areas. Therefore, the existing ECA Management Rules, 2016 and PA Management Rules, 2017, and the governance structures outlined in them need to be matched with what is now outlined in the NAP. 
Second, the locally-led adaptation (LLA) approach is mentioned throughout the NAP under different interventions to ensure effective social inclusion. But we should embrace the eight principles of LLA as we implement NbS interventions too. These principles focus on decentralising decision-making, tackling structural inequality, providing predictable funding, investing in local capacities, building knowledge on climate risks, creating opportunities to learn from programmes, ensuring accountability and transparency, and facilitating greater collaboration. In this way, the LLA will be translated from being a good philosophy into a good practice through NbS implementation.
Finally, as we implement NbS under the NAP, we need to follow certain guidelines and protocols (e.g. the IUCN Global Standard for NbS) so that we identify, design, and implement NbS judiciously, ensuring local people's rights and benefits. If we can manage our NbS interventions based on evidence gathered with local communities, we will be able to avoid any misuse of this important approach. 
Dr Haseeb Md Irfanullah is an independent consultant working on environment, climate change, and research systems. His Twitter handle is @hmirfanullah