How can Bangladesh turn on its 'brain gain'?
Over the last decade or so, Bangladesh has done well on both economic and social indicators. Development continues even amid the challenges caused by the Covid-19 pandemic. And it seems the effect of this development has gone beyond socioeconomic measures and quietly made a profound psychological impact on the people of the country. As a result, a kind of confidence is slowly taking root in the hearts and minds of Bangladeshis – the confidence that translates to, "Yes, we can."
Based on its economic and social accomplishments, Bangladesh has qualified to transition from the least developed country (LDC) status to that of a developing country. This is undoubtedly a landmark achievement. There is pride in it, but there are challenges, too. Strong leadership, foresight, and prudent policies and programmes are crucial for sustaining as a middle-income country and working towards attaining the goals of Vision 2041. Hence, the question arises: will human resources be a critical impediment on the way to progress? Does the nation have a strategy to counter such impediment?
Bangladesh is currently suffering from an acute shortage of skilled workers and managers. The situation is deteriorating day by day as the shortage is intensifying in keeping up with the development process. Today, many firms, both local and international, are hiring foreign workers and managers to fill in the gap. The skill shortage is not only an impediment in the current situation, it will become a major deterrent in achieving further growth in the future, if not addressed appropriately and urgently. A 2019 report by the Bangladesh Institute of Development Studies (BIDS) revealed that various sectors such as ready-made garment (RMG), leather, ICT, infrastructure development, food processing, light engineering, healthcare, tourism, and ship-building industry will require several millions of skilled workers and experts by 2025. Where will this skilled workforce come from? The country's technical education and training centres as well as higher education institutes have long failed to keep up with the demand. Given the situation, is it worth considering a "brain gain" strategy as a viable alternative?
When, in the early 70s, I went abroad for the first time, I was introduced to the concept of "brain drain." The term was coined by the Royal Society in the 1950s when a large number of British scientists and engineers left Britain for Canada and the US. This term describes the process of any skilled or semi-skilled individual leaving one country (mostly their native country) to another. Over the past four and a half decades, millions of Bangladeshis have migrated abroad for various reasons. These emigrants are skilled and engaged in various professions, including health, IT, engineering, economic planning, academia, and business. How can this brain drain that has taken place for years be converted to brain gain?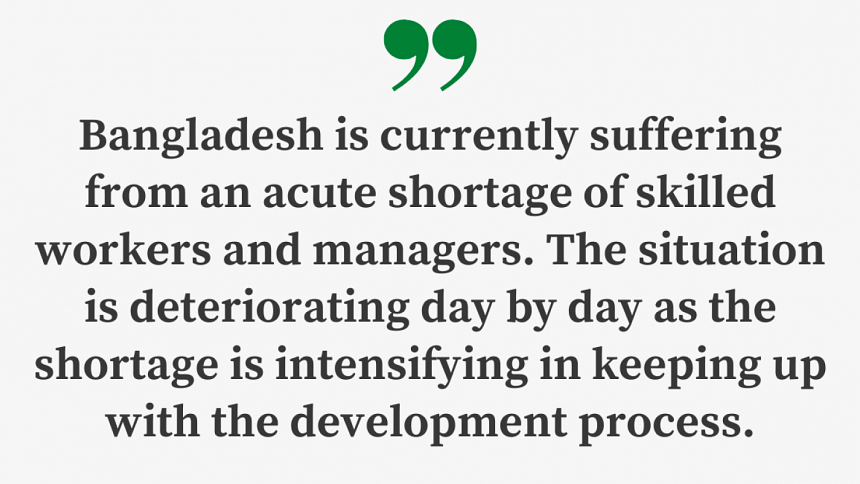 On the other hand, ​​brain gain is creating short- or long-term opportunities to bring back expatriates who have been working as skilled individuals and experts in various fields abroad back to their countries of origin. In the context of the contemporary business world, the phenomena of brain drain and brain gain can be considered in light of export and import in global trade. Both phenomena should be taken positively. A significant segment of Bangladesh's human resource exports – which is brain drain – are semi-skilled or unskilled. It is possible to further strengthen our manpower export by developing highly skilled and professional artisans and service providers through training and education. By doing so, it would be possible to increase the export of skilled workforce on the one hand, while on the other hand, it would be possible to add high value in the work context. As a result, Bangladesh could even double the amount of remittance that it currently receives from expatriate workers in the foreseeable future.
In the early 1990s, when Rajiv Gandhi's government opened the door to India's economy, India became a part of the global market. Gradually, many Indians living and working in the US and other Western countries returned to India. Most of those who are involved in the "Silicon Valley of India" in Bengaluru today once worked for multinational corporations abroad in various capacities. This process of bringing expatriate experts back to the country was India's brain gain. The same happened in China.
Many Bangladeshi expatriates visit the country every year and make attempts to contribute to their respective fields of expertise at home. But it is done purely on a piecemeal basis. This is a major hindrance to the country's brain-gain effort. Can a coherent strategy be devised by the government to facilitate the country's brain gain? Needless to say, through the brain-gain effort, the nation can acquire the services of skilled experts at a bare minimum cost.
Following the roadmap of Vision 2021, Bangladesh will soon make the transition from a least developed country to a developing country. Achieving Vision 2041 requires the mobilisation of both internal and external resources. That can be done through brain gain, tapping into an untapped external resource.
How can Bangladesh gain access to this untapped, inexhaustible resource, then? A global network of Bangladeshi expatriates can be formed, bringing in experts in various fields such as education, health, economy, technology, and agriculture, located in the developed world including Australia, the UK, and the US, under one platform. The Bangladeshi missions around the world can play the role of coordinators in developing databases of such experts. These experts can participate and work in teams in various institutions and megaprojects in Bangladesh. Such a network of experts with the skills and experience acquired in developed countries can infuse both hard and soft skills into our economy quickly and at a minimum cost. In addition, it would be quite natural to witness a multiplier effect in the efforts of the expatriate experts due to their connection to Bangladesh. India and China have benefited and continue to be benefited from the brain-gain effort. I believe we can, too.
Dr Shams Rahman is a professor of supply chain management at RMIT University, Australia.