Fairer wages, or more broken promises for tea workers?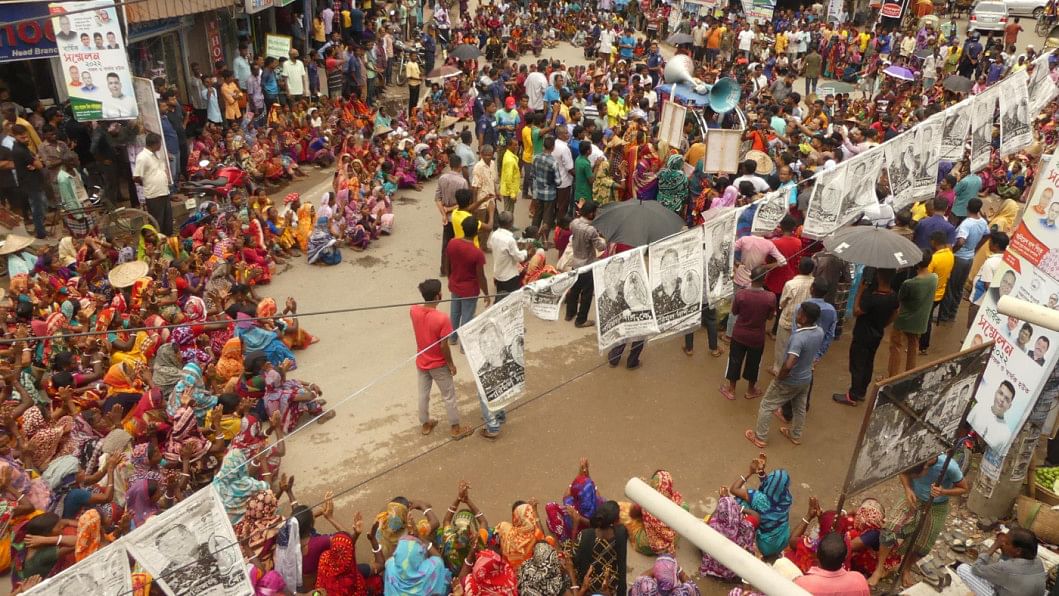 What happened this month turned out to be one of the biggest shut-downs of the tea gardens in the history of Bangladesh's tea industry. Tea workers started strikes in all tea gardens in Sylhet and Chattogram divisions upon the call of their lone union, Bangladesh Cha Sramik Union (BCSU). The passivity of the tea gardens owners' organisation, Bangladesh Tea Association (BTA), about the daily two-hour strike and demonstrations for four days (August 9-12) led strikes full-time from August 13 to 21. Their key demand was a daily wage of Tk 300.
We witnessed a workers' revolt that shook the nation, and inspired huge media attention and public sympathy. Six generations ago, these workers, belonging to the lowest rungs of the Hindu caste system and from Indigenous communities, had been brought by British companies from different parts of India to work on the tea gardens. They were among the poorest – the "untouchables" ­– and they remain among the lowest paid tea workers in the world even today. Tied to the tea gardens, they have no rights over the land they use and the houses they live in. These are the perfect conditions for depriving them of just wages and other facilities that are guaranteed by labour law and rules.
The primary demand of the working classes is always just wages, and decent work and living conditions. However, tea workers have been deprived of these just wages, and their lone union is traditionally too close to owners and the government to play an effective role. We saw it this month, when the only thing owners offered was a meagre salary rise of Tk 14, followed up by an offer of a Tk 25 increase. But this time around, workers'voices could not be suppressed. In defiance of their leaders and government functionaries, who decided to end the strike for the daily cash wage of Tk 145, tea workers decided to continue striking until their lone demand was met. This was the scenario up until Saturday (August 20).
However, the workers' strike was brought to an end yesterday after a one-page statement was issued. The brief statement contained a memorandum of understanding (MoU) between Bangladesh Cha Sramik Union leaders and three government officials ­– the DC of Moulvibazar, Mir Nahid Ahsan, Police Super of Moulvibazar, Mohammad Zakaria, and deputy director of the Divisional Labour Office in Sreemangal, Moulvibazar, Mohammad Nahidul Islam. Workers' representatives who signed the MoU include eight top central committee members of BCSU, including its acting general secretary, Nripen Paul. It is surprising that the Bangladesh Tea Association is absent in the statement.
One of the most astonishing statements in the MoU, signed on the Moulvibazar DC's stationary, is that the prime minister will now guide the fixing of tea workers' wages. Yet nobody knows what exactly these wages will be ­– Tk 150? More? Less? The tea workers who were, up to August 21, determined to continue demanding daily wages of Tk 300 have now been thrown into confusion. After everything that has happened from August 9, they are now being asked to go back to work for a daily cash payment of Tk 120 until there is a decision from the prime minister. When we checked yesterday, we found all 23 tea gardens in Habiganj district remained closed, whereas all 23 gardens in Chattogram Valley had reopened. However, many other tea gardens were still shut. While we hope most tea gardens will reopen today, we cannot forget that ordinary tea workers are still enraged.
There is no doubt that the tea workers' leaders were under tremendous pressure to end the strike in order to avoid a catastrophe in tea production. And they have ultimately been made to accept a condition that is beyond their control. The ordinary tea workers consider the prime minister their guardian and they have immense trust in her. We all expect she will do justice to them. However, the owners' failures, and those of the Minimum Wage Board set up in October 2019, have become very clear after this month's protests and strikes. The union leaders' failure in negotiating with the owners has also become clear. 
There are lessons for owners, trade union leaders and the government in this August revolt in the tea gardens. The tea workers have been mistreated and taken advantage of for generations, first at the hands of colonial owners, and then at the hands of their own countrymen at different periods. Such systematic abuse must stop. The ethics of fair business must be maintained in the tea sector.
First and foremost, the Bangladesh Tea Association should calculate fair wages in open discussions with BCSU, government functionaries and, most importantly, economists and social scientists. BTA's calculation of the Tk 403 daily wages and benefits that it claims to give to workers is seriously flawed. According to sub-section 45 in section 2 of the labour law, it must exclude around half of what they are including as part of the "payment" from wage calculations, such as festival leave and sick leave. The BCSU also needs to be less ambiguous and clarify whether the demand of Tk 300 is just daily cash pay.
Tapan Datta, a veteran trade union leader and a long-time adviser of BCSU, welcomed the decision to end the strike and reopen the tea gardens. However, he said, "I do not support anything less than Tk 200 in daily cash pay. If the tea workers are not happy with solutions guided by the prime minister, they can take appropriate measures including strikes, which is their legitimate right." 
It is natural for the tea workers to be wary in this situation. There is enough evidence of owners hijacking the Minimun Wage Board to ensure wages don't increase at all. The Minimum Wage Board's recommendations and failed negotiations between BTA and BCSU fuelled the unrest in the tea gardens. Its complete failure means there is no longer any ground for the government to consider the recommendations it has forwarded to the labour ministry.
In the best interests of the tea sector, tea garden owners and government functionaries should promote true trade unionism. The lone trade union in the tea sector, BCSU, is cut off, isolated and unable to pursue appropriate strategies to establish the rights of tea workers. It even depends on the owners to collect the workers' monthly subscriptions to the union, which are then periodically sent to its account. This is known as the "check-off" system and makes BCSU dependant on tea garden owners. For its elections, BCSU depends on the government, which provides funds and the manpower to run it. It has many other limitations, and the owners and government agencies have a responsibility to help them become an independent and well-connected entity. This situation is far from ideal, with only one union being heavily dependent on the government and owners, and no opportunity to initiate other trade unions in the tea sector.
The August strikes in the tea gardens drew a lot of media attention and sympathy from the public, both in the country and abroad. Yet, what is still little known about the tea workers is that they are not just deprived of fair wages, they are left far behind in accessing education, health services and assets that are essential for them to migrate out of poverty and exclusion. Given that they hold diverse, ethnic identities and the majority of tea workers are lower caste Hindus, they are yet to be treated as equal and dignified citizens of Bangladesh. The August revolt has pointed out some of the insurmountable difficulties that the tea workers of Bangladesh face.
Philip Gain is a researcher and director at the Society for Environment and Human Development (SEHD).