'Expatriate Diplomacy' and 'Mercenary Columnists'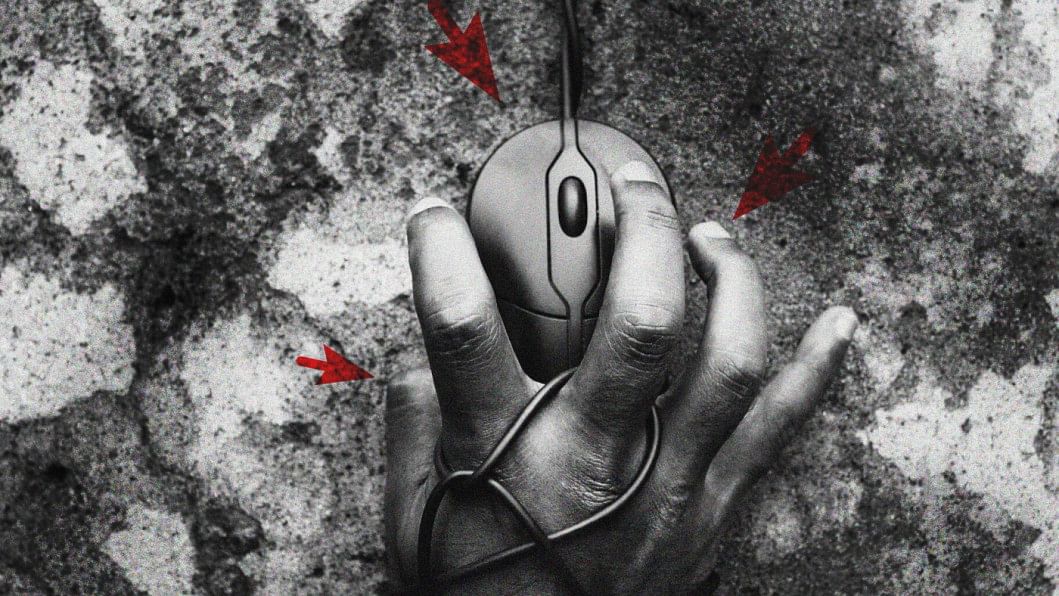 In recent news, the government is on the verge of initiating "Expatriate Diplomacy". The objective of this brand of diplomacy will be to tackle the "negative propaganda" coming from non-resident migrant and immigrant Bangladeshis, as well as to highlight the positive aspects of Bangladesh.
The foreign ministry claimed that they have a lot of positive information, but there are not enough writers. Thus, they are looking for "columnists" (read: mercenaries), who will get remuneration for writing about this.
Some issues and questions arise in this context.
First, only five to seven people are allegedly spreading "negative propaganda" from abroad. Their communication is based on online news portals, Facebook and YouTube. The foreign ministry claims these people will heavily enhance their propaganda efforts during the 18 months before the next election. Thus, "expatriate diplomacy" will be kick-started to deal with this.
The culprits will be identified and their whereabouts shared with their respective host country's authorities, who will then be asked to take due action. Also, "mercenary columnists" will be paid to write about the government's good deeds. However, it has not been clarified whether these writeups will be published on local or international media.
Previously, the government struck a similar deal with international news outlet CNN. This was reported in The Daily Star on June 3, 2021, where a headline read "The government yesterday teamed up with global news networking giant CNN International for the promotion of "Made in Bangladesh" products worldwide."
The objective was to highlight the positive aspects of Bangladesh and increase exports. We did not get any further information about the money spent on this, and how we fared against these objectives.
Secondly, the state-owned television network BTV can be watched from every nook and corner of the nation. BTV only highlights the positive aspects of the government, which claims it is the most popular channel. Every day, multiple talk shows focus on the government's development activities. The satellite channels are also forced to show BTV's news.
On top of that, there are almost 25 private channels in the country. All these channels highlight the government's development efforts with utmost importance. Every talk show ensures equal participation from pro- and anti-government individuals. If there are two speakers, at least one of them is bound to be a ruling party leader or supporter.
So the question is, why can't BTV tackle these five to seven YouTube and Facebook-based "negative propaganda" practitioners? Does this mean more people watch Facebook videos and YouTube channels than BTV? Does this also mean the content generated by leaders, ministers and pro-government individuals on so many TV channels are inadequate in dealing with online content that feature these handful of individuals?
Apart from a few, most of the online portals that are run by migrants are quite obscure. Among the local online portals, including print media and its online versions, only four to five publish articles criticising the government. Very few columnists can be termed as critical or severely critical of the government. So why do we need to search for columnists? If the people do not accept the positive writings of so many columnists, why would they accept content coming from paid writers?
A cursory look at party publications can also give us insight into current realities. Take, for example, Banglar Bani, which was once Awami League's publication. If bought and read by AL leaders, supporters and workers, its circulation would have been over three to four crores. But Banglar Bani went out of business.
Then there is Dinkaal, BNP's newspaper. It is still being published, although the circulation is negligible. BNP leaders, workers and supporters neither buy nor read Dinkaal.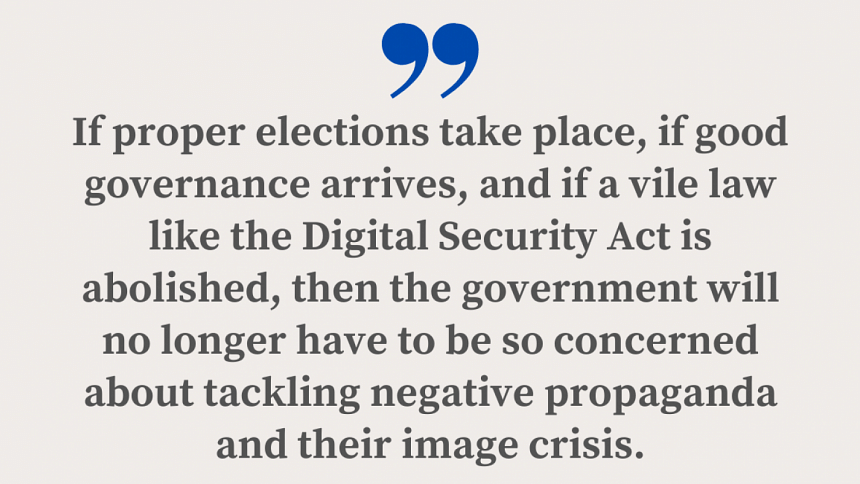 Why is this so? Because, people do not read anything other than truth and reality. This applies equally to ordinary people and party members. Banglar Bani and Dinkaal are burning examples.
In recent times, reports of "enforced disappearances" and people going "missing" have come up time and again in news media, and law enforcement agencies are being accused of being complicit. In fact, we have seen cases of law enforcement agencies knocking on the doors of the families of victims to get them to sign affidavits that state that no one "disappeared" or went "missing".
What became of this? The government was already suffering from an acute image crisis thanks to enforced disappearances, and after deploying forces to get such affidavits, the crisis reached its crux.
If the objective of "expatriate diplomacy" is to label the practitioners of "negative propaganda" as anti-state individuals and to instigate their host nations to turn against them, will it be successful? The possibility is next to zero. Whatever the government claims, the countries in question will also do their own investigations. And if that investigation reveals that these individuals are criticising the government and people in power, and disclosing events of human rights violation, then the whole initiative can backfire. In fact, it might lead to the conclusion that these individuals could not speak their mind at home without being exposed to torture, and even after coming abroad, they are being muzzled. It is most likely that any North American or European nation will only encourage individuals to criticise their home country's government's irregularities, graft and human rights violations.
These five to seven so-called critics, whom the government termed "negative propaganda artists'', are living in developed nations where broadcast media's independence and freedom of speech are deemed basic human rights. Thus, Bangladesh's government can actually be laughed off by global leadership for these muzzling efforts.
Finally, there are possibly more columnists who write on the positive aspects of the government as opposed to the critical ones. The same scenario persists among talk show participants. If these elements cannot tackle "negative propaganda", then how can this feat be achieved by paid columnists? Even if those columns are published on international media with money, will they have any credibility? We might ask now, was the CNN contract useful?
Whatever is being planned with regard to "expatriate diplomacy" is something that our foreign missions are already doing to a certain extent. Previously, the government spent a fortune to hire foreign lobbyists to build a positive image of the nation. Was that successful? The answer would not be a resolute "yes". People usually do not accept anything other than truth and reality. Being silent or saying it was started during the BNP era does not wipe things like Aynaghar from people's minds. If proper elections take place, if good governance arrives, and if a vile law like the Digital Security Act is abolished, then the government will no longer have to be so concerned about tackling negative propaganda and their image crisis.
Translated by Mohammed Ishtiaque Khan.
Golam Mortoza is the editor of The Daily Star Bangla.